Henrik Ibsen's 1884 play The Wild Duck can be interpreted in many ways, but it's a credit to Point Park's Conservatory Theatre Company's new production that it leaves the act of making sense of this dark tale to the audience. The compelling message seems to be: Never rent a room to a meddlesome friend. Terrible things can happen. And just like in one of the Grimms' fairy tales, they do.
Ashton Guthrie carries the play through its stages of deepening revelation with his performance as Hialmar Ekdal, who evolves from a happy man running a modest photography studio with his wife and daughter, to a nervous soul tormented by his spouse's possible infidelity from long ago.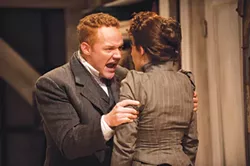 His transformation is provoked by the invasive Gregers Werle (Austin Sultzbach), described as someone who "suffers from an acute attack of the need to tell others how to run their lives." (We all know someone like this, or think we do.) Sultzbach does not broadcast his character's intent, keeping Gregers just on the verge of nefarious intervention. He is like the devil of honesty: prodding, prodding, until Hialmar discovers that too much honesty can end up being a dangerous thing.
Even more vulnerable to Gregers' influence is the lilting Hedvig (Ashley Ball), who floats through the story like an incarnation of John Tenniel's illustrations of Alice, from the near-contemporaneous Alice's Adventures in Wonderland. Ball embodies the powerful metaphor of those who can't see their own blindness, not just with her pained, Victorian eyes, but through the subtle way she exudes tenderness and trust.
Director Shirley Tannenbaum lets the characters inhabit the small space of the Studio Theatre in a big way. They do not appear choreographed, walking right to the edge of the seating area as if it is an extension of their living room, empowering the audience with a sense of intimacy and shared experience.
Especially effective are Jessi Sedon-Essad's video projections, which infuse the interludes between acts like the scent of someone who has just left the room, but whose memory lingers. Stephanie Mayer-Staley's set and Michael Montgomery's costumes bring the late 19th century to life in a convincing manner.
Ibsen's genius fills this play with characters whom we all know, yet who appear unique to the story he tells. Just like any powerful, dark fairy tale.