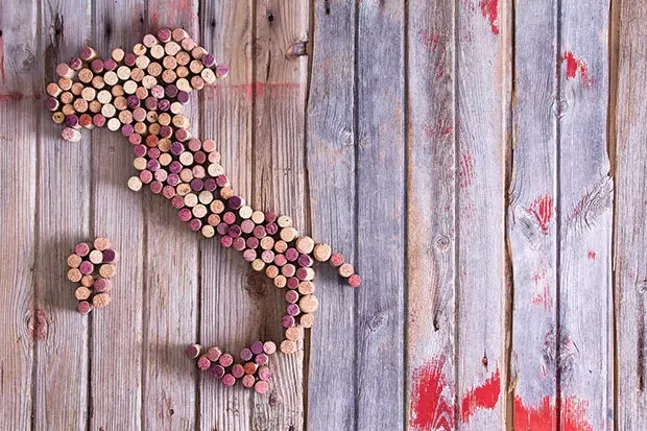 Italy makes a whole lot of wine. In fact, according to the most recent figures from the International Organization of Vine and Wine, Italy leads the globe in wine, accounting for nearly 20 percent of the world's production. Despite the impressive volume, many drinkers are far more familiar with French Chardonnays and Napa Cabs than they are with Italian varieties. So I sat down with Michel Mincin for a crash course in Italian wine.
Mincin is the owner of Allora Wine Group, which specializes in importing Italian wines and providing wine education. You don't have to talk to him for long to notice his passion for the subject. "You're pushing almost a thousand grape varietals in a country that's not that big," enthuses Mincin. "There's so much diversity in that small area … that's what I love about it." The 20 wine regions of Italy produce an incredible array of styles, from the everyday table wines of Tuscany to the heavy-hitting Barolo and Barbaresco of Piedmont.
Even so, Mincin finds that many drinkers tend to paint Italian wine with a broad brush. "I still feel like people pigeonhole Italian wine — particularly Italian red wine — and say it's all really acidic and really dry," he says. "And that's not the case at all." For those drinkers, Mincin recommends a Montepulciano d'Abruzzo, a crowd-pleasing wine from central Italy with softer tannins and lower acid. He also points to barbera, a grape that has long lived in the shadows of the much-revered nebbiolo. It's a "wine of the people": an affordable, accessible, and food-friendly red that needn't be saved for special occasions.
Though pizza and pasta may bring red wine to mind, Italian whites should not be overlooked. "Especially if you prefer a dry white wine, I think Italy has so many fantastic options," says Mincin. Pinot grigio is by far the most familiar Italian white for most Americans, but there is plenty more to explore. Mincin recommends trying a verdicchio, a bright and acidic wine made from a variety native to the Marche region, or seeking out the delicate white wines of Northern Italy.
By and large, Italian wine is meant to be consumed with food. No proper Italian meal is complete without a complementary bottle (or two, or 10) of wine. The ideal pairing, of course, will depend on the dish, the season, and your personal taste. For the winter months, Mincin is reaching for wines made with aglianico or sagrantino grapes. "Full-bodied, dry, big tannins," he explains. "Great with beef stews and prime rib — those hibernation foods."
Combining centuries of tradition, vibrant culture and a deep passion for making and drinking wine, Italy offers a world of excitement and diversity for the curious drinker.
To learn more about Allora Wine Group's portfolio and upcoming events, see allorawinegroup.com or follow Allora Wine Group on social media.