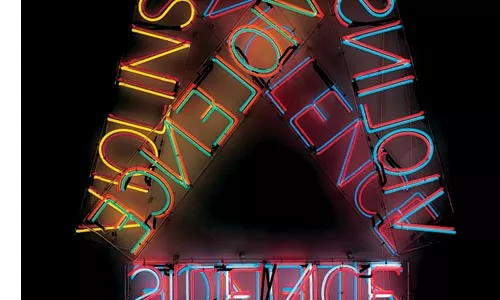 Elusive Signs: Bruce Nauman Works with Light, organized by the Milwaukee Art Museum, is a traveling exhibition of neon and installation works by Bruce Nauman, one of the most influential artists working today. The show, now at The Andy Warhol Museum, was fabricated according to the artist's templates and specifications and has been recreated for each venue. This is fitting: Nauman himself did not create the originals, debunking the idea that art objects should be one-of-a-kind, made by the artist, and have some sense of preciousness. Instead, Nauman (as quoted in the exhibition catalogue) thought that he "could make art that would kind of disappear, an art that was supposed to not quite look like art."
Nauman is an artist who, rather than commit to one medium, employs post-minimalism, conceptual art, film, video and installation, and works with ideas from dance, music, theater and literature. To see an exhibition that focuses solely on Nauman's use of light encourages us to examine the unexpected evolution of one idea: from a simple, white, static neon sign of his name expanded to read something like, "bbbbbbrrrrrruuuuuucccccceeeee" (1968); to an eerily lit room-within-a-room like the "Helman Gallery Parallelogram" (1971), which basks in the faint glow of acidic green light; to works like 1985's "Mean Clown Welcome," in which various neon figures light up at intervals to become much like a neon animation.
During the early part of his career, Nauman used light, that intangible, non-traditional art material, for more than two decades. The Warhol presents 16 of these works from 1965-85, including Nauman's ambitious "One Hundred Live and Die" (1984), in which four columns, each containing 25 multi-colored neon sentences, light up individually to reveal enigmatic "truisms" such as "fall and live," "suck and die" and "cry and live," culminating in a sensory overload as all 100 sentences light up simultaneously.
The connection between poetry and visual art in Nauman's neons is not accidental. For Nauman, claims the text on an exhibition label, "language is a powerful tool which breaks down where poetry and art occur." In "Violins Violence Silence" (1981-82), those three words light up alternately; if the viewer considers the connections between them -- violins remind us of romance, and silence of death -- a particularly gruesome narrative might arise from seemingly random words. Nauman has noted often that his works focus on the human predicament: sex and violence, humor and horror, life and death. "The True Artist Helps the World by Revealing Mystic Truths (Window or Wall Sign)," is a spiral-shaped, red and blue neon from 1967 whose language is a most pointed vehicle for Nauman's conviction.
Although it's not on exhibit at the Warhol, one of my favorite Nauman works is called "Walk with Contrapposto" (1968), a performance (documented on videotape) in which Nauman walked down a long, narrow corridor, assuming that pose of classical figures in which the shoulders are twisted off-axis to the hips. The idea was to point out the absurdity of a pose intended to make sculptural figures appear as though they were in motion, yet clearly impossible to assume in reality.
This simple act led Nauman to explore ways to present things to an audience so that they would have the same experience, rather than just watching him. Eventually, at the Whitney Biennial in 1968, he reconstructed the corridor and invited spectators to perform the piece themselves. At the Warhol, as I walk through "Helman Gallery Paralellogram" and participate in reading, and perhaps even writing, the poetry within the neon words, I am struck by the power of work that considers the interaction between artist, artwork and viewer.
Elusive Signs: Bruce Nauman Works with Light continues through Dec. 30. The Andy Warhol Museum, 117 Sandusky St., North Side. 412-232-8300 or www.warhol.org