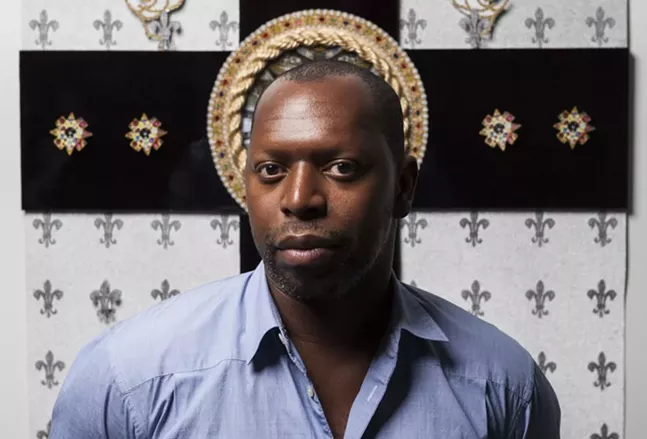 Local talent takes the stage when The Warhol presents the Pittsburgh debut of
Shade Compositions
, a multimedia performance about the complexities of social power structures, agency, and language.
Launched in 2005,
Shade Compositions
continues New York-based multimedia artist Rashaad Newsome's examination of the English Black vernacular spoken by many African Americans, esecially in urban communities.
"It really came from thinking about how Black vernacular is often stigmatized as being something ghetto or being used by people of a lower class, and how Black folk
have
internalized that," says Newsome.
To bring his latest vision to light, Newsome spent November auditioning and casting 16 self-identifying Black female and femme performers from Pittsburgh. The women, who range in age from 21 to 50, come from a variety of backgrounds, including musical theater, dance, and visual art. Using audio, video, and a hacked Nintendo Wii video game controller, Newsome will compose their voices and gestures into an improvisatory orchestral music piece, all in real time.
"Through repetition and through technology, I'm taking the Black vernacular and turning it into contemporary music," says Newsome.
A video from a previous rendition of
Shade Compositions
, which took place at the San Francisco Museum of Modern Art in 2012, gives some idea of what to expect. The performers supply their own versions of movements and sound familiar to Black vernacular, with loud finger snaps, exaggerated "hmms," and teeth-sucking noises being slowly layered into one cohesive piece.
The event aligns with
Devan Shimoyama: Cry, Baby
, an ongoing exhibition at The Warhol that, like
Shade Compositions
, explores issues related to the Black and African-American experiences.
Newsome explains that his mission for the show is to reclaim and celebrate the Black vernacular and to encourage discussion about its suppression by respectability politics, a term used to describe how marginalized groups pressure their own members to comply with mainstream values rather than challenge them.
"I think that people should come and see these incredibly talented women who live here," says Newsome. "And for the people who look like the people in the piece to realize that we don't have to internalize these respectability politics that are projected on us."