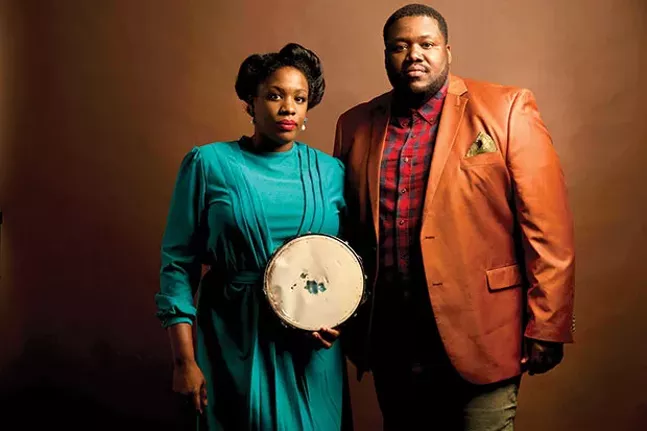 After Michael Trotter Jr. and Tanya Blount met in 2010 and went on their first date, they never parted ways again.
"[Tanya and I] are togetherness at its peak — we've been that way since our first date," laughs Trotter on the phone during an interview with City Paper. "I went to her house, and I ain't never went home."
It quickly turned out that their musical chemistry mirrored the intensity of their romantic chemistry, so they formed The War and Treaty, a soulful combination of roots, bluegrass, folk and gospel music. Blount's powerful, soulful and impressive vocal range dances alongside Trotter's tenor and falsetto to create an enveloping sound.
Even through the crackle of the phone airwaves, the couple's chemistry is tangible. Minutes before Blount joins the conversation, Trotter gushes about how great she is.
The married couple has a 6-year-old son whom they home-school, and he gets in the van and tags along with them when they hit the road to perform. Trotter and Blount are just a few days out from climbing into the van with their son, a road nanny and a host of instruments. They have plans to go hat shopping and had taught their son how to do his own laundry that morning.
If the thought of an entire family traveling nonstop for weeks at a time sounds stressful, fret not — The War and Treaty has got it under control.
"[Our son] is with us every step of the way," explains Blount. "He's home-schooled, so we just take our life on the road."
"All three of us love traveling. I think the only challenge is that I can't take my recliner with me," jokes Trotter.
When the group has spare time on the road, they like to take in the food, culture and vibe of the city in which they're playing. In addition to being fun, it's a teaching lesson for their son.
"He learns about life when we travel," Blount said. "You got to school to learn how to live, and he gets to learn all that and see museums in a ton of different cities."
And there's a pretty good chance that those people and places The War and Treaty witness and experience along the way will end up in future songs.
"Driving, walking, breathing, talking — that's all song material right there," says Trotter. "Great songwriters write to understand, not to be understood. So, life is my songwriting process."