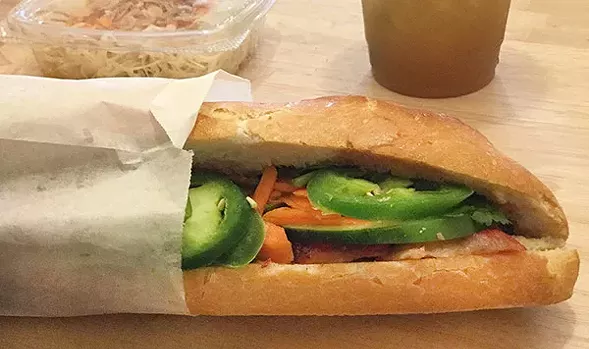 The merging of food cultures has created some excellent results, among them the popular Vietnamese sandwich known as bahn mi. The colonial French introduced the baguette, and the Vietnamese stuffed it with their grilled meats, pickled vegetables and fresh herbs.
A selection of the sandwiches awaits diners at the newly opened Bahn Mi & Ti, a charming café on Butler Street, in the heart of Lawrenceville. There are six traditional bahn mis, featuring chicken, beef, pork and fried tofu. The Viet Special takes another page from the French cookbook, adding pâté along with pork roll, cured pork and head cheese. Sandwiches are topped traditionally, with pickled carrots, cucumbers, cilantro and housemade mayonnaise; jalapeños can be added upon request.
Besides sandwiches, there are rice bowls with the sandwich proteins, and a lemongrass beef stew, with a "naked bahn mi" on the side. Speaking of sides, there are fresh summer rolls and light, shredded Vietnamese cabbage slaw.
For beverages, take note of plenty of "ti" — a substantial menu of bubble teas lets customers mix and match teas and toppings (hot bubble tea is an option). Naturally, there is Vietnamese coffee, prepared with condensed milk, and, for a taste of the tropics, sugar-cane juice, pressed fresh and served over ice.
Grab and go, or take a seat in the bright, airy space. There are a few seats at a counter, and a rear nook with small tables. The back wall is dominated by a large chalkboard; under "My New Year's Resolutions …," someone has written: "Eat 1,001 banh mis."
4502 Butler St., Lawrenceville. 412-251-5030