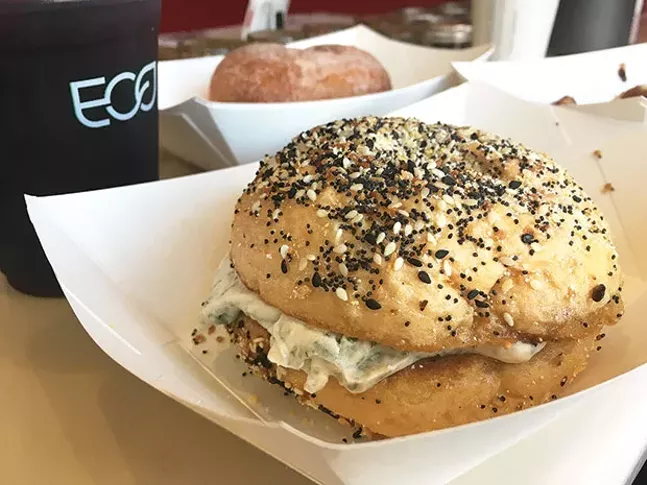 On a Sunday, a small crowd gathers around a tent set up outside Cafè d'Amore, in Lawrenceville. The smell of waffles and chocolate, alongside the savory smell of freshly toasted "everything" bagels, wafts down the block. It's a magnet for hungry passersby.
This is a typical pop-up for Relish Co., an all-vegan enterprise owned and operated by Abbigail Hansel. Today there are cinnamon-sugar knots, chocolate-chip waffles with melted chocolate and bananas on top, and everything bagels with a delicious creamy herbed spread. By the time I arrive, at 11:30 a.m., just a half-hour after the pop-up began, the doughnuts are gone.
"I try to do a pop-up almost every weekend, sometimes even two in a weekend," says Hansel. "We do wholesale to shops around the city every day, and it gives me an opportunity to test out new things, meet new people and expand our following."
These pop-ups show the range of Relish Co.'s repertoire, which changes each weekend.
"We always have doughnuts, bagels, et cetera, but I love to throw in other options, ranging from French toast, waffles, 'chicken'-and-waffle sandwiches, and even burgers," explains Hansel. "I switch it up a lot."
Hansel often doesn't decide the flavors of the doughnuts until the morning of the event. These choices are influenced by seasonal ingredients, customer requests and whatever inspiration strikes.
"I could throw entire menu plans out the window, if I find some beautiful produce in the Strip and decide to change things up the night before. It's all about what feels right," she says.
Hansel plans to open a storefront, but the timeline is still a secret. In the meantime, these pop-ups serve as a fun opportunity to guess what might be on the menu.
If you can't wait for a pop-up, Relish Co. currently delivers its donuts on various days of the week all over Pittsburgh, including to: Black Forge Coffeehouse, in Allentown; Constellation Coffee, in Lawrenceville; Zeke's, in East Liberty; ADDA Coffee and Tea House, in Shadyside; Artisan Café, in Garfield; and Cafè d'Amore and 52nd St. Market, both in Lawrenceville.