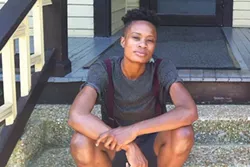 Much like the first edition of Trans-Q Live! at The Andy Warhol Museum, in 2013, this year's edition at the 100-seat Warhol Theater will retain a pop-cabaret/variety-show feel. Essentially a live version of the Pittsburgh-produced online variety show Trans-Q Television, the 90-minute Sept. 18 production offers an eclectic mix of music, dance and spoken-word and visual artists for an adult evening of entertainment.
The show is produced by Scott Andrew, Adil Mansoor and Suzie Silver, but its title can be somewhat misleading, acknowledges Silver, who's an art professor at Carnegie Mellon University. While the program has a queer-community focus, she says, "We are interested in more radical expressions of gender and desire as an artist than [in] someone's sexuality."
Hosted by Joseph Hall, this year's lineup of local performers include bawdy sketch-comedy troupe The Bang Gang; brash and funny drag performer Cindy Crotchford (Billy T. Sharp); Trinidadian spoken-word artist Bekezela Mguni; and a collaborative performance by multimedia artist Mario Ashkar and theatrical drag performer Moonbaby.
A last-minute replacement for hip-hop soul singer Blakk Rapp Madusa is New York-based indie synthpop singer/songwriter Bell's Roar (Sean Desiree). Bell's Roar will perform selections from her soon-to-be-released Firebrand Records EP SECOND CHANCES Vol. 1. Silver says she lucked out that Bell's Roar was already going to be in Pittsburgh that day to perform at Bunker Projects as part of her 11-city Midwest tour.
Also on the program are performances by dancers Anna Thompson and Taylor Knight (a.k.a. slowdanger), their work eXchange, in which the dancers take turns generating sounds with their bodies and responding through movement. And in a collaboration between dancer/choreographer Jasmine Hearn and visual artist Alisha Wormsley, the pair will explore themes of transitioning and otherness using dance, video and song.
"With Trans-Q Live! we are really trying to provide a venue and a platform for local artists to experiment and collaborate with fellow artists that they might not otherwise get," says Silver.
Intermixed with the live performances of eight to ten minutes each will be video excerpts from upcoming Trans-Q Television episodes and a video by Portuguese video artist/dancer Daniel Pinheiro that references the 1968 Andy Warhol-produced film Flesh.