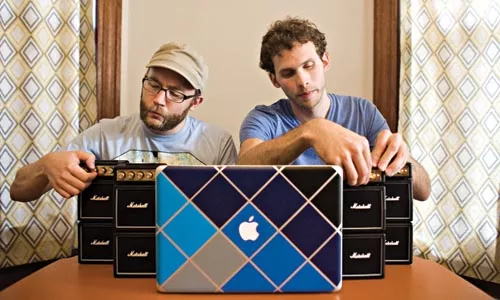 The Hood Internet makes dance music for people who think Girl Talk should pick one song and stick with it. Instead of smashing dozens of song bits into one frenetic track, the Chicago DJ duo of Aaron Brink (a.k.a. ABX) and Steve Reidell (a.k.a. STV SLV) specializes in blending an indie-rock track with a hip-hop vocal, making party jams for either hipster-leaning hip-hop heads or rap-loving hipsters -- or, really, anyone who likes to dance.
The Hood Internet started on the actual Internet, back in 2007; early mashups like R. Kelly vs. Broken Social Scene and Lil Wayne vs. Modest Mouse (called "Fire It Up, Firemouse," no less) pushed the duo onto the blogosphere's radar, and The Hood Internet was soon an internationally touring affair. In place of albums, the duo releases extended mixtapes for free online. On this year's The Mixtape Volume Four, two-minute mashups include Flo Rida vs. MSTRKRFT and Ghostface Killah vs. Beirut.
At about an hour each, the mixtapes are perfect for a party, and give said party's host an impressive conversation piece: "So you've heard of Passion Pit. But what about the lovechild of Passion Pit and Juvenile?"
For your own party mixtape, here are the Hood Internet's five best pairings:
1. R. Kelly vs. Broken Social Scene, "I'm a Flirt (Shoreline)." The R&B crooner's vocal track is fun and playful, floating atop the backing BSS track "7/4 (Shoreline)," one of the indie collective's most propulsive, beautiful grooves.
2. Drake vs. The Rapture, "Best Jealous Lover I Ever Had." Matching the best tracks yet from both Drake and The Rapture, this mashup is rhythmically locked in. Jagged guitars and cowbell mix with Drake's smoothest flow.
3. TLC vs. Led Zeppelin, "All My Scrubs." Breaking the indie-rapper model, this track finally finds a fitting home to the uncomfortable synth-pop of Zep's "All My Love."
4. Lil Mama vs. Marnie Stern, "Absorb the Lipgloss." Both performers are musical Adderall, so Mama's energetic verse over Stern's frantic guitar is a perfect fit.
5. Dead Prez vs. Grizzly Bear, "Two Weeks of Hip-Hop." For the first time ever -- and probably the last -- Grizzly Bear sounds kinda tough.
The Hood Internet. 9 p.m. Fri., Nov. 19 (doors at 8 p.m.). Rex Theater, 1602 E. Carson St., South Side. $10.50. 17 and over, with valid ID. 412-381-6811 or www.rextheater.com