Entertainment is a tough film to watch, but like Turkington's comedian, you should keep moving forward and stick it out to the end — no matter how bad things get. (Charlie Deitch) 3 p.m. Sat., Nov. 7, and 6 p.m. Thu., Nov. 12. Harris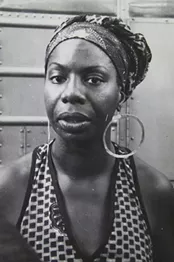 THE AMAZING NINA SIMONE. "I'll tell you what freedom is to me: no fear!" says Nina Simone in an archival interview in Jeff L. Lieberman's new documentary. The singer, pianist and songwriter scored her first hit in 1959, with her rendition of "I Love You Porgy." But her subsequent career is as worthy of its own feature-length doc as was her unlikely path to fame, and it was all a testament to her seeming fearlessness. Simone was born Eunice Waymon, in rural North Carolina, and even fans might not know she began her musical life in the Jim Crow South as a classical-piano prodigy, later studying at Julliard. She began singing in the early '50s only in order to land the piano gig at an Atlantic City bar, and over the next decade rose to fame as a powerful performer with a glamorous but forthright stage presence. Her goal was to be "as honest as I can be," and as her political awareness grew (partly thanks to friendships with James Baldwin, Langston Hughes and Lorraine Hansberry), she was honest and more with protest songs like 1964's "Mississippi Goddam."

Lieberman (who also narrates) credits Simone as a herald of black self-acceptance and empowerment, with songs like "Four Women," her embrace of Africa and the sobriquet "High Priestess of Soul." Interview subjects range from childhood friends (and Simone's high school principal!) to her brothers and longtime bandmates. But the film doesn't stint on Simone's troubled side, from her growing tendency to walk out on shows to her struggle with bipolar disorder. (Her brother and bandmate Sam Waymon claims that Simone had seven distinct personalities and suffered from "demonic possession.") But her low points in the 1970s and '80s preceded a 1990s revival, and if you want to understand why Simone is a cultural icon, The Amazing Nina Simone is a fine place to start. (BO) 8 p.m. Sat., Nov. 7, and 2 p.m. Sun., Nov. 8. Harris. Director Jeff L. Lieberman is scheduled to attend both screenings.
GLASSLAND. Noise and light are sparse throughout the first third of Gerard Barrett's bleak, but beautiful new film. They're doled out with restraint, like waning resources: no music, not much dialogue, dark rooms built for hangovers, and interior shots perpetually backlit by harsh gray Dublin daylight. It sounds dreary, and it is, yet Glassland's powerful emotional core shines through the muck, thanks primarily to its two principal actors and the confident minimalism that carries through its 90-minute runtime.

Jack Reynor plays John, a twentysomething taxi driver who seems much, much older than that, aged by a lifetime of looking after his alcoholic mother, Jean, played with alternating fragility and ferocity by Toni Collette. John's father is long gone, and his younger brother who has Down syndrome, lives elsewhere, leaving John and Jean to fill out the family on their own. John works and worries; Jean drinks.
The central crux of the story focuses on John's efforts to get Jean into treatment, and the complicated way the two depend on and resent one other. But the film is also populated and empowered by wonderful secondary players like John's dopey-sweet pal, Shane (Will Poulter), and an avuncular alcohol counselor played by Michael Smiley. There are side stories that, with a different director and script, would seem forced and unnecessary, but here they manage to feel organic.
Glassland is definitely minimal during its first third — and much of its second act — but as a result, little is superfluous. Every word weighs a ton and every interaction is alive. Though it is not in any sense a fun movie to watch, there is real joy in this film. Also profound misery, disease and bitterness, but beneath it all, Glassland is a hopeful endeavor. (Alex Gordon) 3 p.m. Sun., Nov. 8, and 4:15 p.m. Thu., Nov. 12. Waterworks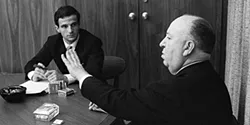 HITCHCOCK/TRUFFAUT. Hard to believe now, when he's acclaimed as an iconic artist, but 50 years ago, Alfred Hitchcock was widely seen as merely a highly successful light entertainer. Film writer Kent Jones' new documentary recounts the exact moment that began to change. In 1962, French New Wave wunderkind Francois Truffaut instigated a series of conversations with his hero Hitchcock about each of the older man's films. The transcriptions, supplemented by stills from those films arrayed storyboard-style, became a 1966 book that has influenced generations of filmmakers and, not coincidentally, helped reform the critical view of Hitch as a groundbreaking auteur.
Jones' cinephile's-dream doc recaps those long-ago conversations at Universal Studios (which were facilitated by a translator), including charming still photos and liberal doses of original audio. Contemporary directors weigh in on both Hitchcock and the Hitchcock/Truffaut book, from Martin Scorsese and Peter Bogdanovich to David Fincher, Wes Anderson, Richard Linklater, Oliver Assayas and Kiyoshi Kurosawa. The documentary explores how Hitchcock's films played with the experience of time and privileged plot over character development, and also how he handled actors. (You'll hear his famous quote "Actors are cattle" — a reminder that, in many respects, ironically enough, Hitchcock's hypercontrolling approach was almost exactly opposite that of the improv-friendly Truffaut.) Extended consideration is given to both Vertigo, which exemplifies Hitchcock's theme of erotic obsession, and Psycho, which demonstrated both his eagerness to surprise audiences and his willingness to subvert cinematic convention (with, for instance, the lengthy narrative misdirection that opens that 1960 classic). You might also be pleased to learn that those 1960s conversations created a lifelong bond of friendship between Hitch and Truffaut. (BO) 5:30 p.m. Sun., Nov. 8, and 4:15 p.m. Wed., Nov. 11. Waterworks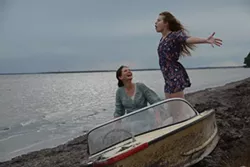 BREATHE. Based on the popular young adult novel by Anne-Sophie Brasme, Breathe has all the trappings of a standard coming-of-age story: beautiful high school students, tumultuous parental relationships, sexual anxiety and scenes that look like they were shot through the Valencia Instagram filter. Studious Charlie (played with wide-eyed stoicism by Josephine Japy) meets Sarah, the new girl at school, and the two quickly become inseparable. Sarah (Lou de Laage) is funny, wild and beautiful, and because her mother works for an NGO in Africa, she's been everywhere and done everything. But as time goes on, cracks begin to show, and stories don't add up. As Sarah's behavior towards Charlie becomes erratic and even cruel, Charlie's fixation on Sarah deepens.

Directed by Mélanie Laurent — who Americans will know better for her role as Shosanna in Inglorious Bastards — Breathe, on one hand, serves as an interesting study of the romantic intensity that can develop in platonic female friendships. On the other hand, it's a horror show of manipulation and abuse. The thematic exposition can be a bit on-the-nose. (Early on, a teacher tells his students, "Passion is harmful when it becomes excessive, which is most of the time.") But an enthralling tension carries the quietly told story forward, and viewers are unlikely to forget the final scene any time soon. (Margaret Welsh) In French, with subtitles. 7 p.m. Sun., Nov. 8, and 2 p.m. Wed., Nov. 11. Waterworks.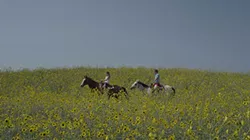 TAKE ME TO THE RIVER. California teenager Ryder (Logan Miller) and his parents travel to Nebraska for a family get-together at the old rural homestead. Ryder is out at home, but his mom (Robin Weigert) cautions him to keep his homosexuality a secret at the gathering. But Ryder still raises eyebrows when he hits the picnic in shorty shorts and kicky sunglasses.
He finds an ally of sorts in his playful 9-year-old cousin, Molly. But when Molly suffers a minor injury while in Ryder care, Molly's dad, Keith, turns angry and ugly. But, in Matt Sobel's domestic drama, that anger isn't half as creepy and unnerving as the reconciliation Keith forces on Ryder. A slow-burner about family dysfunction and long-kept secrets that feels even more disturbing when set against the sunny backdrop of an all-American farmstead. (AH) 9 p.m. Sun., Nov. 8, and 2 p.m. Thu., Nov. 12. Waterworks.