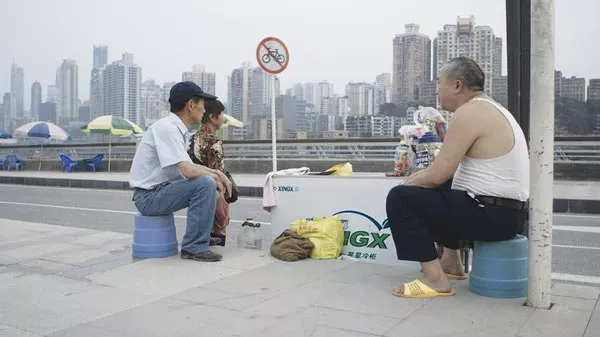 HOMEMAKERS. Filmed mostly in Pittsburgh, Colin Healey's comedy depicts a wild child (a fierce and fearless Rachel McKeon) who flirts with settling down after inheriting a ramshackle house in Bloomfield. It's loosely plotted (a bit mumblecore-ish), but beneath the chaos Healey makes some cogent points about identity, growing up and forming community. 7:15 p.m. Fri., Nov. 7. Melwood. $15 (Al Hoff)
THE OVERNIGHTERS. North Dakota's oil and gas fields have made the small prairie hamlet of Williston a modern-day boomtown. But as thousands of workers — mostly men from the South and the West — pour in, hoping to snag high-paying manual-labor jobs, there's nowhere to house them. Thus, Jay Reinke, a local pastor, institutes a program to put the "overnighters" up in the church, to the discomfort of neighbors and church members.
That sounds vaguely heartwarming, but Jesse Moss' documentary instead casts light on deep cracks in the American Dream, as well as the disconnect between how we see ourselves and how we really are. Moss profiles a few of the workers — stories that begin in hardship, and are briefly buoyed by hope, before ending badly. But the workers are a feint — the heart of The Overnighters is pastor Reinke, and his story, gradually revealed as the battle against the town chips away at his cheery, calm exterior, is a shattering journey into the soul.
Most accounts of the renewed oil-and-gas industry focus on the environmental costs or the economic benefits, but few examine the effect on a community and the individuals within it. The Overnights uncovers nothing that didn't exist before or was lying dormant, but it took the boom to bring such desperation, ugliness and heartbreak to the surface. 7:15 p.m. Fri., Nov. 7. Harris (Al Hoff)
THE HUMAN SCALE. With their high-rises, their highways and their desolate public spaces, the modernist architects and planners of the 1960s all but killed real city life — and the rapidly urbanizing developing world of today is following suit. Filmmaker Andreas M. Dalsgaard says it needn't be so, and looks to pioneering Danish architect Jan Gehl (and various academics and government officials) to point the way. The film surveys efforts in Denmark, Australia and New York City to undo bad design. (Did you know stretches of Broadway have been successfully closed to auto traffic?) And it visits a Chinese mega-city and the world's fastest-growing city, Dhaka, Bangladesh, to show how good planning can help the poor while improving street life — enabling our humanity rather than hindering it. The fast-paced 76-minute film wraps in Christchurch, New Zealand, where a massive earthquake provides an opportunity to remake the city center for people — assuming business interests don't upend a democratically crafted plan. 4:30 p.m. Sat., Nov. 8 (Melwood) and 7 p.m. Thu., Nov. 13 (Harris). (Bill O'Driscoll)
MARIE'S STORY. Jean-Pierre Ameris' film tells the "based-on-true-events" story of Marie, a young girl born deaf and blind in late-19th-century France, and Sister Marguerite, the nun who feels it's her vocation to help her. Marie comes to Marguerite's school for deaf girls as all but a lost cause; there's a lot of struggling, and then, of course, the two turn a corner. It's a lot of The Miracle Worker, but in French; Marguerite's health problems are the variable that bring the story special meaning. Inspiring and thought-provoking, if sluggish at times. In French, with subtitles. 5 p.m. Sat., Nov. 8 (Regent Square) and 4:30 p.m. Wed., Nov. 12 (Waterworks) (Andy Mulkerin)
INCENDIES. Beginning with a will reading in Canada, before moving to an unnamed war-torn Middle Eastern country, Denis Villeneuve's 2011 drama jumps around in place and time, offering viewers scattered jigsaw pieces that will indeed snap into a whole. In it, two grown children journey to their recently deceased mother's homeland to uncover lost family members and learn their mom's true history. Her life, entangled in sectarian strife, is one of sorrow, rage and perseverance. While Incendies has been adapted from a play, its translation to the big screen gives it an epic scope, from the wide shots of an alien dusty land to its slow assembly of disparate scenes, many quietly powerful. Its conclusion is a shocking bit of melodrama but sometimes life really can be horrifying. In English, and Arabic, with subtitles. 1 p.m. Sun., Nov. 9. Melwood (Al Hoff)
SUPERNOVA. Physics and teenage ennui collide in this offbeat but lyrical coming-of-age story about a young Dutch girl, living with her cranky family at a blind curve along a rural road. A thread of dark comedy running through Tamar van den Dop's film finds the family fervently hoping for another car crash to liven up their lives. In Dutch, with subtitles. 4:30 p.m. Sun., Nov. 9, and 9 p.m. Tue., Nov. 11. Waterworks (Al Hoff)
STOP THE POUNDING HEART. In perhaps the quietest and least-dramatic coming-of-age film you'll ever see, teenage Sarah, a member of a large, devout, farm-based Christian family in rural Texas, questions whether she wants the life prescribed for her. In this docudrama, unusually, Sarah and her extended family play themselves; Robert Minervini's camera simply hangs out with them, as well as with Sarah's neighbors, a more modern family whose sons dream of bull-riding. Introspective, and for the patient. 4:30 p.m. Sun., Nov. 9, and 7:30 p.m. Wed., Nov. 12. Harris (Al Hoff)
ONCE UPON A TIME, VERONICA. Marcelo Gomes' portrait of a young woman in contemporary Brazil is a study in lightly masked depression. Veronica is young, beautiful and a newly fledged psychiatrist. But her beloved father, whom she lives with, is ailing, and her job at an overcrowded city hospital is a series of futile encounters with the poor and the addled. Worse for her, she feels herself incapable of love — though she vents her frustrations through copious sex, which Gomes portrays intimately. The film is framed partly as Veronica's audio journal, in which she casts herself as her own patient. It's a poignant device, and Hermila Guedes is strong in the title role. The film's resolution hinges on something of a deus ex machina, but if nothing else, Veronica fascinates as a detailed glimpse into today's Brazil. In Portuguese, with subtitles. 6:30 p.m. Sun., Nov. 9, and 9 p.m. Mon., Nov. 10. Waterworks (Bill O'Driscoll)
MAGICIAN. At 90 minutes, this consideration of Orson Welles' life, work and legacy is necessarily a gloss, from the boy-wonder days of theater, War of the Worlds and Citizen Kane to his wanderings in Hollywood's hinterlands and final years as a corpulent if stentorian TV pitchman. Still, veteran documentarian Chuck Workman competently remakes the case for Welles' singular cinematic genius, drawing on talking heads including biographer Simon Callow, film historian James Naremore, critic Elvis Mitchell, Welles pal Peter Bogdanovich and Welles' longtime companion Oja Kadar. Perhaps most fascinating is Workman's take on Welles as what director Richard Linklater calls "the patron saint of indie filmmakers." After Hollywood shunned him, Welles took to Europe and spent decades tirelessly gleaning the resources to complete works like Chimes at Midnight, the Shakespearean drama that some (including Welles) consider his finest achievement — even though, characteristically enough, legal troubles have kept it out of distribution for decades. 8 p.m. Sun., Nov. 9 (Regent Square) and 6:30 p.m. Tue., Nov. 11 (Waterworks). (Bill O'Driscoll)
DIRTY WARS. Rock Rowley's 2013 film follows investigative journalist Jeremy Scahill through the shadows — from a covered-up U.S. Army night raid in Afghanistan to the current off-the-books actions of the super-secret Joint Special Operations Command (JSOC) in Yemen and Somali. The film is part investigative report, part docu-drama and part meditation on the long-term costs of the clandestine U.S. military actions overseas. "The war on terror," Scahill summarizes, "has transformed into a self-fulfilling prophecy." Scahill writes for The Nation, and also penned the influential exposé, Blackwater, about the titular military contractors. A lot of the shocking detail is buried in mountains of data, and that's the value of a yard dog like Scahill. Before JSOC came to light, Scahill would find photos, often buried in foreign press or overlooked reports, of U.S. military commanders wearing uniforms missing key insignia. He converts military numerical charts of enemy kills into the names of women and children killed by secret strikes in Yemen. It's a story, he says, of the "seen and the unseen, and what's hidden in plain sight." The rub with black ops, of course, is that it's hard to find independent sources to verify one's claims. But if only a fraction of what Scahill posits is happening, it's disturbing enough. In English, and various languages, with subtitles. 5:30 p.m. Thu., Nov. 13. Melwood (Al Hoff)