The 29th annual Three Rivers Film Festival, presented by Pittsburgh Filmmakers, continues through Sat., Nov. 20. All films screen at: the Harris Theater, Downtown (809 Liberty Ave.); the Melwood Screening Room, North Oakland (477 Melwood Ave.); or the Regent Square Theater, Edgewood (1035 S. Braddock Ave.).
Tickets for most films are $9 each. Tickets are available at the door, or in advance, from ProArts (412-394-3353 or proartstickets.org). Call 412-681-5449 or see www.3rff.com for information about tickets and passes, as well as the complete festival schedule of films and related events.
Following are reviews of select films screening through Thu., Nov. 18.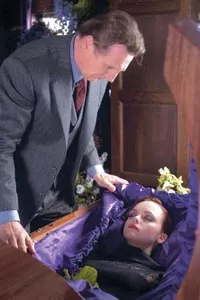 AFTER.LIFE. After a car accident, a moody schoolteacher (Christina Ricci) finds herself "trapped" at a funeral home, suspended between life and death. Or at least that's what the funeral director (Liam Neeson) tells her. Her distraught boyfriend (Justin Long) isn't so sure. Agnieszka Wojtowicz-Vosloo's slightly psychological, slightly spiritual thriller definitely has moments of intrigue, and occasionally zigs when you were expecting it to zag. But assessed from start to finish, its narrative is balanced on a few spindly legs -- reality, fantasy, contrivance -- that may not hold up. It's meant to be more thoughtful than shocking, but its high-mindedness too often slows down into boring. 7 p.m. Wed., Nov. 17, and 7:30 p.m. Thu., Nov. 18. Regent Square (Al Hoff)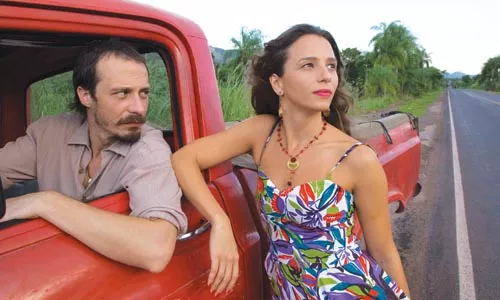 CARMO, HIT THE ROAD. Free-wheeling Brazilian bombshell Carmo wants to leave home. Paraplegic Marco is quiet, dedicated to smuggling a truckload of stereos. They meet when Marco saves Carmo from a sexual assault; Carmo later saves Marco from a robbery/beating. The two end up on a journey across South America pursuing Marco's loot. No road-trip-flick kitsch here; Murilo Pasta's gritty/flashy take on the genre both excites and perplexes, with underlying commentary on sexuality and juxtapositions such as Carmo's mother having sex with a policeman in front of her shrine to a saint. In Spanish and Portuguese, with subtitles. 4:30 p.m. Sun., Nov. 14, and 7:30 p.m. Tue., Nov. 16. Harris (Lauren Daley)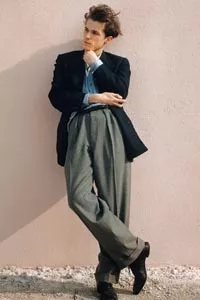 GENIUS WITHIN: THE INNER LIFE OF GLENN GOULD. Its title notwithstanding, Peter Raymont and Michèle Hoze's documentary of Glenn Gould doesn't fully plumb the depths of this celebrated but eccentric pianist, who died in 1982. Gould's idiosyncrasies (hypochondria, etc.) are mostly alluded to rather than illustrated, and it's hard to square them with the charming figure shown in copious archival footage. This well-researched film does better exploring Gould's outer life -- like his cutting-edge ideas about music recording, and the role PR plays even in the rarified world of classical music. Gould fans will eat this film up; neophytes may wish for a more elementary discussion of just what made Gould's technique so revolutionary. 9:30 p.m. Wed., Nov. 17, and 7 p.m. Fri., Nov. 19. Regent Square (Chris Potter)
HOW I ENDED THIS SUMMER. This is a frigid, barren film -- and not just because it's set at a Russian weather station in the Arctic Circle. With that epic scenery as backdrop, writer/director Aleksie Popogrebsky chronicles the fate of Sergei, who grew up here, and Pasha, the newcomer who vexes Sergei continually. Unfortunately, he vexes us as well: As his decisions become increasingly destructive, his motives remain unclear, and Sergei's equanimity becomes harder to believe. Perhaps Popogrebsky, like a winter wind, is scouring human nature to its existential bedrock, suggesting it can never be fully explained. Maybe he intends a generational critique of irresponsible, video-game playing Pasha. Or maybe something got lost in translation. In Russian, with subtitles. 7 p.m. Fri., Nov. 12, and 5 p.m. Sun., Nov. 14. Regent Square (CP)
KINGS OF PASTRY. Documentarians D.A. Pennebaker and Chris Hegedus (The War Room) turn their cameras on the very serious pursuit of French pastry, following three chefs as they prepare for and compete in the three-day contest for the coveted Meilleur Ouvrier de France medal. The filmmakers employ their stripped-down doc style, and I'd have liked a little more general exposition. (Can only French guys compete? Why is this contest held in a tent?) On the upside, we're right in the kitchens as the chefs sweat their way through nightmarish tasks, such as constructing massive (and very fragile) sugar sculptures. Viewers more familiar with the slick stylings of Top Chef and its ilk may find the contestants (two of whom I had trouble keeping straight) somewhat bland and the pace slow. But the patient will be rewarded with one moment of gasp-aloud shattering drama. In English, and French, with subtitles. 7 p.m. Sat., Nov. 13, and 7 p.m. Mon., Nov. 15. Harris (AH)
LARGO WINCH. Based on the Belgian comic-book series, Jerome Salle's live-action film follows the title character as he's faced with an unknown enemy trying to eliminate him and take over the company that his father, recently murdered, left behind. Part thriller and part whodunit, the film satisfies psychological urges (plenty of red herrings are tossed about) as well as base ones. (Motorcycle chases! Knife fights! Sexual relations with beautiful, mysterious women!) A nonlinear chronology confuses things just enough, without making anything too obscure; the result is exhilarating and somewhat surreal, but ultimately satisfying. In French, with subtitles. 4:30 p.m. Sat., Nov. 13, and 9 p.m. Mon., Nov. 15. Harris (Andy Mulkerin)
MADEMOISELLE CHAMBON. Jean (Vincent Lindon) is a taciturn construction worker, quietly frustrated with his marriage and life of dutifulness; Véronique (Sandrine Kiberlain) is his young son's school teacher, who attracts him with her youth, music and sophistication. Stéphane Brizé's probing film, based on a smartly allusive script, builds its tensions slowly, almost casually. But the result is potent, with the intimacy and cogent urgency of a good short story. In French, with subtitles. 7:30 p.m. Sun., Nov. 14, and 9 p.m. Tue., Nov. 16. Regent Square (Bill O'Driscoll)
PHIL OCHS: THERE BUT FOR FORTUNE. Kenneth Bowser's documentary is definitely a worthwhile pick for serious or casual Ochs fans, as well as those interested in folk music and the radical '60s. It reveals the singer-songwriter's appetite for fame, which competed with his quest for social justice, and explores his descent from being a young musician often compared with Bob Dylan to being deeply affected by manic depression. The film draws on footage from Ochs' life and talking-head interviews (many seemingly archival) with friends and colleagues, including Joan Baez, Van Dyke Parks and the late Jerry Rubin. 7 pm. Wed., Nov. 17, and 1:30 p.m. Sat., Nov. 20. Melwood (AM)
PUTTY HILL. Matt Porterfield's pseudo-doc checks in with a handful of residents of a working-class Baltimore neighborhood, who share one close (or not-so-close) connection to a young man recently dead from an overdose. For the most part, the performances are naturalistic, but Porterfield's strenuous commitment to "real" means not much plot, aimless dialogue and enough background noise that it can be hard to hear what folks are mumbling. I understood what Porterfield is trying to do -- to depict, without judgment and artifice, the strands of a marginalized community and how they're tightened and frayed by one member's death. But this is a slow, ponderous work with just a few scenes, such as the karaoke funeral, that click. 7 p.m. Mon., Nov. 15, and 9 p.m. Wed., Nov. 17. Melwood (AH)
THE REVERSE. Borys Lankosz's odd but very effective film is a finely tuned dark comedy set in 1952 Warsaw, with a contemporary framing device intentionally jarring in its poignancy. Bookish Sabina, whose deeply bourgeois mother is desperate to marry her off, works in the poetry department of a Communist publishing house. Then she meets a tall dark stranger, and the resulting mayhem, complete with secret police and murder, is rivetingly shot in widescreen black-and-white, with an emphasis on the claustrophobia of the city's deceptively wide-open interiors and exteriors, and the hothouse tension of Sabina's family apartment. In Polish, with subtitles. 7 p.m. Thu., Nov. 11. Melwood (BO)
SYNC'D II. This program of locally made silent shorts screened to live musical accompaniment, a stand-alone hit last December, returns as part of the festival. These new films, curated by Michael Maraden, include narrative and experimental work as well as animation, ranging from Christina Zaris' kookily macabre "Kaleyedoscope" to Marina Pfennig's portrait of depression, "Francesca." Others among the 11 filmmakers include Tess Allard, Sam Boese, Justin Crimone, Matt Day, Jessica Fenlon, Felipe Garcia-Huidobro, Kristen Lauth Shaeffer and Nicole Pianella. The music is by visiting heavy-rock band Black Yodel (which also played last year) and Pittsburgh guitars-and-organ trio Bigg Slurpp. 10 p.m. Fri., Nov. 12. Regent Square (BO)