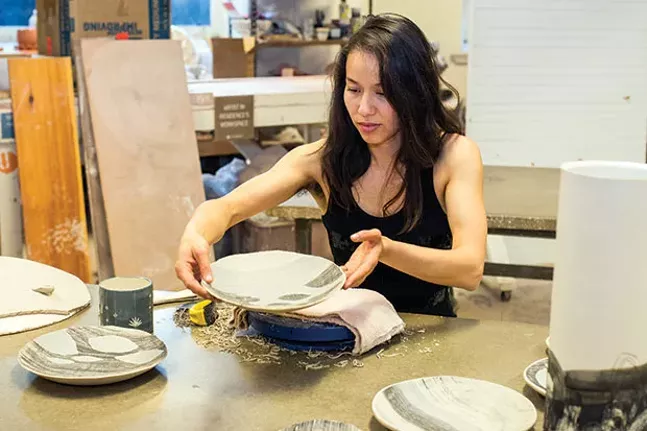 The Downtown air is filled with carnival food; sounds of laughter and chatter dance across the pavement. Around the corner, a corridor of hundreds of tents appears, each one holding a unique set of artistic treasures to behold or maybe take home. This is the Three Rivers Arts Festival Arts Market, a perennial staple of summer in the city of Pittsburgh.
This year's visual arts market features 362 artists in 368 booths. As people explore the market Downtown, they may notice booths featuring signs that say "Emerging Artist," or "Emerging Artist Alumni."
The Emerging Artist program was started in 2003 as a way to encourage artists to get their foot in the door at a large outdoor market without the stress of paying for a 10-by-10 booth space, a tent, lights and all the other outdoor-vending necessities.
There were more than 70 applicants for the program this year, and nine new Emerging Artists were selected. Those artists: Brian Peters, who creates 3D printed ceramics; Brett Kern, who works with slip-cast clay sculptures and makes functional clay pottery; Lauren Braun, who works with graphite, pastels, charcoal, Xerox transfers, metallic wax crayons and acrylic paint; oil painter David Wadsworth, who creates city scenes, abstracts and landscapes; Darrin Milliner, whose art is a combination of drawing, painting and computer-aided design; Stacy Rodgers, a jewelry artist who creates organic, hand-pierced pieces from sterling silver; oil-painter Annie Heisey, who works on cradled panel; and Keith Loughrey and Nancy Murray (known as Burghwood), who make hand-crafted wooden furniture.
Two prior Emerging Artists have been granted scholarships to return for another year: Nathan Doverspike (drawing) and Corina Kooiman (ceramics).
These artists were selected after three rounds of jurying, based on their scores. With a wide variety of applicants, this class represents what's going on in Pittsburgh and the greater art community.
Starting an art career can be daunting, and making it financially viable is even more difficult. Melissa Franko, coordinator of the artist market, says the Emerging Artist program is necessary to give young artists a boost, so they receive the attention they deserve.
"We don't like to just have one school of thought on display, because we want to be representative of Pittsburgh and of the arts," explains Franko. "It's mainly about their talent, but we end up getting a good cross-section of Pittsburgh, too."
Franko works closely with each class of Emerging Artists, meeting one-on-one to prepare for the event.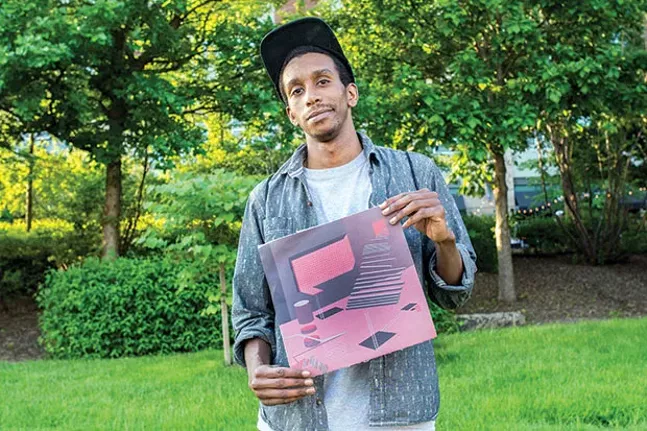 She also started a private Facebook group to connect all prior Emerging Artists with those new, giving them a community to reach out to for questions. This fosters a collaborative spirit that only improves Pittsburgh's already strong arts community.
"I'm really proud when previous Emerging Artists stay in touch on that Facebook group and are welcoming to new artists," says Franko.
Annie Heisey's work is bright and colorful and in the figurative realm.

"I grew up in Pittsburgh and have been going to the Three Rivers Arts Festival since I was kid," says Heisey. "I thought it would be a really great thing to be a part of, but I couldn't afford it."
Being selected as an Emerging Artist gave Heisey the opportunity to have a free space in which to sell, but equally valuable to her is the information and network the program offers.
"It would have been so much more complicated if I was just going for it on my own. I had my first meeting with Melissa, and she was going through lists of things I hadn't even thought about. I was like, 'Wait! Let me write this down!'" laughs Heisey.
Heisey describes Pittsburgh's art community as robust and inclusive, a sentiment echoed by Franko. This upcoming market will provide an opportunity for Heisey to meet even more artists and grow her network.
Heisey earned an MFA in art and has taught grad classes but felt she hadn't learned much on the business end of things.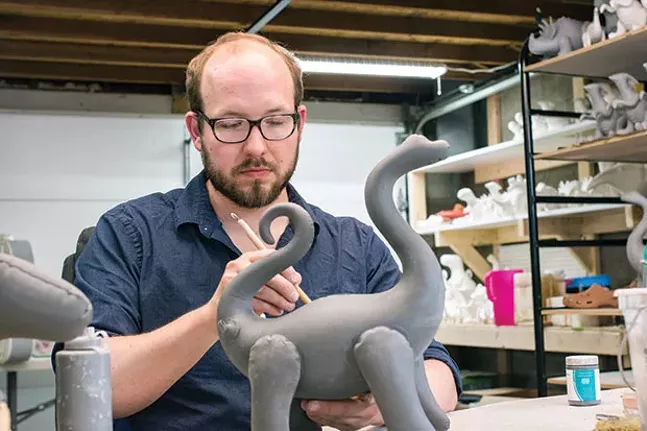 "It wasn't something we talked about at all," she explains. "You have to then put it all together on your own. But the business know-how this program offers and tiny logistical things that Melissa gives us are hugely beneficial. As an artist, you really have to be an entrepreneur, and that's not natural to a lot of artists."
Darrin Milliner echoes Heisey's sentiments as he talks about being a part of the arts market.
"I don't think I would have the right resources to actually display at the festival without it," Milliner explains.
"I've learned a lot from everyone in the program now and previous years that will help me in submitting and displaying my work in similar events in the future. I think the community aspect of the program is amazing, and with all the help, I'm able to focus on creating more art."
Milliner's art is reflective of a shift in the interests of younger artists that Franko pointed out. His pieces play with perspectives and simple geometric shapes, using digital illustration with printed collages.
"You can see in the last few years that younger artists are going towards 3D technology art, screen printing and graphic design," says Franko.
Another Emerging Artist making out-of-the-box pieces is Brett Kern. His work on display will include signature dinosaur sculptures, in addition to mugs and planters and other functional ceramics. He's even selling a crock pot in the mold of an actual crock shoe.
"I usually don't make this much stuff," explains Kern. "I work with a few galleries, so I don't have a lot of inventory laying around. People don't want to come and see a bunch of bare shelves, so I've been doing 15-hour days in the studio to prepare."
Other artist friends of Kern's spoke on the benefits of participating in the festival, but Kern is still concerned about finances. "You worry about spending the money and not selling that much, so for a young artist or someone new trying to break in, the Emerging Artist program wipes out that financial risk," says Kern.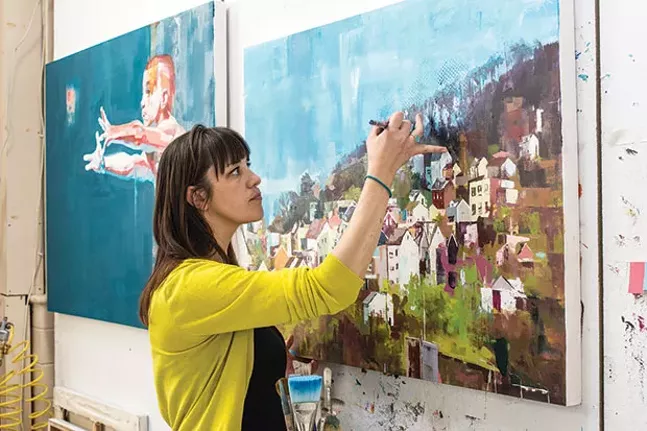 Returning Emerging Artist Carina Kooiman agrees.
"It's a big investment if you don't know how much money you'll make," says Kooiman. "But the logistical and moral support put me at ease, and it helped me figure out if I'm able to do this in a yearly way."
Kooiman will be selling porcelain in her own tent, one she invested in with the advice and guidance of other artists in the Facebook group.
In a few days, this year's Emerging Artists will set up shop and dive right into the waters of a large outdoor market, which averages about three million attendees each year.
"Some of these artists may find that outdoor shows aren't their thing right now, and that's the beauty of this. If you come and discover you're not quite ready to do this on your own yet, you can find other outlets, because you're part of the Trust Arts family now," says Franko.