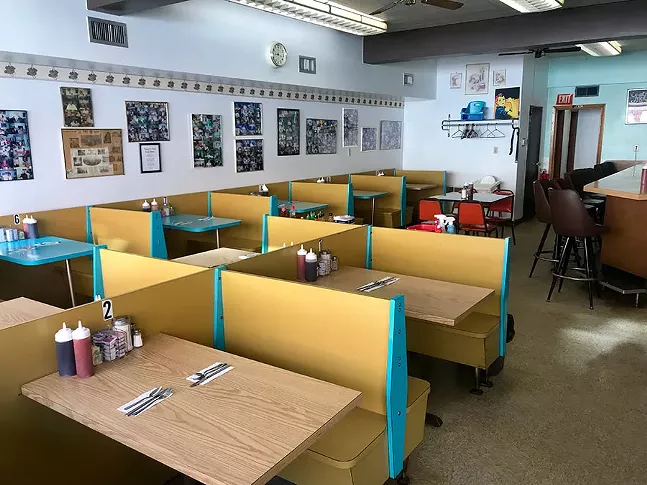 Nancy's Revival
Since 1976, Nancy's East End Diner has been a meeting place for the Wilkinsburg community. The diner, an antique from Pittsburgh's booming steel industry, was rebranded this week as
Nancy's Revival
.
The name originates from owner Jordan Robarge's popular food truck, Revival Chili. Robarge and his partner, David McAlpin, reassure Nancy's longtime fans that the menu will stick to traditions. Popular homestyle menu items are here to stay, just with a few updates.
Ba-Co
As Smallman Galley waved goodbye to 2018, they also bid farewell to a month-long vegan restaurant, Crumb. With a new year comes a new concept and last week the restaurant incubator welcomed
Ba-Co
to the lineup.
Ba-Co brings Southern flavors with a Latin twist. Chef Tim Dominick creates dishes like the Trail Blazer, a taco featuring house smoked pork belly, street corn and chili-lime aioli, finished off with classic toppings like cilantro and onion. But tacos are just the beginning. The rest of the menu features a wide range, including loaded tater-tots and mac n' cheese.
Astroid Cafe
South Side welcomed another coffee shop to its caffeine scene in mid-December.
Astroid Cafe
opened in the Pittsburgh Terminal Building, a partner of co-working space Beauty Shoppe.
Astroid Cafe is sleek, clean-cut, and modern. Beverages are served in handcrafted mugs, each one specially made for the shop. The cafe's coffee selection follows its atmosphere, offering a stylish menu of coffees, teas, and the shops signature "expressive," a play on long-pull espresso.
Fairlane
On Dec. 22, Mt. Lebanon's newest restaurant, Fairlane, served its first dishes. Housed in the space once occupied by Block 292, Fairlane opened with a menu full of comfort flavors along with a craft beer and wine bottle shop .
Before branching out to a full-service restaurant, owners of the Mt. Lebo eatery ran a Southern-inspired food truck. Traditional Southern flavors still shine on the menu; freshly fried chicken in sweet tea glaze (only offered on Sundays and Mondays) is one of the restaurant's boast-worthy items.
La Riviera
"Food brings people together." That's the sentiment behind
La Riviera
chef/owner Andrew Garbarino's February program, a to-go soup kitchen. Every Monday of the month, the French bistro will transform into a complimentary soup kitchen. It will be a chance for the restaurant to give back to their beloved city, because, as Garbarino points out, "It's the people and the community that are important."
The restaurant, typically closed on Mondays, will open from 2-5 p.m. offering a rotating soup, bread, and water free of charge.

Taco Trail
Listen up, taco lovers! Shadyside Funhouse, a new food tour group, is offering trips down Pittsburgh's taco trail. The journey includes four of the city's beloved taco joints and of course, margaritas. If that's not enough, the event is also BYOB with a ride to transport trailblazers between stops.
The February event is already sold out, but keep an eye on the Shadyside Funhouse Facebook page for the next trip down the trail.
Fried Avocado
Avocado is taking over. It's on sandwiches, topping salads, in brownies, and even being used as a mug (yes, avocado lattes are a real, purchasable item), so why stop there?
Musa Caribbean / Cajun Fare
in Beechwood takes the trend to a greasier level. Their deep fried, plantain-crusted avocado just might be the next French fry.
Punch Bowl Hour
Tired of happy hours? Head over to Tina's in Bloomfield for a fresh take on the post-work tradition. Treat yourself and coworkers to an actual bowl of spiked punch. It even comes with its own ladle!