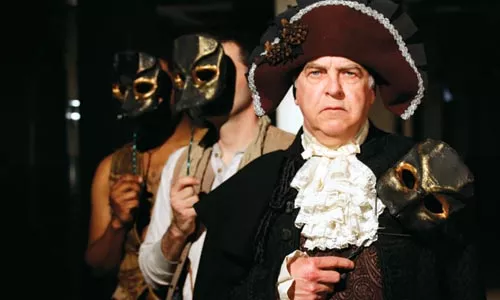 Let's get the obvious pun out of the way: Quantum Theatre's production of The Task is a moving experience. Literally. Director Jed Allen Harris moves the audience, not the sets, for the various scenes of Heiner Müller's 1979 one-act play (originally Der Auftrag, translated by Carl Weber). There's plenty of room in Strip District's old Gage Building, where Quantum artistic director Karla Boos used a similar ploy in the 2002 production of Quake.
The late Müller, an East German dissident who disdained Soviet socialist realism, preferred long expositions and nightmarish dream sequences, giving actors oodles to do. The exemplary Quantum cast is more than up to the task as Harris pulls them from straight drama to absurdisms both comic and dark.
The play's principal "task" is a commission from the government of post-Revolutionary France. Three of its disparate but dedicated citizens are sent to Britain's valuable colony, Jamaica, and incite the slaves to revolt. (Actually, slave rebellions were rather common there in the 18th century.) But there are other, far less straightforward tasks. A modern clerk tries to reach his boss' office for some nameless assignment, and instead ends up in Peru -- in what era and for what purpose, unknown.
As for spreading the spirit of the French Revolution -- liberté, égalité, fraternité -- the mission is a known failure as the play begins. The plot is far subordinate to the themes of revolution and inevitable betrayal. Treason is even personified (a boldly versatile Tami A. Dixon), and Despair is an androgynous angel (a haunting Shammen McCune).
But it's the trio of conspirators who grab you by the throat, metaphorically speaking, in their various guises. Larry John Meyers delivers one of his best performances ever as the aristocrat, with wide turns as the resolute leader, the buffoon in burlesque, the pusillanimous traitor. Larry Powell, who sounds like the voice of God, plays the ex-slave who's as suspicious of his white colleagues' constancy as he is angry at the colonial system that sustains them. Tony Bingham plays the peasant most devoted to the cause, and most confused by its failure.
Applause also to Mark Conway Thompson as the wary and worried ex-revolutionary; Joseph McGranaghan as a sailor/narrator; Susan Tsu's costumes; Narelle Sissons' sets; C. Todd Brown's lighting; Joe Pino's sound; and dramaturg J.A. Ball.
Though only 90 minutes, The Task is challenging and rather daunting -- a perfect fit for Quantum's curriculum vitae.
The Task continues through May 9. Quantum Theatre in the Gage Building, 30th Street and Liberty Avenue, Strip District. 412-394-3353 or www.quantumtheatre.com