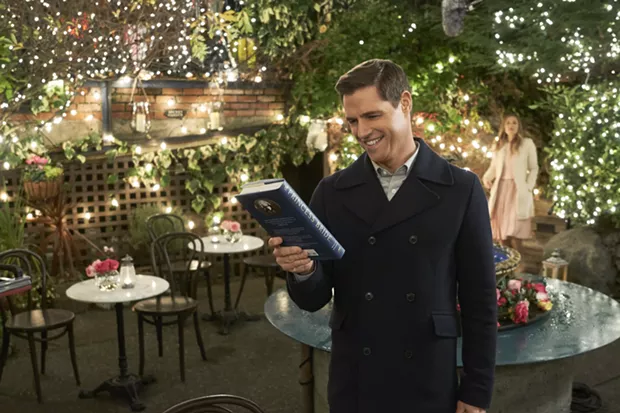 For every holiday, there is a Hallmark movie where people fall in love on or around the special day. Holidays were practically invented by Hallmark! Or something like that.
City Paper
watched
a whole bunch of them around Christmas time, so when I saw there were Valentine's Day movies, I hopped back on the saddle.
The Story of Us
is a romantic tale about first loves, new beginnings, and urban planning. When two high school sweethearts meet again, they have to decide whether to follow their hearts or fight for the development plan that best suits their business interests.
Sawyer (Sam Page, Joan's evil husband on
Mad Men
) is an architect/developer/designer from the big bad city of Portland. His company sends him to Waterford, his nearby hometown, to convince local business owners to sell their properties to the development company. There, Sawyer runs into Jamie (Maggie Lawson), his high school girlfriend. Jamie owns True Love Books and Cafe, a bookstore that looks like a baby-changing room and houses approximately 30 books. It's a special bookstore because a lot of people fall in love and get engaged there (normal bookstore stuff).
Jamie is terrified at the idea of Waterford changing and launches plans to save local businesses. It's like watching someone who has never heard of gentrification suddenly learn. Her cause his noble but her bookstore is terrible and I probably wouldn't fight for it. True Love seems to only sell old books by Jane Austen and Edith Warton, but if this was an actual independent bookstore it would have like,
Fire and Fury.

Because this is Hallmark, the movie has to be about white people, but it's also about corporate developers, so the result is a weird story about white-on-white gentrification, which is not so much pushing poor people out as it is making everything silver and boring. I saw this in my own hometown when an old video store and an Elvis-themed ice cream shop got turned into an oyster bar. It's sad when businesses close, but no store stays open forever! and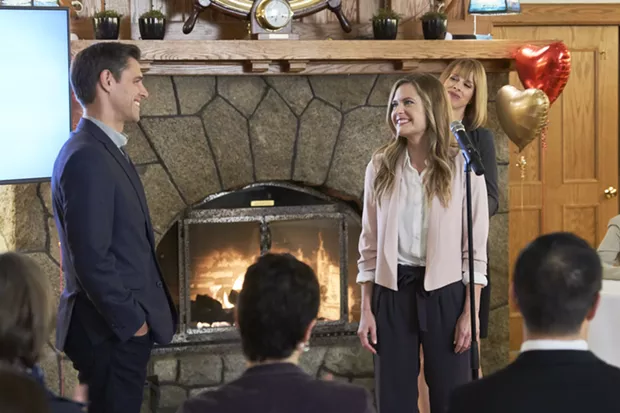 Hallmark movies are also full of people who haven't returned home for years, and the explanation is always just that they got busy at their big bad city job. Sawyer gets flack because he hasn't been back to his beloved hometown since he left for college 15 years ago. In reality, the only people who don't return home for so long are those with a dark and stormy past,
like
a literal skeleton in the closet.
Jamie and Sawyer begin spending a lot of time with each and it obviously re-lights their spark, kind of. Even for a Hallmark movie, Jamie and Sawyer are stiff robots. But in a rare move, the side characters do have chemistry and are one of the best parts of the movie. Ricky (Marco Grazzini) is Sawyer's best friend. He has light Keanu Reeves energy and lives in a sleek modern mansion despite being a small town chef. He's crushing on Jamie's friend/coworker Lucy (Zibby Allen), whose only trait is crushing on Ricky. When they get together it's very sweet! It should've been the main plot.
The whole town shows up for a city council meeting about the development plan even though it's Valentine's Day, which is definitely Leslie Knope's ultimate fantasy. Right before Jamie has to forfeit her store, Sawyer comes up with a brilliant development plan to make everyone happy and gives a romantic urban planning presentation. His great idea is to build stuff on top of the current businesses instead of tearing them down. I'm not an urban planner but wouldn't that still drive up rents and eventually push the businesses out?
Jamie, who calls Valentine's Day "one of the best days of the year" despite being single, is taken with the plans enough to place a small kiss on Sawyer. He did such a good job with this project that he got a promotion and will get to keep bulldozing other towns, who won't be saved with business-based romance.
The Story of Us
airs Thu., Feb. 14 on the Hallmark Channel.