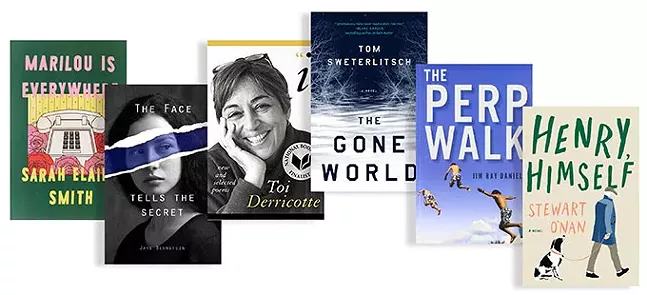 The changes in Pittsburgh's literary scene over the last decade have been both subtle and notable.


On the surface, there's consistency: Many writers published memorable works. Longtime reading series such as Hemingway's Poetry Series, the Pittsburgh Community Writers Series, and Pittsburgh Arts & Lectures are thriving.
Digging deeper finds new writers telling new stories, and established writers releasing their best works.


There also are more independent bookstores. In the 2010s, White Whale Bookstore (Bloomfield), City Books (North Side), Classic Lines (Squirrel Hill), Amazing Books and Records (Squirrel Hill and Downtown), Riverstone Books (McCandless) and City of Asylum Bookstore (North Side) joined longtime stalwarts Mystery Lovers Bookshop (Oakmont) and Penguin Bookshop (Sewickley) as havens for bibliophiles.
There were losses. Jimmy Cvetic and Chuck Kinder, mentors for so many writers and poets in the city, passed away in 2019. They cannot be replaced, but every generation produces new voices who will influence and guide the next.
Here are a dozen local literary figures who stood out between 2010-2019.
Jacob Bacharach: His novels have great titles — The Bend of the World (2014) and especially The Doorposts of Your House on Your Gates (2017) — but Jacob Bacharach also has a keen eye for how Pittsburgh looks and feels, plus a knack for stories that surprise and enthrall.
Jane Bernstein: Bernstein's 2019 novel, The Face Tells the Secret, is spectacular, but that's expected. As an essayist, memoirist, and fiction writer, there are few writers who can match the Carnegie Mellon University professor's versatility.
Jim Daniels: Director of the creative writing program at Carnegie Mellon University, Daniels celebrates the working-class ethic of his Detroit childhood in poetry and his recent short-story collection, The Perp Walk.
Toi Derricotte: A professor emeritus at the University of Pittsburgh, Derricotte received well-deserved and widespread recognition when her poetry collection "I": New and Selected Poems was named a finalist for the National Book Award for poetry in 2019.
Sherrie Flick: As a writer and editor of flash fiction, Flick is peerless. Her collection Thank Your Lucky Stars (2018) is a primer on how to illuminate stories with less.
Stephanie Flom: As the executive director of Pittsburgh Arts & Lectures, Flom has increased the organization's public events from 25 to 42 during her six-year tenure. Notable guests during her stewardship include Patti Smith, Ron Chernow, Jennifer Egan, and Richard Powers.
Terrance Hayes: Hayes' achievements include being named a MacArthur Fellow in 2014 and receiving the National Book Award for poetry for Lighthead in 2010. When based in Pittsburgh (Hayes now teaches English at New York University), he attained quasi-rock star status as a poet, drawing overflow crowds at his readings.
Stewart O'Nan: O'Nan's exceptional novels include the Pittsburgh-based books featuring the Maxwell family (Henry, Himself, 2019), the noir-ish Los Angeles of F. Scott Fitzgerald (West of Sunset, 2015) and the Middle East intrigue of City of Secrets, 2016.
Ed Piskor: One of the most accomplished illustrators/writers working today, Piskor is the author of the Hip Hop Family Tree series, which won an Eisner Award for creative achievement in American comics in 2015. His other works include X-Men: Grand Design (2018), an illustrated history of the Marvel Comic series.
Tom Sweterlitsch: His two novels, Tomorrow and Tomorrow (2014) and The Gone World (2018), are genre-bending works: part Philip K. Dick, part Thomas Pynchon. Sweterlitsch also has collaborated with Neill Blomkamp (District Nine) on four short films for the director's Oats Studios.
Sarah Elaine Smith: Smith's Marilu is Everywhere is one of the best debut novels of 2019. The Swissvale-based writer combines linguistic acrobatics with a heartbreaking illumination of an impoverished young girl's desire for a stable family.