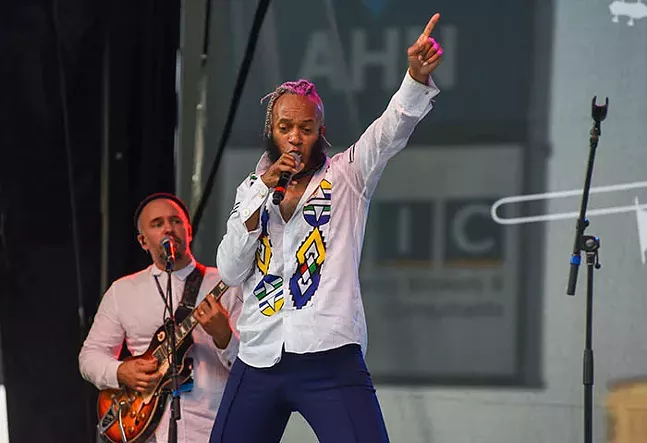 Welcome to Pittsburgh City Paper's third annual presentation of The Soul Show's Top Ten Albums. It's that time of year when I collect playlists, review brain-etched and written scribbles, and gather up late-year releases to binge on 12 months of great music.

This year felt like quite a trove, so the work was hard but fun. I didn't add the burden of ranking from 1 to 10. Enjoy.
Hugo Cruz and Caminos, Punto de Partido
This Cuban percussionist has taken Pittsburgh by storm, live and in recording.
Monophonics, Sage Motel
Nice retro soulscape from this West Coast band, with horns dancing beautifully. They came to my attention years ago, thanks to Ben Penigar of Grey Area Productions.
Free Radicals, White Power Outage, Volume 2
This album is "huffy" with a Latin and Native American bent. I love "Gitmo" and "Bipartisan." How'd I miss Volume 1?
Various artists, Take Me To The River: New Orleans
I'm a sucker for ensemble casts. Ledisi belts it out on "Knockin'" with the second-generation Nevilles (of Dumpstaphunk) in support. The Big Easy's Irma Thomas and Galactic are some of the other happy pieces of this puzzle.
Fantastic Negrito, White Jesus Black Problems
This is the second Top Ten in three years for Negrito. As I mentioned in the City Paper in June, this album was so incredible that I didn't have to wait until December to see how things played out.
Lisa Marie Simmons & Marco Cremaschini, NoteSpeak 12
Spoken word over a jazz-ish backdrop is Lisa Marie's forte. One of my favorites, the track "Blaze," is a creative blast about mundane things.
Sarah Elizabeth Charles, Blank Canvas
This was one album that definitely merited a deeper dive after several early TSS plays. It's heavy when you're in the mood for heavy.
George Johnson, Jr., Your Majesty | Walk Spirit Talk Spirit
What a wonderful voice. On Johnson's website, the album is described as "hip and refreshing as it honors the fundamentals of jazz and mindful storytelling." Note to admirers of Pittsburgh's Eddie Jefferson: this gentleman is hailed by some as a carrier of the vocalese torch.
Chicago Soul Jazz Collective, Chicago Soul Jazz Collective Meets Dee Alexander
Here's a new band on my radar. Their name is what they are. Singer Dee Alexander brings so much. Can she stay awhile?
Mamas Gun, Cure The Jones
A solid Brit-soul group with a semi-retro sound, plus great harmonies. Chill with this one.


---
The Soul Show.
soulshowmike.org
The Soul Show featured its Top 10 Albums on Dec. 31, 2022. Listen to the full presentation at soulshowmike.org/archives.
Mike Canton is the longtime host and producer of The Soul Show, airing on local radio stations WZUM and WIUP. The program is currently syndicated in seven markets in the U.S. and Caribbean. Canton is also a Pittsburgh-area voice artist.