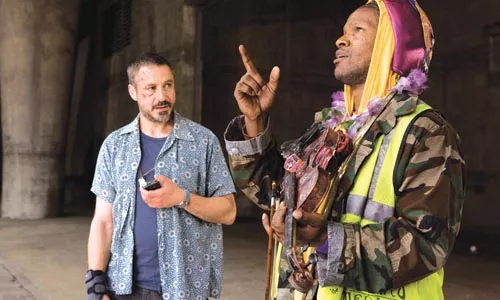 I can't think of a recent Hollywood movie that I've wanted to like more than I've wanted to like The Soloist. Directed by Joe Wright (Atonement), and based on a true story with an only partially happy ending, The Soloist features strong performances, tight storytelling and a social conscience that takes on several themes at once. Popular entertainment doesn't get much better than this.
And that, I'm afraid, is the problem. I'm not sure there's still a place in the multiplex for movies with themes. And anyway, I prefer ideas. The difference is subtle but important: A theme is something we can talk about, an idea is something we can only talk around. The fact that I tend to prefer the latter means I'll probably never bring about world peace. The fact that audiences rarely care for either means world peace may never arrive.
The Soloist centers on the remarkably sad life of Nathaniel Ayers (Jamie Foxx), whom his family and teachers knew during his childhood was a musical prodigy. He entered Juilliard in 1970 and attended for a few years, until the voices got the better of him. They would come to him in the middle of rehearsal, and they grew increasingly louder at home in his New York apartment. They forced him to quit civilization and live anonymously on the streets, until some 30 years later, when Los Angeles Times reporter Steve Lopez (Robert Downey Jr.) happened to hear him playing the violin on the pavement where Nathaniel lived and slept.
Lopez was a different kind of street person: He went roaming for stories, and he found one in Nathaniel. After Lopez publishes his first column, an elderly woman donates her shimmering cello to Nathaniel, and Lopez delivers it. But he tells Nathaniel that he can play it only at a nearby center that provides some measure of shelter and care to the homeless. This carrot-and-stick friendship invariably helps and harms Nathaniel, depending upon the severity of his schizophrenic attacks, and it draws Lopez into a negotiation with himself about whether anything he's ever done as a reporter has made any difference.
There's a character study at the heart of The Soloist, but in the need to tell it to the widest possible audience, it's presented more like exegesis. We watch Lopez grapple with himself in a montage of music and images, and when Nathaniel plays the cello for the first time, sitting on a chair along a Los Angeles highway, the soundtrack intrudes with orchestral accompaniment. These are production values that we -- or at least I -- could do without.
Wright equates music with flight (of birds, of the camera), and twice we're forced to watch light-hearted scenes involving urine. Much better are the moments that capture the chaos and cacophony of life among the homeless; rather than use actors, Wright cast actual denizens of L.A.'s Skid Row. When The Soloist lets them speak, we see disquieting flashes of complexity in them -- so much so that I stopped caring about Lopez's privileged ethical dilemma.
Downey is less plaintive in The Soloist than usual, and occasionally even less hurried when he speaks. He's an appealing actor, partly because of his subtext (he, too, almost lost his civilized life), and partly because he seems to possess an innate sadness that follows him even in comedy. Foxx, on the other hand, travels as far from his persona as an actor can, giving a performance that requires an almost frightening concentration and immersion in the role (except for his perfect white teeth).
The Soloist isn't a clinical film: It barely discusses Nathaniel's illness -- in fact, only names it once, and then very briefly. And while the movie makes clear that homelessness is horrifying and a significant problem, it finally places its emphasis on the feel-better story of two men finding their way.
I respect that choice, and this movie. But I'd rather have seen one that's much more about the people who need our help. The classicists will enjoy The Soloist for its music. The weekend-movie folks can see it and feel a little better about how things turn out. But what I mostly see here is the insurmountable divide between the haves and the have-nots ... and the challenge faced by a historic dreamer who may have only four years to do something about it.