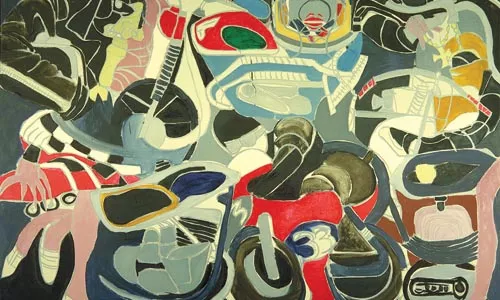 The "Triumph of Painting" was the formation, during the 1940s and '50s, of America's first great international school of art. Artists working for the most part abstractly triumphed over the regionalism and European influences of the decades before. These artists came to maturity after living through the political and social upheavals of the 1930s and '40s.
Eschewing the realism of American art pre-World War II, postwar artists sought to express, abstractly, what it meant to live in the mid-20th century. The Abstract Expressionist movement sought to make art about an individualism that could express emotional or spiritual ideas in a direct and often spontaneous way, with a focus on the physicality of the paint. The "Abstract Expressionist" label is applied to a variety of artists, whose styles and philosophies differed greatly. However, by and large, they worked in New York, were white males, and were championed by a group of dealers, collectors and art critics.
And indeed, the touring Modern Masters from the Smithsonian American Art Museum exhibition, now at the Westmoreland Museum of American Art, does include "card-carrying" members of the Abstract Expressionist movement: Adolf Gottlieb, Franz Kline, Robert Motherwell and Ad Reinhardt. Strangely absent are Pollock and de Kooning: The exhibition catalogue argues their presence would have drawn too much focus from the other post-war artists who demonstrate the exhibition's thesis: that West Coast artists, women, African Americans, Hispanics and others -- whose contributions may only recently have been recognized -- all re-shaped American art.
The Westmoreland presents 37 paintings and six sculptures by 31 artists. In order to make some sense of the varied aesthetics and intentions, the art is grouped into three themes. "Significant Gestures" includes mostly gestural abstraction, like Franz Kline's "Untitled" (1961), a large-scale black-on-white painting that perfectly captures the immediacy of this style. It appears as though, with a massive brush, Kline has cut through his blank canvas with aggressive, angular strokes of paint.
The "Optics and Order" group rightly includes a Josef Albers painting from the series "Homage to the Square" and his "On Tideland" (1947-55). In both, Albers uses a straightforward palette to explore the chromatic interactions that preoccupied him throughout his life. The "New Images of Man" grouping, meanwhile, suggests the impending return to figurative painting in works like Grace Hartigan's "Modern Cycle" (1967). This epic canvas at first appears to contain abstract, looping colorful shapes, but closer examination reveals feet, hands and torsos intertwined.
Among other highlights are Philip Guston's abstract "Painter III" (1960), a work by an artist later known for his colorful and explicitly figurative paintings. There's also an early Richard Diebenkorn (1968) from his well-known Ocean Park Series, exemplifying work by a well-known West Coast artist whose color and compositional choices were often influenced by the California landscape. Romare Bearden and Nathan Olivieria represent non-white artists working in the late post-war period; on view are Oliviera's suggestive, bold figure painting and Bearden's "The Family" (1986), a later collage from an exploration of this theme that began in Bearden's work during the 1940s.
In another gallery, the Westmoreland has staged an excellent show of works-on-paper from their permanent collection. Again, the artists are associated with the post-war era, including Jim Dine, Joan Mitchell, Richard Diebenkorn and Mark Tobey.
Today, the importance of this period in American art is unquestioned. But at the time, it was necessary to explain and promote this difficult work to the public. The exhibition catalogue provides information about these artists and illuminates the complex connections between the artists, the public and the art world during this momentous era. As critic Harold Rosenberg famously observed, the canvas now "began to appear to one American painter after another as an arena in which to act. What was to go on the canvas was not a picture but an event."
Modern Masters from the Smithsonian American Art Museum continues through Sept. 6. Westmoreland Museum of American Art, 221 N. Main St., Greensburg. 724-837-1500 or www.wmuseumaa.org