What do Jimmy Swaggart, the Village People, Hulk Hogan, Twisted Sister and the Mighty Morphing Power Rangers all have a common -- besides a similarly tasteful fashion sense? They have all appeared at the Civic Arena over the past half-century, sometimes within a few days of each other. With an assist from SMG -- which has compiled a nearly comprehensive list of Arena events at www.mellonarena.com -- here's a list of key dates in arena history. Sorry, Pens fans: If we recounted hockey highlights, we wouldn't have room for anything else. Consult a local sports page for guidance.
Nov. 5, 1961
The Pittsburgh Rens -- the city's new American Basketball League team -- win their Civic Arena debut over the Cleveland Pipers, 87-82. Two nights later, though, they get second billing to the Harlem Globetrotters, and the team folds in 1963.
Sept. 14, 1964
Despite the fact that no Downtown hotel will house them -- "the kids would tear this place apart" one manager tells reporters -- The Beatles play the arena. Despite fears of rampant Beatlemania, the crowd keeps a level head. As one New Kensington girl tells the Pittsburgh Post-Gazette prior to the show, "What's the sense of coming here if you're going to cover your face and cry?"
July 1, 1967
Frank Sinatra makes his first appearance at the arena, having previously been in Pittsburgh in 1942. Pittsburgh Press writer Kaspar Monahan writes that "many of these self-same screaming girls [who screamed for Sinatra during WWII days], now plump and fortyish, sat entranced at the Arena and let their daughters and nieces do the screaming."
Oct. 11, 1967
The fledgling Penguins lose in their world debut against the Montreal Canadiens. But fans are impressed with the team's grit: "The females obviously relish the tough action," the Post-Gazette reports. "One mini-skirted doll ... never stopped screaming: 'Hit 'em! Body check 'em! Hit 'em hard!"
Nov. 15, 1968
World-champion pro wrestler Bruno Sammartino gets top billing in a tag-team bout which pits him and The Batman against Gorilla Monsoon and The Butcher. But on the undercard is an up-and-comer named John "Jumping Johnny" DeFazio. DeFazio will eventually disappoint this early promise by becoming a member of Allegheny County Council.
May 2, 1970
The Doors play their second show at the arena, portions of which are later released on a live album. Frontman Jim Morrison, still mired in a controversy surrounding a Miami show in which he exposed himself, makes a crack about "policeman turning in their badges" afterwards. When the line generates applause, he advises the crowd, "Just remember: Their motto is protect and serve."
May 28-June 2, 1971
In less than a week, the arena plays host to Phyllis Diller, a "Polka Caravan" and Frank Zappa's band The Mothers. Musicologists of the future may well ponder which of these events most defied musical norms.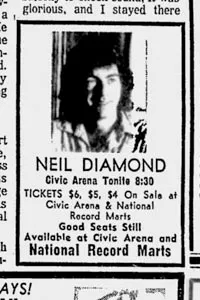 Oct. 18, 1971
Neil Diamond makes the first of his 18 arena performances -- more than any other musical act in its history. Which has to mean something.
May 7, 1974
The Pittsburgh Triangles, the city's entry in the new World Team Tennis league, debuts. The team boasts Wimbledon winner Evonne Goolagong and other marquee talent. But the sport is supposed to be played indoors, and visiting teams challenge the Triangles when they try to open the arena's roof. The Triangles actually have one of the better names in the league -- as compared to the "Detroit Loves" and "Houston E-Z Riders" -- but despite winning the championship in 1975, go bust the year after.
Dec. 20, 1975
KISS debuts at the arena, selling 10,000 tickets in advance. "This show ... should be avoided by anyone with a weak heart," warns the Post-Gazette.
Dec. 31, 1976
Elvis Presley holds a New Year's Eve concert. But this is Dissipated Elvis, and critics pan his performance. Presley dies the following summer.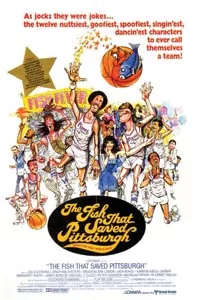 July 31, 1978
The Fish That Saved Pittsburgh, a film about a hapless basketball team whose players all happen to be Pisces, begins filming. Days later, filmmakers say that so few Pittsburghers are interested in being extras -- in even pretending to care about basketball -- that the crew has considered using cardboard cutouts of people for crowd shots. "Without the excitement of live fans, we are going to have problems," a producer warns reporters.
Dec. 29, 1978
The Pittsburgh Spirit, the city's Major Indoor Soccer League team, loses its world debut to the New York Arrows, 6-4 before a crowd of less than 6,000. Still, the future seems bright: Post-Gazette sports columnist Phil Musick predicts that the new indoor-soccer team "is quickly going to become a local attraction on par with girls and Iron City." (In fact, the Spirit lasts until 1986.)
Nov. 30, 1980
Bruce Springsteen plays to a sell-out crowd in his Mellon Arena debut. He'll play there 10 more times. Can we really demolish the arena when Springsteen is still short of Neil Diamond's total?
Nov. 6, 1981
Larry Holmes narrowly defends his championship belt against Renaldo Snipes in Pittsburgh's first world-championship bout since the arena was built. The ref's decision to call the fight in the 11th is so contested that a fistfight nearly breaks out at a boxing match.
April 4, 1984
Culture Club comes to town, prompting Pittsburgh reporters to sniff at leader Boy George's gender-bending attire. "The effect was Phyllis Diller after shopping at a rummage sale," cracks the Pittsburgh Press. The Post-Gazette, meanwhile, focuses on the attire of fans: "[I]n evidence were spike heels, a smattering of purple hair and quite a few short, tight leather skirts. ... And that was just the men."
June 28, 1986
An arena show by Run-D.M.C., Whodini and LL Cool JJ ends with two dozen arrests after fans pour into the streets and are accused of accosting bystanders. Public safety director John Norton tells reporters that the crowd was "incited by the show's provocative lyrics and music."
June 19, 1987
The Pittsburgh Gladiators, the city's new indoor Arena Football League team, beat the Washington Commandos before a crowd of more than 12,000. The team lasts three years, but attendance drops to half of its 1987 average of 12,000.
April 3, 1989
Some 500 Grateful Dead fans clash with police on the second day of a two-day arena visit. "I don't want those Deadenders ever back again," says Mayor Sophie Masloff, mangling the name "Deadheads." Subsequent allegations of police brutality emerge, focusing on George Trosky, whom a video captures "sucker-punching a detained person in the face," as the Post-Gazette puts it. Trosky is today a police commander.
Sept. 6-Dec. 1, 1994
The arena is used as a set for the Jean Claude Van Damme actioner Sudden Death, in which criminals wire the Arena with explosives during a Stanley Cup final game to extort money. The Penguins mascot, Iceburgh, is implicated, and Van Damme somehow forces the game into overtime (get it? Sudden death?). The criminal plot is foiled. The movie doesn't do that well, either.
May 4, 1997
Over the objection of local Christians seeking to bar the show, the arena hosts Marilyn Manson. Somehow the city's moral fabric emerges intact. Or does it? Because ...
Oct. 19, 1997
As if to outdo Manson, Mötley Crüe projects a porn film prior to their show on the stage backdrop. Promoters pull the plug, but this doesn't prevent female fans from later exposing their breasts at the urging of drummer Tommy Lee. Who, of course, later makes a porn film of his own.
April 19, 1998
2,049 Pittsburgh-area student musicians convene to set a World's Record for "World's Largest Orchestra." Under the direction of Mariss Jansons himself, they play a "Music Forever," a work commissioned for the orchestra by the Pittsburgh Ballet's resident composer. Asked by the Post-Gazette how 2,000-plus students sounded playing a new work in an acoustically challenging arena, Jansons gives "a crooked smile." The record set here falls later that year.
May 6, 2000
McKees Rocks favorite Paul Spadafora defends his title against Mike Griffith, thanks to a controversial judges' decision. Even the hometown crowd is underwhelmed by his shaky effort. "These last two fights, they may not have been his best," admits his manager.
Jan. 6, 2001
In a somewhat ominous turn, the arena hosts an auction for people looking to snap up memorabilia from Three Rivers Stadium, slated for demo weeks later.
Sept. 23, 2005
Pittsburgh musicians ranging from Donnie Iris and Joe Grushecky to Rusted Root and The Clarks play a Hurricane Katrina benefit concert. Oddly, while Root and Grushecky have played the Arena previously, it's the first and only appearance by Iris and The Clarks.
Jan 4. 2008
Miley Cyrus holds a concert that sells out in 10 minutes, the fastest sellout in arena history. The Arena's swan song, then, begins with a reprise of the background noise from The Beatles show of 1964 -- the sound of screaming girls.
Oct. 25, 2008
Days before his historic election, Barack Obama appears at the arena. The campaign stop is historic for another, less obvious reason: It is "one of only two or three times" that Sala Udin, a former Hill District city councilor who long denounced the arena for "the pain it has caused this community," ever sets foot inside it.