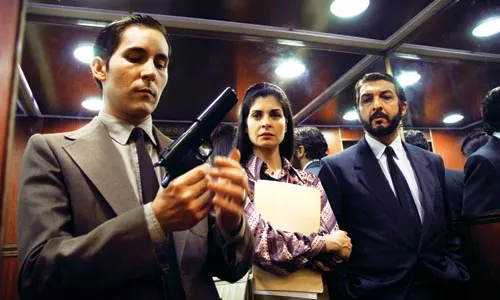 In Argentina, there seems to be a statute of limitations on everything but memory.
That's the double dilemma faced by Benjamin Esposito (Ricardo Darin), the central figure in The Secret in Their Eyes, this year's Oscar-winner for best foreign-language film. He's a retired criminal investigator, now trying to write a novel about a 25-year-old case that he can't get out of his mind.
His research takes him back to his office, where he seeks help from his former boss and long-time friend, Irene, (Soledad Villamil). She's a U.S.-educated lawyer with whom he's been in love for decades, and who started work as the prosecutor in their office just before the rape and murder of a 23-year-old newlywed schoolteacher, the case that obsesses him. But Irene, who's learned that the best she can hope for is "some" justice, wants no part of his time-traveling, and she tells him, "Backwards is out of my jurisdiction."
This is all pretty routine stuff, nicely done in the lugubrious style of Argentine cinema by writer/director Juan José Campanella (adapting a novel). The dialogue is loquacious and sometimes wryly witty, and the actors all seem very comfortable in their familiar roles, playing older and younger versions of their characters (most of the story unfolds in flashback). A few more murders up the intrigue a bit, and there's a surprise ending, albeit it one that Campanella takes too long to reach in his two-hour-plus drama.
And then there's the Argentine legal system, which to us might seem somewhat arcane. Investigators and prosecutors work closely with a particular judge, which would seem to invite bias against a defendant. Yet Esposito's judge is loathe to issue a search warrant for the home of their suspect. So Esposito and his partner break into the home, steal the suspect's letters, and get a scolding when they get caught (and don't have to give back the letters).
When they can't find the guy, Irene closes the case. Then, a year later, when Esposito wants to reopen it, she can't -- not without falsifying the documents that closed it (which she does). It's all very strange, and counterproductive, if only because it prevents Argentine TV from ever having a series like Cold Case (which is very stylish and moody, and which would probably go over well).
This seems to be the duality that The Secret in Their Eyes plays with: the legal system forgets too easily, but our minds remember for eternity. Esposito asks to reopen the case after he finds the dead woman's husband sitting in the train station, where the husband goes every day, hoping to find the suspect, who has disappeared. This immutable act of love inspires Esposito to try again, and to do a better job of it.
Esposito's partner believes that every man has one passion that he simply cannot overcome. The killer's is football (i.e., soccer), leading Campanella to film a virtuoso sequence of action and suspense in a packed and roaring stadium. With a suspect in custody, they provoke a confession after Irene assaults his machismo, causing him -- in a moment that distinguishes this drama from its myriad American counterparts -- to whip out his penis (it's not small after all) and declare that he raped the girl.
The Secret in Their Eyes drags as much as it interests, and it ends up being pretty much what it was at the start. Its macabre ending reaffirms its theme, but it also suggests a darker drama, one more centered on obsession than love. In Spanish, the phrases for "I fear" and "I love you" are different by one letter. I think Campanella should have shown this at the beginning, to set the stage, rather than at the end, where it becomes somewhat leaden with irony. In Spanish, with subtitles. Manor