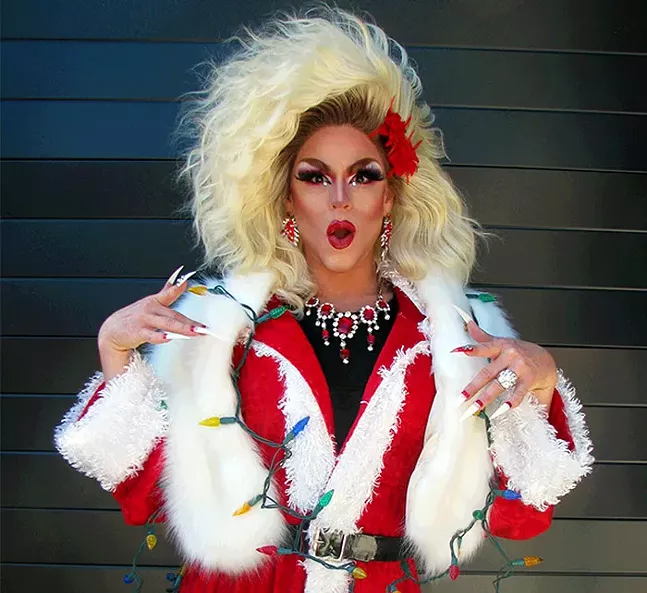 The Christmas season is jam-packed with corny, saccharine media beating its audience into holiday cheer submission. Even the most festive people could use a respite from the relentless positivity of it all. Enter, City Theatre's production of
The Santaland Diaries
, a one-actor show based on David Sedaris' essay of the same name, first read on NPR in 1992.
Like its source material, the show offers a sardonic perspective on the holiday season, told from the point of view of David (played by Shua Potter) a 30-something man depressed to find himself working as an elf at the Macy's Santaland display, musing on crying children, screaming parents, and unsettling Santas.
City Theatre's show, directed by Monteze Freeland, begins not with
Santaland
, but with
Santa's Ted Talk
, a piece written by Freeland and Potter featuring a short monologue and musical number performed by Mrs. Rachel Claus (billed as playing herself), Santa's jovial, Jewish wife with a thick Long Island accent. Mrs. Claus does an array of Pittsburgh-centric bits, cracking jokes about Primanti's, Pirates ownership, and vaping. While Mrs. Claus herself has a magnetic stage presence and quick wit, the jokes can come off as easy pandering. But Mrs. Claus really shines when bringing audience members on-stage for an impromptu holiday quiz, and showed her knack for ad-libbing. Ditto for her glamorous Christmas song medley. The whole piece worked as an innovative addition to make a non-local play feel more personalized.
When
Santaland
begins in earnest, Potter emerges as a David Sedaris avatar, wearing sweatpants and ripping a bong while wearily telling the audience how he ended up wearing striped tights and a green elf hat as a work uniform. He goes through the embarrassing application process and the even more embarrassing task of actually doing the job. It's easy to forget Potter's the only actor on stage because his gift for impressions embodies a whole motley crew of Macy's staff and customers, including: an elf who flirts with everyone, racist parents who don't want a Black Santa, and Santas who don't know how to interact with children. He explains all the different elf posts at Santaland and how to use them to disrupt the customers' peace (like siccing a line of guests on an unsuspecting Phil Collins).
Much of the script is taken directly from the original 1992 NPR piece, and the 30-minute long version featured on This American Life in 1996, adapted into a script for the stage by Joe Mantello. Some jokes have aged better than others, but that's to be expected with a 20-year old script. Nothing can stay edgy forever. But Sedaris' observations still manage to cut through much of over-the-top aspects of Christmas, while still wrapping up with a bittersweet ending. It's a survival guide for those working in the insane Christmas industry, written by a man trying to keep his sanity by mocking his way through it.
The Santaland Diaries.
Continues through Sun., Dec. 22. City Theatre, 1300 Bingham St., South Side. $35-50. citytheatrecompany.org