click to enlarge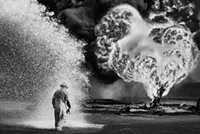 Wim Wenders describes renowned photographer Sebastião Salgado as "a social photographer and a witness to the human condition." And he ably makes the case in his documentary profile, The Salt of the Earth, co-directed by Wenders and Juliano Ribeiro Salgado, Sebastião's son.
Sebastião Salgado, now 71, narrates much of his life story, beginning with his childhood on a Brazilian farm and his training as an economist. Then, a borrowed camera re-directed his mission. Over several decades and continents, he worked to capture "the salt of the earth" — people — through large documentary photographic projects. Among them were journeys to South American mines, a stint with Doctors Without Borders during the early 1980s famine in Africa, and a five-year "archeology of the industrial age" titled Workers. In the mid-1990s, Salgado undertook a study of displaced populations, which landed him deep in the Rwandan genocide, and left him with profound questions about his work and his subjects ("We humans are terrible animals.")
Salgado's visually dramatic, provocative and emotionally laden black-and-white portraits belie the static, two-dimensional nature of the medium; they are so charged with life, even his photos of unspeakable horror and tragedy. Their power might result from the contract Salgado adheres to with his subjects: "When you take a portrait, the shot is not yours alone — the person offers it to you."
click to enlarge
These images should look remarkable on a big movie screen, though Salt is a film that transcends a simple interest in photography. We all see the world, but not all of us can speak for it — and us — as Salgado can.