Just hours before his new album is sent to the Internet, Gregg Gillis is at home: a two-room Wilkinsburg apartment crammed with the detritus of his life on the road as internationally acclaimed mashup artist Girl Talk.
A worn couch dominates the living room, alongside a heap of brightly colored high-tops and two tagged, travel-worn suitcases. The rest of the room is awash in miscellaneous rubble: A Dungeons & Dragons statuette shares space with concert memorabilia, a "Rave Award" from Wired magazine, and dirty clothes. The windows are open wide in the mid-June heat; trains rumble just outside. The heat has also brought out the building's odors of lots of people living in close proximity: strange cooking smells; animals; the unmistakable aroma of roach spray.
"This is my street cred," Gillis jokes about the disarray, and adds that recently his girlfriend has refused to sleep here any longer.
Two days ago -- against the protests of his mother -- Gillis brought MTV News upstairs to interview him. While MTV was visiting, he received a mastered mix of his new album, Feed the Animals. "Gillis seemed so happy with it that he asked us to decide when it should be released to the Net," MTV's James Montgomery posted online. "Our producer picked Thursday, and that's the day you'll be able to hear it."
This Wednesday, Gillis perches on a stool in cutoff jean shorts and a vintage Metallica T-shirt. His long, sweaty hair is a testament to the past year he's spent supporting himself on the road as Girl Talk: Gone is the conservative look he sported back in 2006, when he held down a day job as a biomedical engineer, flying out to gig on nights and weekends.
He sips a giant Wendy's fountain drink as he talks about the new album, and the ways his career has taken off since 2006's breakthrough, Night Ripper. It helped transform his live act from small underground shows where "everyone was like, uncomfortable," to his current sold-out melees, in which the audience is encouraged to join Gillis onstage in a crush of dancing bodies. Success snowballed until Girl Talk -- which is just one 26-year-old man and his laptop -- sold out the legendary Fillmore Ballroom in San Francisco.
"I'm really excited," he says. "The shows have gotten bigger -- it's been two years since Night Ripper, and even last month, the shows are bigger than they were six months ago."
Periodically Gillis slips into his bedroom, which is just big enough to hold an unmade twin bed and an end table supporting his rugged Toughbook laptop, making last-minute edits to his music and uploading the files to his label's Web site.
"I literally finished it last Thursday," he says. "It's weird to make a change that the world will hear two days later."
The new album is a seamless mix of more than 300 samples of other people's music, combined in an album that lasts 54 minutes. The result is an impressive audio collage, one that sets rap lyrics from Ludacris, 50 Cent, Yung Joc atop pop hooks that range from the contemporary (Rihanna's "Umbrella") to yesteryear (Ace of Base's "All That She Wants," classic rock ("Styx's "Renegade") to classics (David Bowie's "Rebel Rebel").
The album screeches off the lot with "Play Your Part (Pt. 1)," kicked off with the Spencer Davis Group's "Gimme Some Lovin" with lyrics from UGK's "Int'l Player's Anthem": "My bitch a choosey lover, never fuck without a rubber / Never in the sheets, like it on top of the cover." It's like Girl Talk has brought out what Steve Winwood's id was really trying to say. Multiply that little heat-exchange times 150 and you get an idea of Feed the Animals' scope and density.
To create one minute of this collage takes Gillis an entire day's work: First he comes up with a rough idea of the musical effect he's after, then digs through the massive archives of samples he's slowly accumulated over the years in search of the right ingredients. Then begins a painstaking process: Hunched over his laptop, he edits the samples using a number of programs, adjusting length, tempo, pitch, and audio effects, and arranging them by trial and error just right. Eventually, something clicks into place and he has a new chunk of music to play live that weekend. If it the crowd seems to like it, chances are good it'll turn up on the next record.
"The ultimate goal is to recontextualize the material enough where it has its own identity," he says. "The whole idea of the project is just embracing pop. I want to make the most over-the-top, pop-collage album."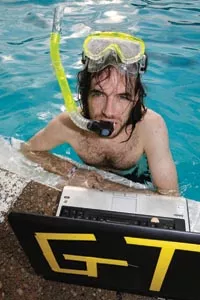 But Gillis' use of other artists' music is entirely unauthorized, which means that his album could also be a collection of 300 potential copyright-infringement lawsuits. Gillis and his label contend that by using the snippets in such unorthodox ways, he is creating new material, rather than copying what others have done. So far, they haven't had to argue that case in court, because no one has sued. But Animals is upping the ante from Night Ripper's roughly 200 samples, and it borrows more heavily from Top 40 artists -- some of whom are famously litigious.
"If you were gonna pick five artists that you may think would have an issue with this," Gillis acknowledges, "then there's probably three or four of those that will be on the album." He's taking a risk, Gillis acknowledges. But when the goal is the ultimate pop collage, "the correct way to do that is to use the biggest artists, and the biggest artists are oftentimes the people who have had these issues."
And Feed the Animals seems likely to further propel Gillis into the pop mainstream himself.
Gillis has had a successful run so far, no doubt, and the road ahead -- an extensive fall tour that follows a summer-long blur of European festival dates -- seems ripe with possibility. The physical version of Feed the Animals is expected out Sept. 23; a vinyl edition is also in the works. That's just in time for his 32-date fall tour, with Pittsburgh's celebrated underground hip-hop duo Grand Buffet in tow for the first half. And Girl Talk's crowds promise to be larger than ever: In Chicago, he'll play a 4,000-seat venue, and he's returning to the Fillmore, this time for two nights.
But how far can this renegade run before the law catches up with him ... or -- perhaps worse -- decides he's legitimate after all?
"Tomorrow should be a very telling day," says Gillis.
Growing up in the South Hills, Gillis attended Chartiers Valley High School, during which time he began to dip into Pittsburgh's mid-'90s underground scene, and formed the experimental band The Joysticks, a blend of noise and performance art with Gillis on keyboards and electronics. A key moment for Gillis was seeing live-electronics artist Kid 606 play in Pittsburgh and hearing his radical remix of NWA's "Straight out of Compton."
"It was the first time I'd heard someone really go crazy on a pop song on a computer, completely mangling it," says Gillis. "That was absolutely the foundation of getting into Girl Talk. I was like. 'I want to do a project where that's all I do -- mangle these songs and piece them together."
A couple of years later, he got his first computer, and was packed off to Case Western Reserve University, in Cleveland, to study biomedical engineering. During his first two years of college, he began to refine what would become Girl Talk, eventually playing house parties and small underground shows in Pittsburgh, often with goofy theatrical elements intended to entertain music fans who weren't quite ready for just a guy with a laptop onstage.
"We would do choreographed routines" with dancers, Gillis says, "interludes and skits, almost like putting on a play based around cutting up pop music." One early show at the now-defunct Club Laga featured Gillis onstage in a brightly colored jumpsuit, performing a slow, awkward striptease as he triggered samples. After college, he did some DIY touring -- even going to Japan -- until he ran out of money, and like so many musicians before him, got a real job.
Even before copyright infringement was a concern, there was a certain covert quality to Gillis' on-stage alter ego. He kept his musical aspirations a secret from his co-workers at a biomedical-engineering firm, whose name he still won't divulge. Until he began supporting himself with shows, a little over a year ago, he refused to allow his real name to appear in the local press; when he finally quit his job, he didn't even then totally 'fess up to what he was doing.
By 2006, Gillis had already released two mashup albums to a small audience. But when Night Ripper came out, at the beginning of the year, he found that tastes -- and times -- had caught up to Girl Talk.
"The broader idea of just embracing pop in general, and anything goes -- I think I definitely helped push that idea, but the seed was planted years before Night Ripper," he says, citing Philadelphia-based Diplo and Hollertronix, and producer Dangermouse's Grey Album, the groundbreaking illegal mashup of Jay-Z's Black Album and The Beatles' White Album that spread like wildfire across the Internet, and launched his career.
"This is an era right now when people involved in underground music are into dancing, as opposed to 10 years ago," says Gillis, who says he now listens almost exclusively to mainstream music. "When I first started listening to college radio in the '90s, it was all about Pavement, or noise, something like that. Anymore, it's just so diverse -- a pop era."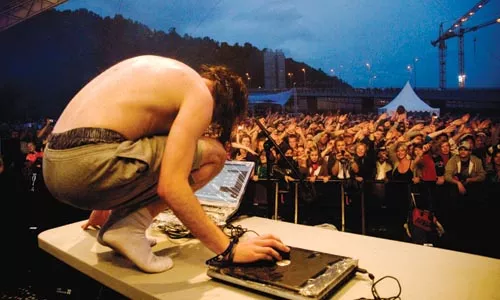 With some help from indie-favorite Fanatic Promotion company, music blogs began to buzz, followed by a favorable review on the taste-making Pitchfork Web site. "That was a huge push," says Gillis," and everything has just continued rolling since then."
And at roughly 7 a.m. on June 19, it rolled to the next stage of Girl Talk's career. That was the moment when Feed the Animals was released online as a pay-what-you-want download, a variation of the much-touted model successfully employed by Radiohead and Nine Inch Nails. Customers choosing to pay $5 or more received an additional single-track lossless-audio version; those paying $10 were offered a physical copy when it became available; those paying zero had to answer a brief questionnaire explaining why they want it for free.
Holding the tail of this tiger, after a sleepless night of last-minute tweaks, was Philo T. Farnsworth, proprietor of the Illegal Art label; Girl Talk is currently his biggest artist.
And getting bigger by the minute.
"People ask us what the average price that people are paying, but it's hard to collect all that information and say what's really happening. But it seems really positive," Farnsworth says by phone. (His real name, like Gillis' once was, is a secret.) "It's exposing a lot of people to Girl Talk who wouldn't ordinarily have come out and paid full price for a CD."
In fact, while most of the paying customers are shelling out at either the $5 or $10 price-points -- rather than a random figure -- Farnsworth says, "A lot of people are getting it for free."
Their reasons for doing so vary. Farnsworth says that of the freeloaders who fill out questionnaires, more than a third said they might donate later. A slightly smaller number claimed not to have any money. Roughly 6 percent said they were part of the press or the music business. Tiny minorities said they either didn't believe in paying for music, "don't really like Girl Talk," or don't value music made from sampling.
Those responses don't trouble Gillis, who says he makes his living off his live shows, and that "putting out the albums is definitely not a financial thing." And Farnsworth is shy about disclosing much financial data. Citing the sensitive legal issues surrounding the album, Farnsworth won't reveal sales numbers -- or even say how sales compare to Night Ripper. (The fact that he plans to implement pay-what-you-want for future releases, however, suggests that the album is producing some revenue.) In fact, he says, the label is trying to avoid a large sales spike in hopes of staying just below the radar. As a result, "We're not even pushing it as hard as we might."
Of course, some of this is calculated mystique. Both Farnsworth's pseudonym and the label's name are intended as jokes -- riffs on the music's perceived outlaw status.
"Creating a pseudonym and pretending like we're hiding is all part of that," Farnsworth says. "But if someone really wanted to find us, it's not like we have offshore accounts."
It may yet come to that.
Already, Gillis been less than pleased with some of the recent attention he's received. Recent prominent articles in the Wall Street Journal and The New York Times have "contacted people that I'd sampled to see what they thought about it. In my eyes, at least, it's like trying to out the small guy." While some respondents, like Faith No More vocalist Mike Patton, seemed pleased ("It is an honor to collaborate with Busta Rhymes," Patton said), as a result of the Wall Street Journal article, a representative for The Guess Who has promised to "chase it down."
"It pissed me off a little bit," Gillis says of the reporting. "[I]t seemed a little crazy for them to give them a heads-up unnecessarily. ... It is their job, the reporting -- and I'm not opposed to those people knowing about the album or the sampling -- but it seemed like they were trying to create a controversy there that didn't exist."
In fact, though, the legal issues surrounding the album are unresolved. Which leads to a paradox, Farnsworth says: The more Girl Talk sells, the warier people are about selling it.
"There's kind of an invisible ceiling," he says. "Once we start to sell a certain number, distributors get nervous, and they pull it."
Night Ripper was pulled from iTunes, he says, and the label's usual distributors balked as the album attracted more attention. Illegal Art had to assemble "a kind of ad hoc distribution" through smaller outfits.
Gillis and Illegal Art maintain that his music is covered by the "fair use" doctrine. Fair use allows replication of copyrighted materials within certain parameters -- mainly commentary and review. (Fair use is why we were able to quote the UKG lyrics earlier in this story.)
"People think you're getting away with something, but it's actually a lot of work," Farnsworth says. "And there are very few artists who are willing to put that much effort into something that could be legally suspect."
"There's an argument to be made that it's fair use," says attorney Christopher Bradstreet, who practices entertainment law and litigation in Rochester, and manages two nationally touring indie bands. But the only way to know for sure is to go to court. If that happened, Gillis would have at least two strikes against him: His use of the music is commercial -- he's making money from his use of the copyrighted material -- and many of his samples are easily recognizable. Bradstreet's advice to an aspiring mash-up artist -- besides paying for what you use -- is to transform the clips s much as possible, and give them away for free. "Use it as a publicity stunt to launch your career," he suggests, citing Dangermouse's Grey Album.
Howard Hertz, a Detroit-based entertainment attorney whose clients have included Marilyn Manson and Eminem (who Girl Talk samples) says a fair-use defense is a long shot. He cites a 2005 case, Bridgeport Music vs. Dimension Films, in which a movie soundtrack used a two-second sample from "Get Off Your Ass and Jam" by George Clinton, Jr. and the Funkadelics. In ruling against the filmmakers, a federal appeals court asked, "If you cannot pirate the whole sound recording, can you 'lift' or 'sample' something less than the whole? Our answer to that question is in the negative."
But Gillis and Farnsworth aren't just relying on a courtroom defense: They're also putting their faith in the court of public opinion. "Public perception will be very negative toward someone who goes after" Girl Talk, Farnsworth surmises.
He cites a compilation Illegal Art released in 1998 entitled Deconstructing Beck, comprised entirely of unauthorized samples from Beck's music. Beck's representatives threatened legal action, then backed off. Farnsworth's theory is that they realized "what does he have to gain by taking our profits from that or shutting us down? The negative PR far outweighs that."
And especially when one such artist is Metallica, a band that has already demonstrated a willingness to sue over illegal file-sharing. In 2000, the band famously sued Napster, effectively shutting the Web site down.
In the event of a court battle, Farnsworth says, several people have offered to defend the label pro bono, such as "the Stanford Fair Use Center, who would like to see a test case go to court." And he hopes the overwhelmingly positive responses from music critics could prove important testimony in a case.
Hertz says there's a lot on the line for both sides if Feed the Animals goes to court. If Girl Talk won the day, "I think it would destroy our copyright system unless the court severely limited the length of a permitted sample without a license," he says. And if Girl Talk loses? Hertz says courts can award up to $150,000 for infringement. On an album consisting of 300 samples, Girl Talk's potential liability if $45 million.
In any case, Farnsworth thinks the industry is too occupied with illegal file-sharing to bother coming after Girl Talk. "They have a much clearer case against people who are file-sharing and copying things than something that's solved in a more legal grey area. Sampling was a battle they seemed more engaged in, in the 1990s, but the battle for this decade has been downloading."
And Gillis, at least, says he's tired of having his music characterized as a "lawsuit waiting to happen."
"On a very simplistic level, I just want to release these records and I want people to hear them as music," Gillis says. "I'm happy to talk about the copyright, it's very interesting to me, but sometimes it's frustrating."
But perhaps on some level, what Gillis hopes to avoid isn't controversy, but the resolution of it. Because it's nice to be wanted -- in either sense of the word.
One part of Girl Talk's fame, Gillis admits, is that "There's definitely a component there of seeming like an outlaw, and I think that appeals to some people." He himself felt the attraction early on: "It's always interesting to mess with the big sources, and kinda play with these untouchable characters, and that was cool about Negativland. I'm sure that aspect of my work appeals to some people on that level."
Playing fast-and-loose with copyright law might seem a pretty tame sort of transgression -- whatever happened to sex, drugs, and rock 'n' roll? But Gillis' appeal, perhaps, speaks to the preoccupations of a new generation raised online -- and he may be just the sort of celebrity it fosters.
Pop-culture theorist Shelton Waldrep, for one, sees Girl Talk and the mashup scene as "maybe the biggest underground movement since the '90s [rave scene], but rather than the onus of drugs, it has the onus of legality to deal with.
"It's sort of like the revenge of the nerds," Waldrep jokes.
Waldrep, an associate professor in the English department at the University of Southern Maine, in Portland, has studied everything from casino architecture to queer theory and celebrity. His current work in progress is The Aesthetic of Self-Invention: Oscar Wilde to David Bowie. He's also a fan of Night Ripper -- burned for him, naturally, by a student who thought he should hear it.
When Girl Talk "finally blows up," he says, it "will be a really important test case for this whole genre or metagenre of music." For young music fans who've grown up with the Internet and file-sharing, Gillis' music may be seen as "a kind of forbidden document or text, in the way they might when they download music and put together their own discs." Part of the appeal, Waldrep adds, is the transgression of the gap between the original artists' intent and consumer use, in this case, by Gillis -- "the revenge of the user of the product over the artist, in a way."
In fact, Farnsworth says that Girl Talk may be only the beginning. "Greg's taking 5, 10 seconds of something. But what if you took just one word from different vocalists, and constructed a new melody, a new vocal line, a new lyric even? ... What if you took a dozen Britney Spears a cappellas, and rearranged her vocal so that she was singing a new song? ... [I]t's just a wide-open palette once you start using samples."
Yet for all Girl Talk's cultural relevance, Waldrep's not that sure Gillis is really making art, illegal or otherwise.
Waldrep wonders whether Girl Talk's sonic collages are popular because they reference already-famous music -- "in which case, they are about stardom itself, or celebrity or branding." Or is it because Gillis actually has manipulated them into something really new? "Does mashup just represent a sort of continuation of Brahms doing a variation on Hayden, or famous musicians like Beethoven taking themes from less well-known musicians?" he asks.
Girl Talk is having it both ways, Waldrep points out. On the one hand, Gillis' samples are intended to be identified, and thus take much of their meaning -- and perhaps their success -- from that recognition. Yet at the same time, Gillis wants the credit for reframing that meaning, too.
The question, as with so many other aesthetic queries in Pittsburgh, comes back to Andy Warhol. "What happened in the '60s is a kind of collapsing of those two things -- you've got the Andy Warhol soup-can effect," Waldrep says. When Warhol did a celebrity portrait, Waldrep asks, "is it famous because it's of Marilyn Monroe, which is already a kind of commodity, or does he do something to make her image new again through his technique or his color?"
Waldrep has doubts about Girl Talk falling under fair use, but admits it's a complicated doctrine. "I don't know what they'll do with him," he laughs. But he's confident that Gillis is just the tip of a subcultural iceberg.
"It's everyone wanting to manipulate music and video and technology, and the Internet and Apple computers and all the tools we have for doing that now. But it's also a kind of movement or underground aesthetic that may be bubbling underneath the surface of the mainstream right now, in at what seems to be a fairly blah time in music.
"This might be one of the important kind of changes that we don't yet fully see."
For now, though, Gillis is arguably a sort of outlaw, with all the romantic qualities that accompany it, and a decisive court ruling against him -- or in his favor -- could lessen that dramatic appeal.
Losing a copyright lawsuit could end his recording career. But in a way, so could winning a lawsuit. If a court decided there was nothing wrong with manipulating Metallica riffs, he might no longer be a lone matador waving a red flag at a bull named Lars. He'd risk becoming just another law-abiding nerd with a laptop.
But at the moment, there's little chance of that. Gillis is being invited to shows he could never have imagined being a part of a few years ago.
With three towering stages in an idyllic park setting in central Gothenburg, Sweden -- and palpable excitement in the air -- the massive Way Out West music festival would be a dream gig for any musician. This year's festival -- a three-day event in mid-August -- certainly was for Girl Talk, who hoped to build a new fan base overseas. The event attracted stars such as Neil Young, the Flaming Lips and Nick Cave; newer artists like Iron and Wine and such Swedish bands as Sahara Hotnights. Unlike flagship American festivals South By Southwest and CMJ, which are mainly geared toward music-industry professionals, Way Out West and many other European festivals are for the fans. And at the equivalent of $200 a ticket, it was a perfect opportunity for Gillis to broaden his reach. Except for one thing: He wasn't there.
With the new momentum Feed the Animals has brought, Gillis' North American and European booking agents have been trying to cram in as many festival dates as possible. The result has been travel itineraries that would vex a Secretary of State. How to play a festival in Oslo, Norway, then Gothenburg, then back to New Jersey for All Points West ... in three days? Something had to give, and it was the Swedes.
"It's been bad," says Gillis. "Even when I was working a day job, I never missed a show. It was just bad news trying to go back and forth like that."
He also nearly didn't make it to Oslo's Oya Fest in the first place, after a delayed flight from Pittsburgh. During a tight connection in New Jersey, "I had a friend of mine pack bags for me, and I met him at the airport, and we exchanged bags -- I gave him my dirty clothes and took the clean stuff, 'cause I didn't have any clothes to wear." Tornados cancelled a flight home after Lollapalooza; another delayed flight triggered a domino effect that cancelled his appearance at Ola Fest, in Seville, Spain.
Even if the demand has outstripped the supply, though, there are worse problems for a musician to have. And the summer has certainly had its high points, especially the mammoth Roskilde festival, in Copenhagen, Denmark.
"The tent got really packed, really fast," he says. "Sometimes in Europe, it's hard to gauge what [pop music] they're familiar with." But Roskilde was his largest European audience to date, and "my European booking guy was saying that the interest is a lot [higher] now after the gigs," Gillis says.
But if Gillis is a jetsetting Warholian hero, he's one native son who won't be leaving for New York anytime soon. He recently moved into a new place in Polish Hill -- a modest lifestyle upgrade, but still a fairly humble Steel City address.
And while there isn't a Pittsburgh date on the official tour, Gillis says he's planning something special here for late November. "I would like to do something bigger, but I'd like it to be raw, too," he says. "I would like to do a warehouse space or something."
Most importantly to him, though, is that he has more music to draw from. "Now it's two records that I have that people are fairly comfortable with and know well, so I can mix those up and do reinterpretations of all of that," he says. "I feel like the demand is as high as possible right now, as it's ever been. I'm looking forward to the tour -- the venues and the size of all the shows looks pretty ridiculous on paper to me."
Taking in the best- and worst-case scenarios, Gillis says the future looks bright.
Even if fans and critics hate Feed the Animals, he should be able to keep touring for another year or so, he estimates -- and that would be fine. "I'm sure I'm going to make music forever, but I don't really have long-term goals associated with this, because it's so youthful, it's really about embracing right now," he says. "I'd be happy just riding this out and then going back to a job."
But if all goes well, "I don't know what the upper limit of this would be," he says. "I could move forward and make new music and I should be able to play shows for at least a few more years. I'm 26 now, and by the time I'm 30, I don't think I'd want to be doing the same exact style shows. It's so youthful now, I can't imagine doing it then."
In the meantime, he's just gotten his hands on some rare Nirvana multi-track recordings that he's itching to mangle. And piece back together into something new.