"Did you go to Al-Anon Meetings?" my daughter, Maddie, 26, texts me out of the blue from her Philly apartment at 7 a.m.
"Yes, why?" I ask.
"Just wondering if you found it helpful."
"Yes — are you considering going?"
"Considering it. But would it be weird, now that he's dead?"
The morning I began writing this story, it's almost prescient that this is what's weighing on her. It's been a year-and-a-half since her father passed and she is still trying to sort things out, during the precious little time she has in the morning as she prepares to commute to her University of Pennsylvania job teaching city kids how to cook nutritious meals. It's no coincidence that this is her first job after receiving her master's — her father instilled a love of cooking in her, as trite as it sounds, as soon as she could reach the stove.
I have to remind myself now that this is our story. My therapist tells me that. The story of Frances, and her children Maddie, Michael and Shane, and their recovery after loving and losing someone to addiction.


I'm here to give a face to the nebulous shadows behind those faces of those who beat addiction. And those who didn't. At my very first group meeting at Gateway Rehabilitation Center for folks supporting someone with addiction, a counselor somberly said, "If you want to know if there's an addict in the home, look at the faces of those who care for the addict. That will tell you all you need to know." It was the first time anyone had given me consideration.
For almost two decades, people tried to dictate my narrative.
"It's your fault he drinks."
"Why can't you keep your husband in line?"
"Why are you so cold? He has a disease. Where is your compassion?"
Every now and then, those voices whisper from a distance, but they're muted, and I know how to shut them out.
There was a time when shame was an old, pilled sweater I cloaked myself with every day; guilt was a cold ghost, following me everywhere I went. Those feelings eventually turned into anger and hostility. I had lost myself and become a person who existed only within the context of my relationship with an alcoholic. Every day was a battle. And I lost.

There was a time when shame was an old, pilled sweater I cloaked myself with every day; guilt was a cold ghost, following me everywhere I went.

tweet this
I had never imagined this for myself when, at almost 25, I met Jerry. He was the man I was looking for. Stable. Good job. He came from a large, warm family who welcomed me. He was funny.
No, it was more than that. He was the kind of guy who would leave you with side stitches after spending time with him. No one laughed at his humor out of politeness, his observations on life were genuine, raw, and hilarious. He was an eternal optimist.
Our romance was quick and it wasn't long before we knew we wanted to spend our lives together — and have a family. And so it was in the spring of 1993 that we had our first born, Madison. He insisted she didn't have a middle name because he wanted her to take "Monahan" for her middle name when she got married, "so she'd be a Monahan for life."
He was thrilled to have a child, so much so that we had another just over a year later. Michael Kelly Monahan would be born in the spring of 1994. Things weren't perfect, as they never are, but his alcoholism didn't seem to be a problem then. Sure, he overindulged during a Steeler game. Or when he'd go out with friends after work. But this was normal, right?
As our relationship — and his drinking — waxed on, it became more difficult to laugh. "You worry too much," he'd say.
"And you don't worry enough," I'd retort.
Addiction can be tricky that way. I remember reading a piece by a woman who tried to explain her critics for "not recognizing the problem in front of her" that often, alcoholism starts as a small drip. Every once in a while, you hear it, but it's not enough to be concerned. You get used to the drip, so you stop hearing it, despite the drip becoming faster, and the water pressure growing. Eventually, you've got a waterfall. And three children. That would be me. By the time our third child had come along, I was worried. The drinking after work had become a serious issue, but I told myself, "He provided for our children. I guess I need to put up with this."
Jerry and I had separated several times over the course of our marriage. One of them so soon after our third child Shane was born that he was so tiny that he slept in a drawer (on the bed) at my mother-in-law's, where I was staying.
Eventually, my anger and growing shame turned me into a person I no longer recognized. I hated life; I hated myself. And I needed to get help, not just for myself, but so that I could be a better mom to my children.


"Why am
I
at these Al-Anon meetings? I don't have a problem."
"It must be nice to tune out and let me handle absolutely everything."
I'd go to AA meetings with Jerry during their "speaker" meetings, and quickly tire of the narcissistic storytelling. People with addictions can be very charming and they love to hear themselves talk. No, the story about you waking up on the railroad tracks isn't funny at all. Because I'm thinking about the mom at home worrying about you, the brother upset because you won't answer phone calls, and the wife at home with your kids going out of her mind with worry. But I'm glad you find it so amusing. The bravado when you get your chip. The attention-seeking behavior when you're six months sober. You probably think this is a crass way to think about alcoholics, but unless you've been in the belly of the beast yourself, you don't know. You don't know. These were my feelings, right or wrong, and I was entitled to them.
Therapy, a lot of self-reflection, and a heavy dose of books with Buddhist teachings helped me to accept that even if many people with addictions are narcissists, in the end, I don't have to live in the tormented world they do. I don't struggle with a disease that often ends in incarceration or death. Accepting that was part of my recovery process. As you can see, there's a whole lot of acceptance involved. I started to become a person I liked again.
And the time came when I needed to save myself and my children from the waterfall. I'd been building a lifeboat out of internal strength, faith, and acceptance, and she was ready to launch. Nothing I could say or do, nothing my children could say or do, would help Jerry recover. I needed to take care of myself. Not that that didn't entail feeling selfish. But I had to be. I finally divorced him in 2011.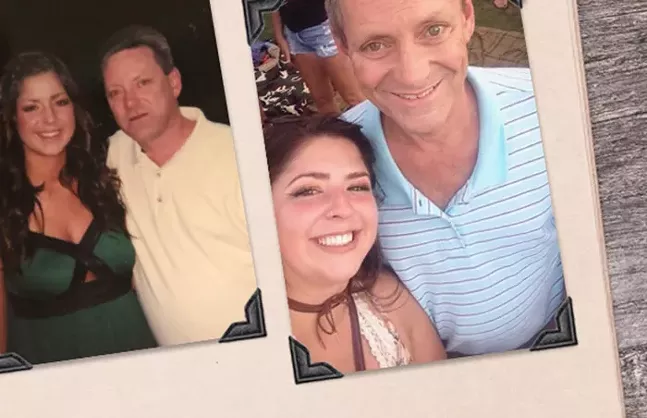 Jerry had had a few close calls before, but as St. Patrick's Day neared in 2018, he had hit his head on the curb while exiting a vehicle. Coming home from a bar. The doctors said there was little hope, and even if he did live, he would be a vegetable. We all knew he didn't want to live that way. My daughter, his next of kin, 24 at the time, my eldest son, 23, and my youngest son, 17, talked among themselves about whether or not to remove him from life support. The decision was made, the machines were unplugged, and he was moved to hospice, where he took entirely too long to pass. Watching him die was a tortuous process for all of us. But when he did, it was a relief. Had he not gone this way, it was just a matter of time before the cirrhosis killed him. We no longer had to worry about those phone calls. Or when it would happen. It was over. He was at peace. Now, we just needed to find ours.

If I had to count how many people were affected by Jerry's death, it would take some time. Instead, I think of his existence as a constellation. He was at the center, burning too bright and too fast, while all of the people still here — not just me and my kids — but his three sisters, his mother, step-siblings, countless nieces and nephews, best friends, continue to spin and shine a light on what was once there, all the while aching for his love and his humor.
With the help of Jerry's sisters and a little from me, my daughter put on a funeral. There were at least a hundred people there. And the bagpipe honor guard. That was the one thing he made me promise — because he always knew I'd outlive him. "Franny, please make sure I have bagpipes at my funeral."


The service was held in a club house with sofas at the front of the room, where close family sat. Everyone who wanted to had a chance to speak. My daughter had prepared something, as did his eldest sister and one of his best friends. They all addressed that he had a disease, that, in the end, consumed him. It was cathartic, it was honest, it was an ending and a beginning. I can't stress enough how being open about addiction is so important in order to be able to heal.
Even though I'm remarried, I think about Jerry often. I will always love him and I'm able to accept that I did everything I could. I don't think "what if?" anymore. I'm not angry anymore. My children have accepted that there was very little they could do. It's something we will always live with, though. Together, we are finding ourselves again, one day at a time.


---

This first-person story is part of our month-long coverage of National Recovery Month, providing stories that bring awareness to those in recovery from addiction. For more information, visit recoverymonth.gov.