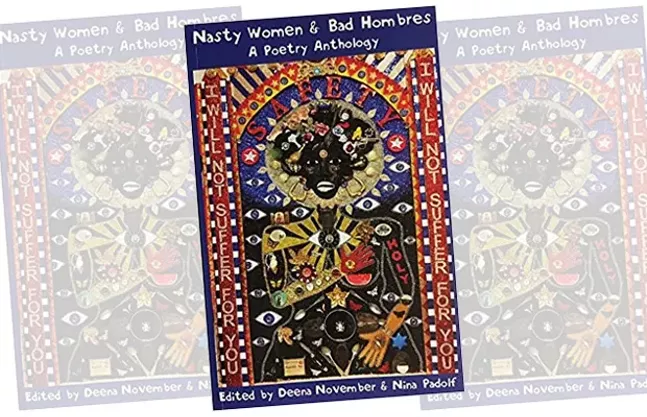 In his poem, "Advice to Young Black Men Named Cameron, After the Election," Cameron Barnett writes, "The beginning of anything is always the first heartbreak. / Remember that. / Turn off the news. Turn off the news feed. Feed yourself … / America is going to be great again." It's guidance many needed in the aftermath of Donald Trump's election. It's also a mood-setter for the recent anthology, Nasty Women & Bad Hombres (Lascaux Editions), edited by local-poets Deena November and Nina Padolf.
The title comes from Trump's campaign rhetoric, which denounced Hillary Clinton and stoked fears about Mexicans pouring across the border. And with 92 poets, including many Pittsburgh favorites, Nasty Women thrives, using 195 pages and a variety of voices, many of whom aim insults at POTUS. It's also a collection that strives for release and catharsis, while putting its money with its mouth: All proceeds will go back to community nonprofits.
The soapbox nature of some poems feels honest and therapeutic, using more exposition than scene. The best allow imagery to take the wheel, leaving overtly political statements for others. For example, in Kristofer Collins' "Survival," he writes: "When we talk about money what we are really saying is, / I am so afraid. / The retired ladies at the bar talk about Medicaid / and the election. / There's been another shooting and that abandoned house / finally burned down for good. / It's easy to believe that every day death is winning." These lines capture the mood of a country looking for answers in an implausible candidate.
The beauty of the anthology is often in its demonstration of different forms, with Don Wentworth's haiku-flavored verses featured in "(3 Poems)." In one, he writes, "Outside the polling place / two halves of a worm / wriggling. / shedding / all sallow conviction / we wait / amidst swirling / sycamore leaves." The concision here points to a feeling of dread, soon realized for many on Nov. 9, 2016.
Megan Merchant's "I Urge My Students" provides an interesting counterpoint to the hand-wringing: "When the country divides / there are two whole-halves / that do not agree. / A Buddhist scholar says / that we become self-righteous / about our points of view, / and have to learn to find / the soft spot, / to return there again / and again, so we don't / harden." It's an outlook to which many readers of Nasty Women & Bad Hombres might aspire. And while poet laureate Stanley Kunitz once said of political poetry, "the feelings are too obvious," there is a comfort in knowing they're being written.