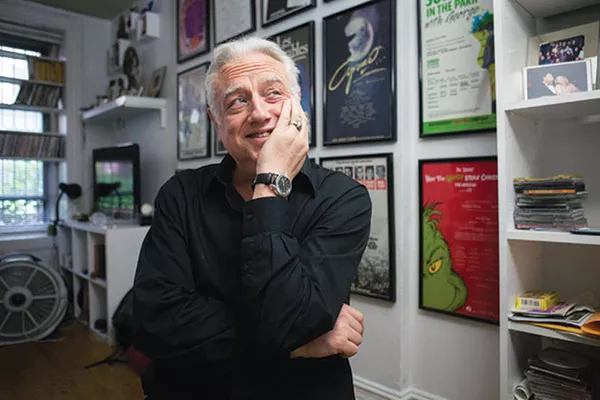 This week brings to town two theatrical world premieres offering radically different takes on vintage celebrities: L'Hotel, at Pittsburgh Public Theater, and Smart Blonde, at City Theatre.
L'Hotel playwright Ed Dixon is a veteran Broadway performer and widely staged playwright with Pittsburgh connections. Ted Pappas, the Public's artistic director, suggested that he write about the famous residents of Paris' Père Lachaise cemetery. Dixon decided to ensconce Victor Hugo, Sarah Bernhardt, Isadora Duncan, Oscar Wilde, Jim Morrison and Italian composer Gioachino Rossini — plus one overmatched waiter — in a faded grand hotel, together for eternity.
It is, of course, a comedy. "This is not a literary work to discover the true nature of Sarah Bernhardt," says Dixon, who even acknowledges, "I picked Rossini because he's funny-looking."
Pappas directs, and Pittsburgh favorite Sam Tsoutsouvas plays Hugo. But while L'Hotel is packed with one-liners, it has thoughtful undertones about "what I consider to be the really important aspects of being an artist," says Dixon — questions about the nature of fame, and what makes an artistic legacy last. "I do think in the end it really does wrestle with some really existential questions," he adds.
In Smart Blonde, meanwhile, veteran playwright Willy Holtzman takes an historically grounded look at the legacy of actress Judy Holliday. At mid-century, Holliday was a big star: a woman with a genius-level IQ best known for playing dumb blondes, like her breakout role as Billie Dawn in Born Yesterday (both on Broadway and on screen). Her career was hobbled in the 1950s, after a Senate subcommittee called her to testify about alleged "subversive" activities.
Holtzman (a Holliday biographer) says Holliday's testimony transcript "was structured like a little three-act play." Smart Blonde was commissioned by City, where Holtzman had a 2010 hit with The Morini Strad. The new play depicts Holliday in 1964 (a year before her death), in rehearsal for a record album. Holliday pauses between songs to tell her story, with her pianist and third actor assuming roles from Holliday's mother to Marilyn Monroe.
Peter Flynn directs a cast including Andréa Burns as Holliday. "For me it's the story of a woman who had to struggle against her time, and finally acted heroically," says Holtzman.