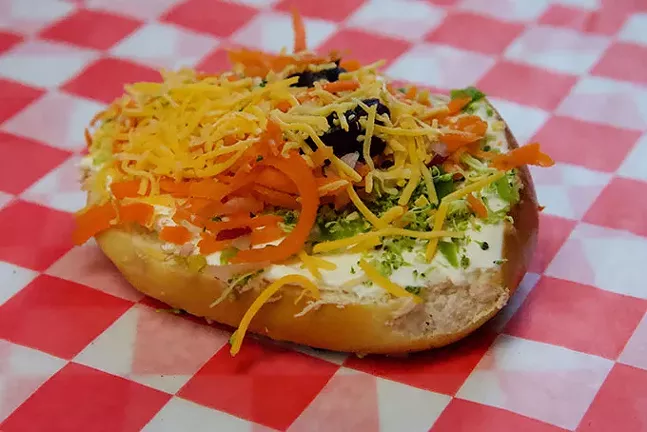 The Pretzel Shop in South Side has been slinging its signature twists since 1927, but these days, the menu is a bit more robust. The pretzels take pretty much every form and flavor imaginable, including parmesan and garlic, cinnamon sugar, jalapeño cheddar, and tomato basil. For lunch, pretzels provide the foundation for steak and cheese, ham and cheese, or a hot dog. For breakfast, order one of the egg sandwiches on a pretzel bun. (My opinion: These are better than a bagel. Take that, New Yorkers!) There's also pizza and pepperoni rolls.
Put simply, there's nothing The Pretzel Shop can't, and won't, do. Want to bake your holiday greetings or eat your favorite Star Wars character? The shop will turn anything into a pretzel. They've created spectacular, customized pretzels in the shape of spiders (with a divot in the center to hold sauce), horses, sharks, and more.
On its website, The Pretzel Shop calls the mid-day menu "fast lunch," and that's exactly what it was. It felt almost like a time trial for the employees, and I loved it. The two women at the front counter were no-nonsense, working in perfect sync with each other, churning out multiple orders without batting an eye: hot pretzels, pretzel sandwiches, twists by the dozen. I arrived and left with hands full of pretzels in less than five minutes.
On their own, I was relatively unimpressed by the pretzels. They were equal to something I could grab from a convenience store: satisfying, but average. But with a topping or sauce, my tune changed.
The cinnamon sugar pretzel was just the right amount of sweet; a parmesan-garlic combination was almost more cheese than pretzel, something I couldn't complain about.
CP senior writer Amanda Waltz made the perfect connection between the cold veggie pizza — half a pretzel smothered with cream cheese, veggies, and cheddar cheese — to a popular Pampered Chef recipe my mother peppered her marketing parties with in the early 2000s. It was a taste reminiscent of Jell-O salads, enjoyable only for the nostalgia. A cheese pizza pretzel brought the same sentimentality, but for pizza boat day in my school cafeteria.
The sandwich special, a club sandwich, was the all-around winner of my midday pretzel haul. As a bun, the pretzel was perfect. It was stuffed with ham, turkey, cheese, lettuce, tomato, and mayonnaise, a fittingly bare-boned sandwich for the simple shop.
The shop has changed significantly since the 1920s, but the pretzels haven't. Every pretzel is still hand-twisted and hearth-baked in the 19th-century oven. They're an iconic part of Pittsburgh cuisine and a staple for many wandering the neighborhood. The city might change around it, but The Pretzel Shop isn't going anywhere.
Favorite Features

1. Sauces
What's a pretzel without sauce? Dip in cheese, mustard, ranch, icing, or caramel.
2. Sweet treats
Satisfy your dessert craving with one of the shop's cookies or brownies.

3. Sides
Pair your pretzel with one of the shop's sides: broccoli salad, pasta salad, potato salad, and more.