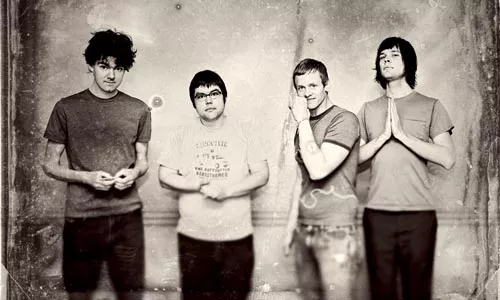 To the first-time listener, The Poison Control Center's new double LP, Sad Sour Future, might suggest a band of fresh-faced kids -- talented, naïve and energetic. But jangly riffs and warbles aren't merely the province of the college kid. With its members all around 30 years old, the Iowa-based band is at the point when many musicians turn introspective -- but instead, The Poison Control Center's focused on staying young.
"This is something that is from our late teens, early twenties, the kind of music we play," says guitarist Patrick Fleming. "And I think when we get together to play, on stage or in a studio, that comes through, because we're always talking about the past. I guess being in a band is one of those things where you can continue to be a kid."
Many of the influences that come through on Sad Sour Future are from the '90s: Pavement, Silver Jews, any number of Elephant 6 bands. Imprecise vocals, fuzzy guitars and convincingly sloppy percussion are all hallmarks, as are often clever lyrics about young love, relocation and exuberance in the face of turmoil.
"After the Holiday" is a sober -- but not somber -- tune about revisiting the places and mindsets of one's youth; "Being Gone" deals in two voices with mixed emotions on moving ("It made me smile for a while / 'It made your head go wild / Until your ears heard the words of envy / About the streets where you once left me'"). But it's not all wistful, of course. "Two Mountains" captures the ebullience of a simple crush: "Tara, I have to admit to you / That you're everything that I want to do, do, do / But the words I say don't come out that way when I want them to."
Fleming says he looks at the new album as four separate EPs, each taking up one side on the vinyl release -- a charming take that offers some explanation regarding the otherwise dubious decision to release an album that on CD simply plays for over 70 minutes straight. If we're to look at each side as a separate release, well, there are a couple of EPs in there that could already be penciled into the year-end best-of lists.
The band's appearance at the Rex Theater, on Tue., June 15 (a show presented by frequent CP contributor Manny Theiner), is part of a tour that Fleming says has no determined end. "We're just taking a year off from work and grad school and touring; we'll see where it ends up," he explains, noting that he and his wife are selling their house before embarking. For a bunch of guys hitting 30, it's an OK way to stay young.
The Poison Control Center opening for Deas Vail, O'Brother and You the Symphony. 7 p.m. Tue., June 15. Rex Theater, 1602 E. Carson St., South Side. $10 ($12 day of show). 412-381-6811 or www.rextheater.com