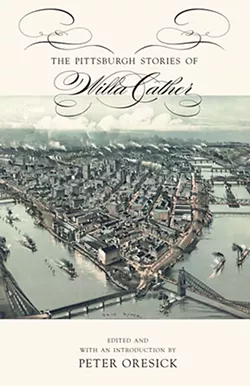 These days, there are as many literary works set in Pittsburgh as there are movies shot here. But try to find pre-1930s fiction by a canonical writer depicting this tahn, and the list gets short after Willa Cather. Though famed for her novels of the Great Plains, Cather actually lived in Pittsburgh during her professionally formative years.
"Pittsburgh was the birthplace of my writing," she wrote, as quoted in Peter Oresick's introduction to The Pittsburgh Stories of Willa Cather (Carnegie Mellon University Press). This first-ever compilation of these six stories was edited by the late Oresick, a poet, educator and Ford City native dedicated documenting and compiling fiction about Pittsburgh.
Cather moved to Pittsburgh in 1896, at age 22, and spent 10 years here as a magazine editor, journalist, critic and public-school teacher; for nine years more, she kept rooms here before moving full time to New York City. (Oresick notes that 1913's O Pioneers! was written in Squirrel Hill!)
Unsurprisingly, given Cather's jobs, these accomplished stories heavily involve education and the arts. In the poignant "The Professor's Commencement," a high school teacher prepares to retire. "A Gold Slipper" is an entertaining, dialogue-heavy 1917 story about a middle-aged businessman's unexpected crush on a concert singer. Music also figures in "Double Birthday," a moving portrait of two members of a formerly affluent family now in modest rooms on the South Side Slopes. In "Namesake" an aging sculptor in Paris, France, recalls returning to his family home in the increasingly industrial Mon Valley of the late 1800s. And fully a quarter of the book is dedicated to "Uncle Valentine," a complex family story revolving around a cosmopolitan songwriter on an estate near Edgeworth.
Pittsburgh in these stories, by the way, is about what you'd expect; while Cather clearly liked it here, she couldn't ignore what in "Valentine" are described as "the narrow streets of the grim, raw, dark gray old city, cold with its river damp, and severer by reason of the brooding frown of huge stone churches that loomed up even in the most congested part of the shopping district."
This collection's highlight is surely the story you're most likely to already know. The widely anthologized "Paul's Case" remains an enthralling study of a theater-besotted teenage misfit in grubby, circa-1900 Pittsburgh. It's a classic, its modernist style the perfect vehicle for the tragic inevitability of its protagonist's fate.