Long before they ever got to training camp in Latrobe this year, the Pittsburgh Steelers had some big problems.
First, in March, wide receiver Martavis Bryant, who was poised for a breakout year in 2016, was suspended for the season for violating the NFL's substance-abuse policy. Then, in July, it was announced that the Steelers' top running back, Le'Veon Bell, would be suspended four games for missing a drug test, his second career suspension dating to a marijuana arrest last season.
While Bell's suspension was subsequently reduced to three games, it's still a distraction that the team will have to deal with. Moreover, the NFL is investigating linebacker James Harrison following an Al-Jazeera America report that alleged Harrison was involved with performance-enhancing drugs. Harrison's name was brought up by the story's main source. Harrison denies the allegation, and the source immediately recanted any statement regarding Harrison, yet the NFL is pushing forward.
But if Mike Tomlin's worried, he's not showing it.
"When you're working with 53-plus men, things are going to come up," he said at an Aug. 24 press conference. "How we handle it is important, not allowing it to become a distraction. And I've gotten pretty good at doing that."
The other thing Tomlin has gotten good at it is winning. Going into his 10th season, he's just eight wins from 100 career victories and is 1-1 in Super Bowls. The past few seasons have been disappointing, though: losses in the wild-card round in 2014, and in the second round last year. Tomlin's no stranger to adversity, and his teams have battled both devastating injuries and off-field controversies. Through it all, the Steelers have always managed to compete, and 2016 won't be any different.
Last year, the Steelers were 10-6 and backed into the playoffs by holding a tiebreaker over the New York Jets. Going into last season, quarterback Ben Roethlisberger and his offense were predicted to put up big scores every week in hopes of compensating for a defense filled with question marks. But Roethlisberger missed four games with injuries, and the Steelers' high-potency offense was hit-or-miss. In week two, for example, the Steelers hung 43 points on San Francisco, then in week three barely squeaked by St. Louis, 12-6.
The Steelers certainly had rough going early in this preseason, losing to both Detroit and Philadelphia. Offensively, the team's young receivers, including second-year man Sammie Coates, had some issues holding on to the football. Beyond Antonio Brown, the Steelers will be turning to a number of young wide receivers including Coates and Eli Rogers. Markus Wheaton is still slated to be the No. 2 receiver behind Brown, but Coates and Rogers will have big roles to fill and must continue to get better.
"Preseason is a chance to get better every week, not just me, but the whole team," Coates says. "We have our struggles now, but come the start of the season we'll be ready and it will be a completely different story."
Rogers is another receiver who could become the difference-maker the Steelers were hoping Bryant would be. By the third preseason game, he'd made more than a half-dozen catches, and Roethlisberger had been taking the young player under his wing, a gesture not lost on Rogers.
"I'm really humbled by the time he's put in with me along with [how early] he's gotten me involved," said Rogers.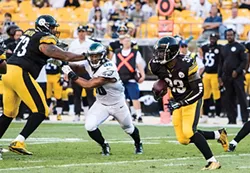 For his part, Roethlisberger seems ready to roll. While he didn't play in either of the first two preseason games, in the third, against New Orleans, he played two series, throwing for 148 yards and two touchdowns — one to Brown and the other to tight end Jesse James, who seems poised to take over for Heath Miller, who retired at the end of last season. Miller and Roethlisberger had a close relationship, and while he's not sure anyone can take Miller's place, he's seen some good things from James.
"They don't need to try to be Heath Miller," Roethlisberger said at training camp in July. "That's not what we're trying to do. He's doing some really good things. They just have to make sure they're not too anxious. They're out there trying to make every play, trying to be the best on every single play. Right now, we're doing some really good things, and I'm excited to see what they can do moving forward."
Rounding out the offensive effort will be a veteran offensive line anchored by Maurkice Pouncey, who returns from a serious injury suffered in the 2015 preseason. And after week three, the backfield will be anchored by 2014 Pro Bowler Le'Veon Bell, with DeAngelo Williams holding down the fort until Bell's suspension is lifted.
The defensive side of the ball raises more questions than answers. Solid veterans on this unit include lineman Cam Heyward and linebacker Lawrence Timmons. But for sustained success, the Steelers need big contributions from young linebackers Ryan Shazier, Jarvis Jones and Bud Dupree, as well as defensive lineman Stephon Tuitt. All have shown flashes of greatness, but all need to make the next step this year. Among the defense's biggest problems is making crucial stops on third down.
"We've got a dynamic offense, and we need to get on and off the field quickly to give them a chance to score touchdowns," Tuitt said following the Steelers' preseason loss to the Eagles.
Tuitt said that will happen if the defensive backs keep receivers covered long enough to let the pass-rushers get to the quarterback. "If we do that," he said, "if we can come together as one unit, we'll be able to get off the field quicker."
Heyward said the Steelers' rough start to the preseason, and defensive mistakes like missed tackles, does have him a bit concerned about the start of the season.
"We all have to get better, including myself," Heyward said. "We have to stop giving up so many points, even in the preseason."
That task could be made harder if the recent struggles of the Steelers' secondary continue. That's another reason why the pass rush and quarterback pressure will be so vital to the team's defensive success. But if the defense improves enough to give the offense time to do its job, anything is possible — even a ninth Super Bowl appearance.
"If any of the 32 football teams don't expect to win a Super Bowl, there's something wrong with them," Roethlisberger said. So, of course that's our expectation, too. We should never shy away from that.