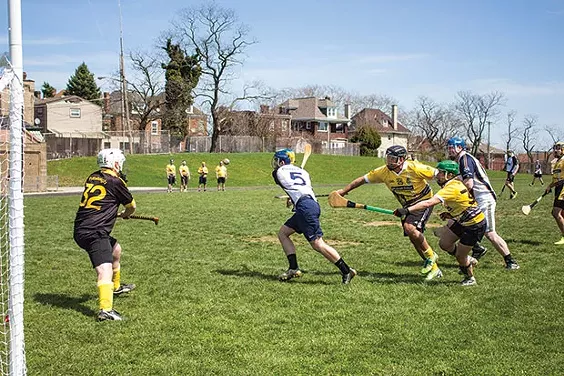 For the people of Ireland, competing in the sport of hurling is a matter of county pride. Kids walk around town with hurling sticks in hand. Residents adorn themselves in their club's jersey. The players compete at a professional level, without monetary compensation, and a viewership that rivals American football.
Pittsburgh Pucas Hurling continues the tradition of the Gaelic sport from across the pond, here in Pittsburgh. A Puca is a shape-shifting spirit or ghost from Celtic folklore.
"They play for their county, and we really play for Pittsburgh pride," says Pucas coach Aaron Williams.
The co-ed club competes in the Midwest Division of the United States Gaelic Athletic Association's hurling league, the stateside offshoot of the GAA. Pucas Hurling, whose home games are at Founders Field, in Cheswick, has traveled to, and consistently placed in, championships and tournaments from Toronto to New Orleans.
"I about fell off my chair when I heard that hurling was played here," midfielder Ryan Sheehan says. "It's a very welcoming environment. You can be committed or uncommitted as you want. It's like a free form of exercise."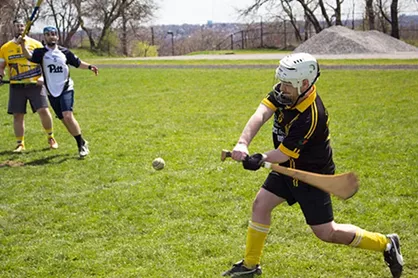 Hurling is a high-scoring field sport that bears similarities to soccer, football, field hockey, lacrosse and baseball. It is played with a short, flat hurling stick, known as a hurley. Players (wearing lacrosse-style helmets) score by either knocking the hard, baseball-sized ball, known as the sliotar, into the net of a goal for three points, or over uprights for a one-point field goal.
"We get people that express interest and then think it's a much more brutal sport than it seems," Williams says. "But it's an easy sport to learn. The basics of it, you can pick it up fairly quickly."
The ball can be moved with every limb, by hitting it with a hurley, by tossing and smacking the sliotar with the palm of a player's hand and by kicking it on the ground. Players can catch the sliotar, as long as it's airborne or bouncing, and can move with it for several steps, as long as it's balanced on a hurley, before passing.
The sport is known for its speed and physicality, but Pucas players said the league accepts anyone who is willing to play.
A natural camaraderie comes along with the sport, says Pucas full forward and games manager Keith McAllister. "One second you're busting heads with someone on the field, and the next you're shaking hands and having a beer."
The Pucas are always looking for new players and are hoping to start a camogie team in the future. Camogie is a women's sport with similar rules.
"We are always looking for women to apply," says Pucas fullback Sue Whalen. "We don't try to kill each other."