A few years ago, if players in the Pirates spring-training clubhouse had told you that they were confident that the team could compete for the World Series title, it would have been hard not to laugh out loud. But that's not the case anymore. Not by a long shot.
"Our goal first and foremost is to win the division," says Pirates shortstop Jordy Mercer. "We've been in the playoffs the past couple years, and the expectation here is no longer just to get to the playoffs.
"The expectation is to win the division and ultimately get to the World Series."
He's serious, and he's not alone.
"Our goal is to get into and win the World Series," says Pirates closer Mark Melancon. "And we've made strides toward that end. The front office did a great job in the offseason with the signings they've made to get the guys in here to help us compete."
Adds first-baseman Pedro Alvarez: "We have our vision and goals for the upcoming season, and the task at hand has always been to win a World Series ring."
It won't be an easy task. And with a long, grueling season ahead, here are five storylines to watch for.
Pedro Alvarez moves to first base
Batting practice is coming to a close, and Pedro Alvarez is still at first base shagging grounders. In less than two hours, he'll put on his game uniform and play an actual spring-training game.
"I've been feeling good, feeling pretty comfortable out there," Alvarez says in the McKechnie Field clubhouse after that game. "I've been able to do that, taking every rep at first that I can. But I've always done that. I've always worked hard regardless of the position.
"Whether it's during batting practice or just playing catch, my priority is making that position as close to second nature as I possibly can."
If the Pirates want to get over the hump this year — win the National League Central Division and become true World Series contenders — they need production both offensively and defensively from their corner infielder who is making the transition from third base to first.
A 2014 campaign saw Alvarez commit 25 errors — most of them involved horrific, wild throws to first base that sailed all over the infield. And defense wasn't the only part of his game that suffered. He hit just 18 home runs and managed just 56 RBI after a 2013 season where he hit 36 home runs and 100 RBI.
"My goal is to go out there every day and help this team get better and achieve its goals," Alvarez says.
If his problems in the field and at the plate can be solved by simply working harder, then Alvarez should be fine. But the Pirates aren't leaving anything to chance. They spent $2.5 million in the offseason to sign veteran first-baseman Corey Hart (more info on page 22). And Andrew Lambo — who hasn't been able to reproduce his monster minor-league power numbers in the majors the past two seasons — has been looking good this spring.
The Pirates may have the best outfield in baseball
That may be a hard declaration to quantify, but it's one of those things you know when you see it.
Any of the Pirates' three outfielders — from left field over to right, respectively, Starling Marte, Andrew McCutchen and Gregory Polanco — could play centerfield on any other team in the country.
"I think we have a chance to catch every ball that's hit to the outfield, every ball," Marte told the Pittsburgh Tribune-Review in February.
There's certainly competition out there for the best-outfield title. Mainly, the Florida Marlins, a team that features Marcell Ozuna, Giancarlo Stanton and Christian Yelich. But the combination of McCutchen, Marte and Polanco will be tough to top both in the field and at the plate.
All three possess blazing speed on the base paths and can hit for power. And, as good as McCutchen has been with the Pirates, there's a chance at some point in the next couple of seasons that he will be surpassed by Polanco. While Polanco's major-league debut last June was much-heralded, he struggled at times in his 277 plate appearances. But he has intangibles — like the ability to produce a five-hit game in just his third big-league appearance — that make you think the sky's the limit.
Consistency, consistency, consistency
There's no doubt that the Pirates have a good collection of ballplayers. But to become great and take the next step, they have to be consistently better every day.
Take defense, for example. As a team last year, the Pirates had a big problem with errors — their total of 109 was the third-worst in all of baseball and the worst in the National League. But things are looking better, says manager Clint Hurdle.
"We just committed our first error of the spring yesterday, 10 games into the season," Hurdle says. "That's significant. We're doing a lot of things well, and we just need to work hard and get better every day."
One area where the Pirates have continued to struggle is offensively. Despite the potential for big hits in key moments with players like Alvarez, McCutchen, Marte and second baseman Neil Walker, the Bucs haven't always come through, and those woes have continued this spring.
"I think we have been very consistent in all aspects of our game except offensive consistency," Hurdle says. "We are going to continue to work toward being the offense that we know we can be. Pitch selection is going to be critical — we've got to get good pitches to hit."
It can be done; Mercer's 2014 campaign showed that. He began 2014 as the starting shortstop but struggled mightily at the plate and in the field, committing 11 errors. But he was able to turn it around and become a key component for the Pirates, finishing the season with 12 home runs and 55 RBI. He says those struggles have helped him going into this year.
"I'm confident going into this year because I struggled so much at the beginning of last year and was able to overcome it," Mercer says. "It was really a tough couple of months, but my teammates believed in my abilities and, more importantly, I believed in myself and I was able to bounce back.
"I'm a better player today because of that."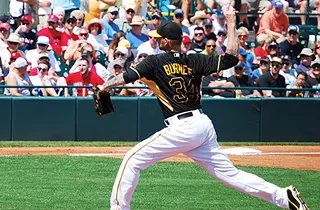 A.J. Burnett is still the man
Fan reaction to the return of pitcher A.J. Burnett has been mixed. Many are still upset because he left the Pirates after the 2013 season for the Philadelphia Phillies for a huge payday ($15 million). Fans didn't want to welcome him back when the Pirates re-signed him in the offseason.
But even at 38, Burnett is a wise $8.5 million investment for what he brings with his arm and his heart. Most of his work last year in Philadelphia was unremarkable except for one fact — he pitched nearly the entire season with a sports hernia.
"I don't know many men that would have been able to get through the season that he got through last year with the physical [ailment] that he dealt with. He kept taking the ball," says Hurdle.
During the two seasons Burnett spent in Pittsburgh, he became a team leader at a time when the team desperately needed one. That role in the clubhouse has served him well on his return.
"[Burnett] coming back now has been a seamless transition because of the relationships that had already developed," adds Hurdle. "What we know we're going to get is a fierce competitor on the mound that takes the ball 30 to 35 times a year and gives you 200 innings. He brings an edge to everything he does."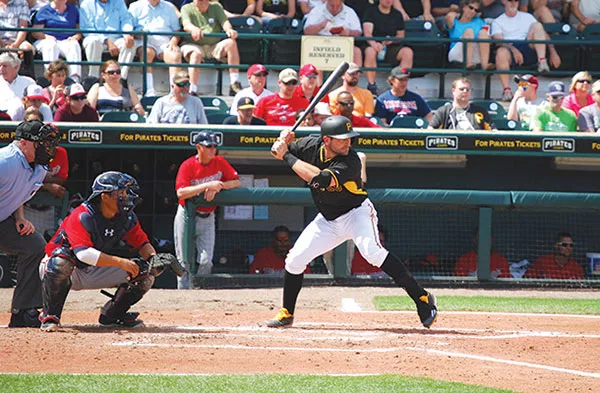 Winning the division won't be easy
Look over the rosters of the other four teams in the National League Central, and it's hard not to have a panic attack. The Cardinals, Brewers, Reds and the Cubs — yes, the ones from Chicago — all have the potential to be in the postseason mix. There was a time when the Cardinals ruled the roost alone, but not anymore. In the offseason, MLB.com's Mike Baum predicted that the Central would be "the most dominant division in 2015."
No one needs a primer on the Cardinals. Since 2005, they have won two World Series crowns, three National League pennants and five division titles. They've got power in Matt Holliday, Matt Adams and Matt Carpenter, plus as a good a starting rotation as anyone in the game, led by Adam Wainwright and Michael Wacha.
And it doesn't get easier from there. The division is a who's-who of MLB's best talent. The Brewers come to the table with Ryan Braun, Jonathan Lucroy, Carlos Gomez and Matt Garza. The Reds are loaded, with Joey Votto, Billy Hamilton, Todd Frazier, Johnny Cueto and Aroldis Chapman.
Then there's Chicago. While the rest of the world expects the Cubs to choke regardless of the talent they possess, that would be a fatal error. There are few teams with a deeper minor-league system than the Pirates, but the Cubs are one of them, and many of those players will take the field in 2015. The Cubs are stacked with young stars including Anthony Rizzo, Starlin Castro, Javier Baez, Kris Bryant and Jorge Soler. Add to that Jon Lester, the most highly sought free-agent pitcher in baseball, and the Cubs are no easy out in 2015.
When asked about the rest of the division, shortstop Jordy Mercer says the Pirates can't worry too much about what other teams are doing.
"Some guys might pay attention, but I don't," he says. "All I can do and all we can do as a team is get ready to go out and play and win games, [and] control what we can control.
"If we get everybody on the right page at the right time, we'll be fine."