It goes without saying that the start of the 2017 Pittsburgh Penguins hockey season comes with high expectations. How could it not? When you've already won back-to-back Stanley Cups, fans expect you to win a third, even though the task may be nearly impossible.
Nearly. But not impossible. In fact, if any team has a chance to do it, it's the Pens. Las Vegas certainly thinks so. Pittsburgh was an 8-1 preseason favorite and was a 6-1 favorite at press time.
There's no question that this team could win a third championship. But let's be honest: It's a long shot for a team to win one; three in a row will take a lot of talent, and a little luck. Betting against Sidney Crosby is never a smart idea, but any Vegas oddsmaker will tell you if it's one team vs. the field (the entire NHL), you take the field every time.
Opposing teams will be gunning for the Penguins even more this year. They'll use the regular-season games to find out what kind of team the Pens have; they'll look for every weakness. Hockey is a different type of game. A bad bounce here or there can be the difference between winning and losing. Pittsburgh likely won't dominate the Eastern Conference this year; in fact, it's completely probable that heading into February, the club is sitting somewhere between sixth and 10th place.
The conference schedule is full of scenarios that could hurt the Pens. Toronto is a fast, talented team that matches up well against the Pens. Philadelphia is a tough out for Pittsburgh because there's always a chance of a sideshow breaking out, preventing the Pens from winning. Montreal has the best goalie in the league in Carey Price; there's no doubt that he'll win a Cup someday. And then there's Washington. Many people (this writer included) think Alexander Ovechkin is the best offensive player since Wayne Gretzky. Plus, one of these days he has to beat the Penguins, right?
But that's February; that's regular-season hockey. The Penguins become a different beast in the playoffs. Once they hit the postseason, it's hard to imagine any team defeating them.
So, can the Penguins complete the first threepeat since the early '80s? Yes. No. Probably. Maybe. It's a crapshoot. In the spirit of indecisiveness, here are five reasons the Penguins will threepeat and five reasons they won't. As it turns out, they're the same five reasons, so let's look at them in head-to-head matchups.
1.
Matt Murray
To Three

It's easy to sing the praises of a goaltender who won the Stanley Cup in each of his first two NHL seasons. It's a feat that has never been done before. The Penguins haven't been this excited about a goaltender since Patrick Lalime in the 1990s. The hype surrounding Lalime stemmed from a mere 16-game unbeaten streak. The buzz around Murray is 20 times stronger. This season, Murray gets to be the undisputed No. 1 guy, a luxury he didn't have with Marc-Andre Fleury on the roster the past two seasons. But now Fleury (see our tribute on page XX) is in Las Vegas, and Murray can stop looking over his shoulder. Murray actually might be even better than he was the past two seasons.
Not to Three

Being the undisputed starter could get into Murray's head. In sports, psychology is a huge factor, especially for NHL goaltenders. Trouble is already brewing. In his first two regular season games, Murray has allowed 11 — yes, you're reading that correctly — goals. And in the second game, he played in relief after backup Antti Niemi (more on him in a minute) allowed four. The fans and media love Fleury. Fans have already taken to Twitter praying for Fleury's return. Another issue isn't even one of Murray's making. The hole at third-line center affects the goaltender more than anyone. A good third-line center takes a lot of defensive responsibility. When you have Malkin and Crosby, the opposing goalie is on high alert. When Jordan Staal departed in 2012, the Pens had playoff goaltending issues. It wasn't until Nick Bonino came in that the goaltending improved in the post-season. That probably wasn't a coincidence, and with Bonino now in Nashville, the problem could reappear.
2. The Backup Goalie Situation
To Three

Yes, Marc-Andre Fleury was a great backup goalie. That's because he's not a backup goalie, he's a starter. The Penguins were in a unique situation the past two seasons with two first-string goalies on the bench. When you look at it calmly and rationally, the backup situation shouldn't be that big of a deal. Look around the NHL — the Penguins might have one of the best backup-goaltender situations. Take a quick look at Antti Niemi's career stats: In 423 games, he's 227-125-51, with 35 shutouts. His goals-against average is 2.49, and his save percentage is .913. Those aren't bad numbers, and Pens will put a pretty talented group of players in front of him. His butterfly style knocks pucks away at his feet. The Penguins' speed prevents teams from getting low into the zone and setting up shop in front of the net to create high-angle shots. In fact, very few players are going to be able to break through the Penguins' defense and get clear shots on goal.
Not to Three

Yes, Niemi's career numbers aren't horrible, but they've taken a turn for the worse over the past two seasons in Dallas. In his only appearance so far this season, he allowed the Chicago Blackhawks four goals in 13 shots and was pulled halfway through the first period of what would become a 10-1 massacre. (Murray allowed the other six.) Maybe the change of scenery and the lingering ghost of Fleury are getting into his head. Beyond Niemi, Tristan Jarry hasn't gotten a lot of playing time at the NHL level. Everybody loves the third goalie until he has to come in and play meaningful games, and then struggles. That's not saying that Jarry will struggle, but there is a reason the Pens signed Niemi. If Jarry was NHL-ready, the Pens might not have even brought Niemi in for a tryout, let alone signed him as a free agent.
3.
Kris Letang
To Three

When Kris Letang is healthy, he's one of the best players in the NHL. His speed is almost unmatched, and his ability to move the puck is a skill that you simply cannot teach. He has blossomed into the Penguins' No. 1 defenseman. Letang is a key component of this third-straight Cup run. He missed the playoffs last season due to a neck injury. A healthy Letang might have been enough to make quicker work of the Ottawa Senators. Letang makes it easier on the offense as well. He takes so much space that wingers and centers have more open room to move the puck. His presence on the power play is also notable. If you give Letang space, he's going to make you pay; he has a knack for scoring. He is simply a five-star defenseman. He's quick enough to take chances in the offensive zone and get back in position defensively. In fact, sometimes he makes opposing players look open, which helps the Penguins generate neutral-zone turnovers. On 20 other NHL clubs, Letang would probably be the captain. He just happens to share a team with the two other most gifted players in the NHL.
Not to Three

As skilled as Letang is, let's not skip the fact that he can't seem to stay healthy. He's a hockey player, and hockey is an extremely physical sport. However, Letang has had some bad luck in his career when it comes to injuries. The Penguins were extremely lucky to get by the Capitals and Senators without their top defenseman. The defense rallied around Justin Schultz, and the rest of the defense played above their paygrade to secure last year's Cup victory.
Letang, at times, can also be a defensive liability. Every now and then, he takes chances and leaves the Pens facing odd-man breaks. The goaltending has also bailed him out in recent years, but if Murray isn't as sharp this season — or worse, gets injured — the trickle-down effect could cost the Penguins. NHL games are so close these days. A few chances at the wrong time could be the difference between a win and a loss. Letang will help the Pens win more games than they lose, but his tendency toward the occasional mental lapse could cost them at crucial times. If Letang can't stay healthy or doesn't play his best hockey, this roster might not be deep enough to win a third consecutive Cup.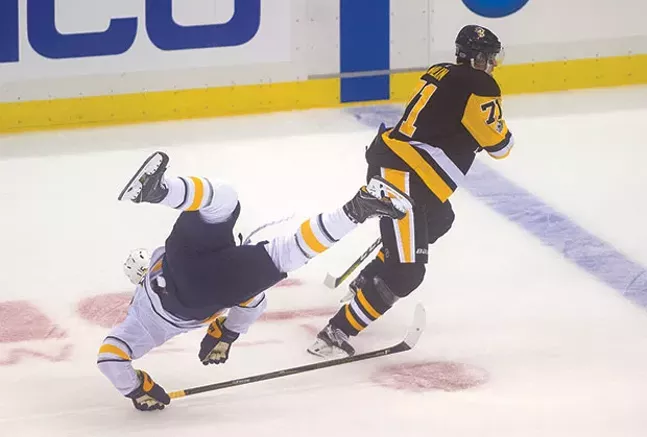 4. Sidney Crosby & Evgeni Malkin
To Three

When you have the best two players in the NHL, you are always going to be one of the favorites to win the Cup. No other roster other than the Chicago Blackhawks (with Patrick Kane and Jonathan Toews) has a 1-2 punch like Crosby and Malkin. Crosby has a skill set that nobody else in the NHL has. Not only is he extremely gifted offensively (that's even an understatement of his abilities), Sid the Kid — or "the Man," now that he just turned 30 — is just one hell of a grinder. Rarely do players with a god-like offensive pedigree play defense with equal relentlessness; Crosby does. The guy can backcheck and track down a loose puck in the corner like no one else. His ability to use his famous backhand is very rare. His work ethic is unmatched. This human being was born to play hockey, and he lives it. Not since Jaromir Jagr has any NHL player shown lower-body strength on the ice like Crosby has.
As for Malkin, his long and lanky body combined with his speed makes him a freak show, but in a good way. Malkin has offensive star power, and that type of difference-maker is extremely rare in the NHL. Malkin is elite. To have a guy like that as your second-line center in the NHL is an unheard-of luxury. For the past decade, the Penguins have been more than lucky to have a star on a different line. Malkin would be the best player on 28 other NHL rosters.
Not to Three

If you keep going to the well, it will eventually run dry. The Penguins have played more hockey over the past two seasons than any other club. That will take its toll on some players. Crosby and Malkin have both missed significant time in their careers due to injury. Crosby's concussion history is scary, because he gets low and exposes his head more than most players. The Penguins have shown in the past that if both of these players are out at the same time, the team really suffers. Their roster is not nearly as deep as last season, so the dependence on Crosby and Malkin will only be greater. If one of them gets in a funk, there might not be a player capable of bailing them out. The goaltending situation could also affect them if it isn't as strong as last season. Malkin, at times, gets caught out of position defensively and, with the roster being weaker, a few injuries could really affect this team. If Crosby and Malkin don't play at their highest levels, winning the Cup may be out of reach.
5. The rest of the NHL
To Three

Eight teams from each conference make the playoffs, so right out of the gate you have a 50 percent chance to make the postseason. That fact alone should help the Penguins get invited to the dance. Once they get there, they have the luxury of the seven-game series. It's easy to upset a team a time or two, but beating the Penguins four times in seven games is extremely difficult. After all, it hasn't been done in two years.
Not to Three

It's a new era in the NHL. The Penguins might not even have the best player in the league anymore. Anybody who watched that Senators/Penguins series has to agree that Erik Karlsson is probably the top dog in the league. He was injured and still almost single-handedly beat the Penguins. The Senators came within one inch of eliminating the Penguins. Connor McDavid, of the Edmonton Oilers, might be even more gifted offensively than Malkin or Crosby, and Auston Matthews, of the Maple Leafs, could become the best goal-scorer. And if the Penguins make the finals, they could have Chicago's Patrick Kane and Jonathan Toews to deal with. These teams are going to do anything to stop the Penguins from winning the Cup.