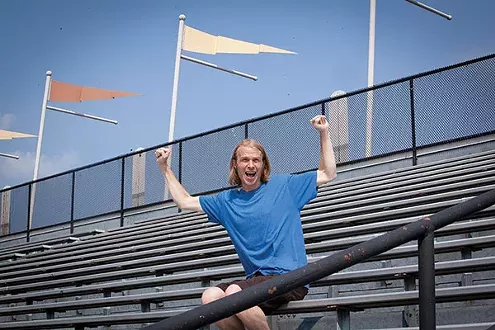 With Labor Day behind us, as we move full steam ahead into fall, it's natural to reflect on the summer of 2015.
With Pittsburgh being a diverse city, I'm sure we all spent the warmer months a little differently. Some folks vacationed in foreign lands and swam in exotic Mediterranean locales. Some hit the Southern beaches and golf courses of the Carolinas. Some ventured to Ocean City, Md., or the Jersey shore. Others hit the beaches in Erie, with a stop at the Big Butler Fair. And others, myself included, stuck close to home and swam in local pools, which is kind of like taking a large bath with everyone you see at a Dollar General store.
But the beauty of being Pittsburghers is that regardless of our social status or economic condition, we are bound by a love of family, beer and football.
So while all of us were taking it easy, the members of the Pittsburgh Passion were busy winning their second Independent Women's Football League title. That's no easy task in a league with more than 30 teams. There were no spray parks or trips to Kennywood for these warriors. It was a summer of full-contact football, getting their fingers stepped on and ruthlessly being tackled to the ground in the sweltering summer sun.
The Pittsburgh Passion are like the great soccer star Pelé — the one entity in their respective sport that everyone has heard of. These ladies are the only women's team to play in an NFL stadium and to be featured on ESPN. In their inaugural season, the Passion had a losing record, but they haven't had more losses than wins since.
That first season, they played home games at Belle Vernon High School in front of sparse crowds. Thirteen years, three world titles and a couple of Dapper Dan awards later, they now play to much larger crowds at Cupples and Highmark stadiums, both on the South Side. Plus, Mayor Bill Peduto recently proclaimed an entire day in their honor.
The crowning moment of the 2015 season was a 41-37 victory over the Utah Falconz in the July 25 championship game, in South Carolina. Yes, that's Falconz with a z, apparently to give them some street cred. Utah, a region that roots for the NBA's Utah Jazz and listens to Donny and Marie Osmond records, is no place I want to live. Both teams were undefeated going into the final.
There's a lot to love about the Pittsburgh Passion. Mostly, it's their passion for the game. These ladies aren't the spoiled, entitled, sometimes criminal football players that we find in the male version of the sport. The players in this game have an intense love of the sport and that gets them out on the field despite making little money, or none at all. When you talk about the Passion, you talk about legendary quarterback Lisa Horton and international superstars like linebacker Octavia Griswold and defensive back Sharon Vazquez. These stars now play in front of passionate crowds, and they've earned their successes.
The team's next goal is to have the most IWFL titles. The all-time record is three, which was set by the Sacramento Sirens at the turn of the century. It's time to wipe the smug look off the faces of those Sacramento people. They think they're a big deal because the Terminator lived in their town for six years. But they're not Pittsburgh.
Sacramento is no city of champions: They have only the NBA's Kings, and they never win anything. Passion owners Teresa Conn and Franco Harris — yes, that Franco Harris — have assembled a winning machine. In a classic Pittsburgh sports scenario, Teresa is Chuck Noll and Franco is Art Rooney as they go for a third straight title in 2016. Go check out the Passion next season (which starts in April); I think that third title is a pretty safe bet.
Mike Wysocki is a standup comedian and member of Jim Krenn's Q Morning Show each weekday morning on Q92.9 FM. Follow him on Twitter: @ItsMikeWysocki