The Pittsburgh Jewish-Israeli Film Festival continues through Sun., March 29. The 16th annual edition fsoffers films from Israel and around the world representing Jewish experiences from the comic to the dramatic to the inspirational, as presented through recent narrative features and documentaries.
Films screen at four area theaters and venues including: SouthSide Works Cinema; McConomy Auditorium, Carnegie Mellon University (5000 Forbes Ave., Oakland); the Galleria (1500 Washington Road, Mount Lebanon); and Carmike 15 (Westmoreland Mall, Greensburg). Tickets are $8 for adults, $7 for seniors and $5 for students. For tickets and more information, call 412-992-5203 or www.UJFpittsburgh.org/filmfestival.
The second week's selections are as follows:
AS SEEN THROUGH THESE EYES. "No painting ever stopped a bullet," an art-history professor once told me. But this 2008 Holocaust documentary from Hilary Helstein suggests that art could save lives, or at least make them a bit more worth living -- even in the nullifying world of a concentration camp. The artwork, like everything else connected with the Holocaust, is brutal and haunting. So are the stories: of a ghetto-produced children's opera, for example, or Josef Mengele's portrait painter. But the film's power is somewhat dissipated by Maya Angelou's leaden narration, and maybe at this point it's impossible to be surprised by anything the Nazis did. Helstein will speak after the film. To be screened via video projection. 7:30 p.m. Tue., March 24. SouthSide Works (Chris Potter)
THE BEETLE. Director Yishai Orian's fear of becoming a father sends him on a humorous and regressive quest to meet all of the previous owners of his rickety Volkswagen Beetle. When uncovering the Bug's history fails to assuage his anxieties, Orian decides to repair the car's crumbling body and failing machinery. His trip seems a bit self-indulgent -- especially when he pops over to Jordan to look for a cheap mechanic while his wife stays home pregnant and worried about him. But in the end, Orian's affable nature and heartwarming encounters through fixing a car and becoming a father prove irresistibly charming. To be screened via video projection. In English, and Hebrew and Arabic, with subtitles. 7 p.m. Wed., March 25. McConomy Auditorium, CMU (Adam Fleming)
BLESSED IS THE MATCH: THE LIFE AND DEATH OF HANNAH SENESH. Roberta Grossman's documentary combines interview footage, memoir excerpts and dramatization to portray the life of Hannah Senesh, the most noted of the Palestinian Jews who parachuted into Hungary in 1944 to spread resistance within the Jewish population. The film concentrates on her mission and ultimate death at the hands of the Nazis, but spends considerable time on her upbringing and migration to Palestine as a young woman. (She became fervently Zionist in her teen-age years and chose to become a farmer in the Promised Land.) While Senesh is a hero to Israelis, the film underscores the lessons learned from a passionately lived life, no matter what one's beliefs or politics; interestingly, in the end, Senesh's agnosticism is revealed through her writing. Grossman will speak after both screenings. 7 p.m. Sun., March 22 (SouthSide Works) and 7:30 p.m. Mon., March 23 (Greensburg) (Andy Mulkerin)
DANS LA VIE. Philippe Faucon packs a lot into this gentle humanist drama about tolerance. The film (English title: Two Ladies) centers on an Arab woman and the affluent, paraplegic Jewish woman she cares for. It's no surprise that this French odd couple -- of a similar age, and both with roots in Algeria -- learn how much they have in common. But in just 70 minutes, Faucon (using a seemingly nonprofessional cast) sketches a remarkably complex and empathetic picture of cultural paradox, cultural change and even familial politics in today's France. In French and Arabic, with subtitles. 7 p.m. Wed., March 18. SouthSide Works (Bill O'Driscoll)
THE DEBT. Assaf Bernstein's 2007 film, which is slated for an English-language remake next year, is a historical fiction based on the Nazi hunts of the 1960s. The Debt follows two threads simultaneously: the 1964 mission of three young Israeli Mossad agents charged with capturing a war criminal known as the Surgeon of Birkenau, and the reprise of the mission 30 years later, when the Nazi, who wasn't apprehended successfully the first time, is found at a nursing home in Kiev. The parallel plot lines complement one another and add suspense without confusing the point. The agents are presented in varying degrees of heroism and dishonor, adding nuance. In German and Hebrew, with subtitles. 7 p.m. Sun., March 22. Galleria (AM)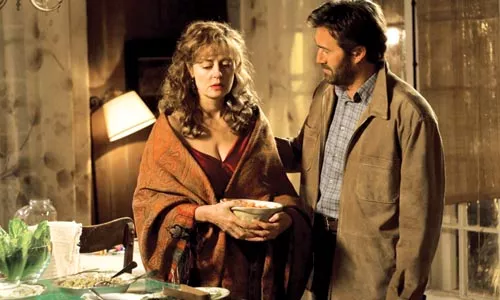 EMOTIONAL ARITHMETIC. Three survivors of Drancy, a Nazi transit camp in France, reunite decades later at a country home in Quebec, where Melanie (Susan Sarandon) and her nervous family host a dinner. There's a lot of foreshadowing, and amateurishly handled flashbacks to the camp as the full story of the past is revealed. Paolo Barzman's film is adapted from Matt Cohen's novel, and I can't help wondering if the material had more impact on the printed page. As it is here, all the build-up just leads to a fizzled end, with little emotional pay-off. With a great cast including Max von Sydow, Gabriel Byrne and Christopher Plummer, it's a shame the pieces don't fit together more satisfactorily. 7:30 p.m. Wed., March 25. SouthSide Works (Al Hoff)
A GIFT TO STALIN. In 1949, a young boy is sneaked off a train relocating Jewish Muscovites to remote Kazakhstan; Rustem Abdrashitov's earthy, poignant drama follows the "orphan" to his adoptive village, while Stalinist authorities threaten to uncover this tiny ruse upon the steppes. Gift is vivid, full of striking images and wonderfully natural depictions of kids. The charismatically played adult roles include a kindly, hulking railroad man, a hard-luck woman and a vengeful cop. Bittersweet resolution follows tragic climax; like many Russian films, this one's largely about learning to live while staring death in the eye. In Russian, Kazakh and Hebrew, with subtitles. 4 p.m. Sun., March 22. SouthSide Works (BO)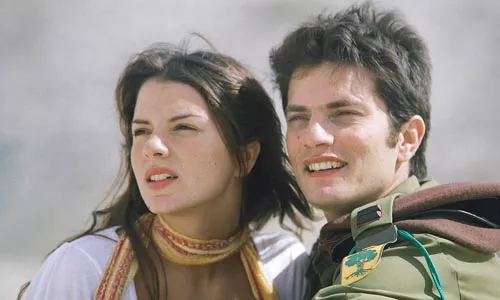 LETTERS FOR JENNY. When her life turns upside down, a young Argentine woman named Jenny decamps to Israel to seek clarity and insight. She's partly inspired by letters left to her by her long-dead mother, missives that provide advice as well as clues about how her mom might have coped with her own seemingly insurmountable troubles. Diego Musiak's drama is a trifle soapy, and resolves a little too neatly, but the lessons -- talk to your family; be true to yourself; a change of scenery often helps -- are worth noting. In Spanish, with subtitles. 7:30 p.m. Mon., March 23. SouthSide Works (AH)
LOST ISLANDS. The domestic troubles of a rambunctious Israeli family in the 1980s are the subject of this recent dramedy from writer-director Reshef Levy. Twin brothers -- one brash and outgoing, the other sensitive and accommodating -- come of age, competing for parental attention, girls and even life goals. It's all a laugh, until an accident inverts their roles, and Levy's film becomes a study in reduced expectations, guilt and the frustrating tendency of people to never say what they really feel. But families -- even messy, angry ones -- have a way of hanging together, especially if just the right cheesy disco song is playing. In Hebrew, with subtitles. 8:45 p.m. Sat., March 21. SouthSide Works (AH)
NYMPHS IN THE MIST. Two slackers who don't have much luck with women decide to make a movie. For one, it's the chance to tell a "real" story about an ordinary guy; for the other, it's a chance to audition hot chicks. Not a lot happens: A bright young woman joins the pair's venture; everybody frets about meaningful relationships; and bit by bit, these young adults edge forward in life. It's familiar fare, but the characters are likable and relatable. Director Yoram Sachs will present the film. To be screened via video projection. In Hebrew, with subtitles. 7:30 p.m. Thu., March 19. SouthSide Works (AH)
QUICK FLICKS. Highlighting this 90-minute presentation of seven short films is "Toyland" (Jochen Freydank, Germany), a poignant tale of two playmates during World War II, which recently won an Academy Award. Other shorts are from Israel, Hungary and the United States. To be screened via video projection. In English, and various languages, with subtitles. 8:30 p.m. Wed., March 18. SouthSide Works
A TOUCH AWAY. This well-received Israeli television drama tracks the intertwined lives of two neighboring families in Tel Aviv: One group is secular Russians, the other Orthodox Israelis. Each episode is 38 minutes. To be screened via video projection. In Hebrew and Russian, with subtitles. Episodes 1-3: 11 a.m. Sun., March 29, SouthSide Works. Episodes 4-6: 1:30 pm. Sun., March 22, and 1 p.m. Sun., March 29, SouthSide Works. Episodes 7-8: 3 p.m. Sun., March 29, SouthSide Works.