The 15th annual Pittsburgh Jewish-Israeli Film Festival opens its 18-day run on Thu., March 27, with the Pittsburgh premiere of Noodle, an Israeli dramedy about a flight attendant and an abandoned Chinese boy.
The festival also offers 23 other films from Israel and around the world representing Jewish experiences from the comic to the dramatic to the inspirational, as presented through recent narrative features and documentaries.
Films screen through Sun., April 13, at eight area theaters including SouthSide Works Cinema, on the South Side (412-381-7335); the Galleria, in Mount Lebanon (1500 Washington Road, 412-531-5551); the Cranberry 8 (Rt. 19, Cranberry, 724-772-3111); the Manor Theater, in Squirrel Hill (1729 Murray Ave., 412-422-7729); Regent Square Theater, in Edgewood (1035 S. Braddock Ave., 412-682-4111); Melwood Screening Room, in North Oakland (477 Melwood Ave., 412-682-4111); McConomy Auditorium, in Oakland (CMU campus); and Carmike 15, in Greensburg (Westmoreland Mall, 724-834-1977). Tickets are $8 for adults, $7 for seniors and $5 for students. For tickets and more information, see www.ujfpittsburgh.org/filmfestival or call 412-992-5203.
The first week's selections are as follows:
The Champagne Spy. Nadav Schirman's documentary profiles Wolfgang Lotz, the alias of an Israeli Mossad agent during the 1950s and '60s. But while this is a film of international intrigue -- with copious interviews featuring Mossad chiefs -- the real drama is domestic; its gut-wrenching moments come not when the enemy discovers Lotz's deception, but when his family does. It takes about 20 minutes for the film to get its footing, and its repeated use of home movies and faux-archival footage can be tiresome. But Spy gradually builds its moral and emotional force, as we see that a life built on deception betrays the deceiver most of all. To be screened via video projection. In English, and various languages, with subtitles. 7:30 p.m. Mon., March 31. SouthSide Works (Chris Potter)
The Galilee Eskimos. The title of Jonathan Paz's dramedy refers to the myth of Eskimos abandoning their useless elders that finds its wry counterpart here in an Israeli kibbutz, sold to developers despite the presence of a few old-timers. While the dozen seniors have little hope of staying put, the sudden privation and impending threat reinvigorates them; they tap their long history of self-starting communal living to generate electricity, put food on the table and even form a military defense. You'll root for the plucky seniors, but Paz's bittersweet film is primarily an elegy for the kibbutz system, and for the hopes that such socialist living experiments once engendered, particularly among this nation-building generation. In Hebrew, with subtitles. 3:30 p.m. Sun., March 30. Manor (Al Hoff)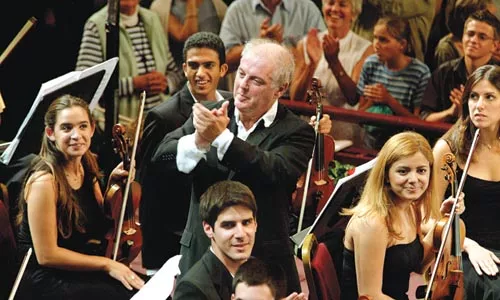 Knowledge Is the Beginning. Paul Smaczny's two-hour documentary depicts the struggles of two close friends -- famed Israeli conductor Daniel Barenboim and the late Palestinian writer and activist Edward Said -- to promote peace with a youth orchestra combining musicians from Israel and such Arab countries as Palestine, Syria and Egypt. Their perseverance is heartening: The group can't even perform in the countries the musicians represent. (There's also a Yo-Yo Ma cameo.) Smaczny also digs past the platitudes about tolerance that supplant ethnic stereotypes to the place where real arguments about politics ensue and where knowledge is, indeed, only a beginning. To be screened via video projection. In English and various languages, with subtitles. 7 p.m. Tue., April 1. SouthSide Works (Bill O'Driscoll)
Love and Dance. Chen has a slate of early adolescent woes: the boring Israeli seaside town he lives in; his squabbling parents; and a fierce crush on a pretty girl he spies ballroom dancing at the community center. So, the gangly, shy Chen signs up for dance class and finds that while it boosts his confidence, his domestic troubles only grow worse. Eitan Anner's dramedy finds plenty of heart in its working-class protagonists, some of them Russian immigrants, but the work never succumbs to syrupy inspiration. Anner's film has an undercurrent of soberness and pain that helps to explain the characters' desire to dance, if only for a bit and however poorly. In Hebrew and Russian, with subtitles. 8:45 p.m. Sat., March 29 (SouthSide Works), and 7 p.m. Sun., March 30 (Galleria). (AH)
Making Trouble. Rachel Talbot's documentary presents six précis of groundbreaking female comedians, who not coincidentally, never shied from incorporating their Jewishness into their acts: Yiddish theater star Molly Picon; "funny girl" Fanny Brice; the ribald Sophie Tucker; standup trailblazer Joan Rivers; SNL fave Gilda Radner; and playwright Wendy Wasserstein. The archival footage is great, but these quick sketches will leave you longing for deeper portraits of some fascinating, and funny, women. Screening to be preceded with live laughs from comedienne Marion Grodin. To be screened via video projection. 7:30 p.m. Thu., April 3. SouthSide Works (AH)
Max Minksy and Me. In Anna Justice's sweet coming-of-age comedy, brainy Berlin teen-ager Nelly Sue -- for bizarre reasons known only to the adolescent heart -- struggles to make her school's basketball team. She trades a ne'er-do-well schoolmate named Max schoolwork for his b-ball training, and the unlikely pair finds they have more in common than mutual disdain. Familiar material, but well presented. In German, with subtitles. 7:30 p.m. Sun., March 30 (Manor); 7 p.m. Mon., March 31 (Galleria); and 7 p.m. Wed., April 2 (Cranberry 8) (AH)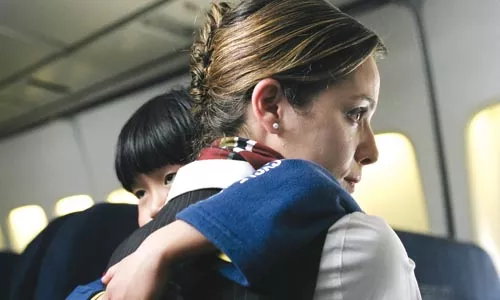 Noodle. When her Chinese-immigrant cleaning lady disappears, leaving behind a 6-year-old boy, a widowed El Al stewardess (Mili Avital) and her friends and family rally, somewhat dysfunctionally, with an improbable scheme to reunite mother and son. Ayelet Menahemi's dramedy is well acted, with little BaoQui Chen a top seed in the contest for World's Cutest Kid. But while Menahemi sometimes chides his Israelis for their self-involvement, ultimately we're informed that the domestic woes of these affluent folk really do constitute more than a hill of beans compared to the plight of undocumented workers and their stateless offspring. In Hebrew and Mandarin, with subtitles. 7 p.m. Thu., March 27. SouthSide Works (BO) [At press time, screening was sold out; call for waiting-list info.]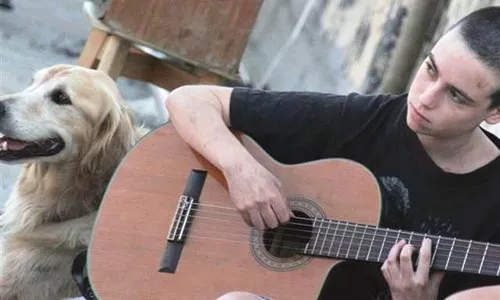 Someone to Run With. Oded Davidoff's drama tracks teen runaway Tamar (a winning Bar Belfer) through the seedy underbelly of Jerusalem's drug scene, where street musicians are exploited as traffickers. In an auxiliary plot, a young man tries to reunite a stray dog with its owner, who appears to be mixed up in trouble. It's an intriguing story, if a little pulpy and unbelievable, and made more so by Davidoff's decision to jump around in time. Initially this technique sets up the mystery effectively, but the gimmick grows stale, distracting and suggestive of skimmed-over plot holes. In Hebrew, with subtitles. 6:30 p.m. Sun., March 30. McConomy, CMU. (AH)
Steal a Pencil For Me. Michele Ohayon's documentary tells the extraordinary story of Jack and Ina, Dutch Jews who, during World War II, sustained a courtship while in concentration camps, and went on to enjoy a 60-year marriage. Theirs is a love story set against a horror story, interwoven with never-forget history and even a splash of farce. Says the still spry 93-year-old Jack: "I'm a very special Holocaust survivor. I was in the camps with my wife and my girlfriend, and believe me, it wasn't easy." Ohayon skillfully weaves archival news footage, family photographs, contemporary interviews and the couple's camp letters for a moving portrait of love and survival. In English, and Dutch, with subtitles. 1 p.m. Sun., March 30. Manor (AH)