Think silver -- and silver screen! The Pittsburgh International Lesbian and Gay Film Festival is 25 years old. The annual film fest starts Fri., Oct. 15, and runs through Sun., Oct. 24. This year's slate of 22 films includes entertaining and provocative feature films and documentaries (plus shorts) highlighting gay, lesbian and transgendered experiences, including six classics to honor the festival's longevity. There are opening-night and closing-night parties, plus a couple of '80s-themed mixers in between. (See www.plgfs.org for more information.)
All films and videos screen at the SouthSide Works Cinema, South Side. Tickets are $8.50 for single admissions ($6 with student ID), except for the opening and closing films. Discount passes are available, including: the Cheap Thrills packet ($45 for six admissions); the Screen Queen Pass ($70 for 10 admissions); and the Diva Pass ($125 for admission to all films and parties).
Here is the screening schedule:
Fri., Oct. 15
7 p.m. THE SECRET DIARIES OF MISS ANNE LISTER. The titular heroine is a proud 19th-century English lesbian, landowner and free-thinker, who still pines for the woman she can't have. James Kent's dramedy is adapted from Lister's intimate diaries, originally written in code. Everything you'd expect from a BBC historical production: country estates, wonderful costumes, arch dialogue and highbrow melodrama.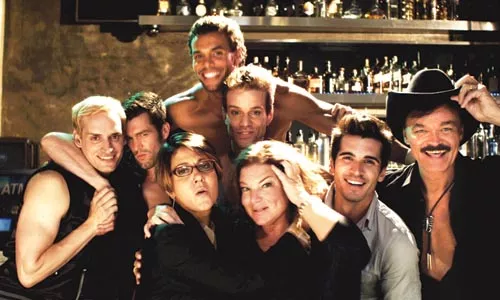 9:30 p.m. VIOLET TENDENCIES. Hetero trouble headlines Casper Andreas' latest comedy: Violet (Mindy Cohn) wants a man, but only knows the gay ones. So, she breaks up with her beloved boys, with predictably disastrous results. Andreas regular Jesse Archer co-stars, as do plenty of other hot men. Andreas will attend the screening.
$30 for the double feature, plus party between films, or $25 for one film, plus party
Sat., Oct. 16
Noon. FIT. The bullying of gay teens is Topic A these days. And from the U.K comes this solution: a lively, smart ensemble film that uses a diverse roster of teens to teach other teens that it's OK to be gay, straight or anything in between. Rikki Beadle Blair's film is reminiscent of the BBC's teen-soaper Skins, albeit with less sex and more Adidas clothing (a sponsor). Still, if I ruled the world, I'd make every high school show this.
2 p.m. THE KILLING OF SISTER GEORGE. Adapted from Frank Marcus' play, Robert Aldrich's 1968 film tells the once shocking, shocking story of an aging, lesbian soap-opera actress who gets drunk and abusive with Susannah York and Coral Browne. Our tweedy, boozy gal, Beryl Reid, plays to the furthest balconies. If I were an aging soap-opera-actress lesbian, I might be mortally offended, but that aside, much of the film is an over-the-top hoot.
5:30 p.m. RIOT ACTS: FLAUNTING GENDER DEVIANCE IN MUSIC PERFORMANCE. Madsen Minax's documentary introduces a variety of trans-gender and gender-variant musicians, playing everything from post-punk to wistful folk. Extensive interviews cover topics both unique -- the line between a "trans performance" and simply performing as a transperson; the effect of sex hormones on the voice -- and universal, such as using music to express identity and shared humanity.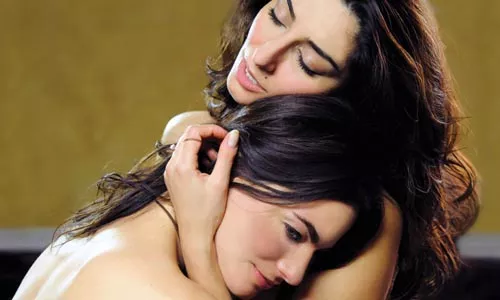 7 p.m. ELENA UNDONE. A perfectly respectable middle-aged married woman (her husband is an anti-gay preacher!) falls for an openly gay female writer, causing the expected upheavals. The two attractive leads help, but Nicole Conn's film feels like Lifetime with more lady-lovin'. It does feature a 3-minute, 24-second kiss, now the longest in film history.
9:30 p.m. UNDERTOW. Miguel lives in a tiny Peruvian fishing village with his pregnant wife. But his heart is with Santiago, a visiting artist with whom he is having a secret (for now) affair. Gorgeous seascapes and a sensitive narrative mark this lyrical, bittersweet, but affirming film from Javier Fuentes-Leon. In Spanish, with subtitles.
Sun., Oct. 17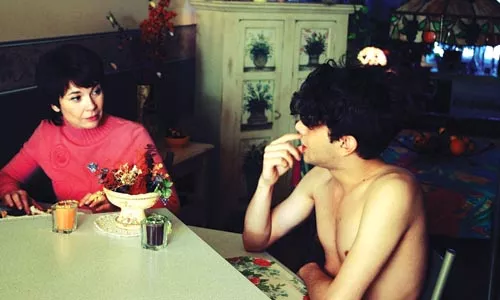 5 p.m. I KILLED MY MOTHER. Xavier Dolan's arthouse feature depicts the troubled relationship between a gay Montreal teen and his single mother. They bicker, make up and secretly fear losing the other's love. (The young man moans: "If my mother and I were strangers, I'm sure we'd get along.") This coming-of-age drama is artfully shot, with voice-overs and poetic interludes. In French, with subtitles.
7 p.m. BOUND. In the vein of the Coen brothers, Larry and Andy Wachowkki's 1996 film is a slightly exaggerated, blackly funny, bodies-piling-up, heist-gone-wrong flick. Plus, a hot scene with Gina Gershon and Jennifer Tilly. What's not to like?
Mon., Oct. 18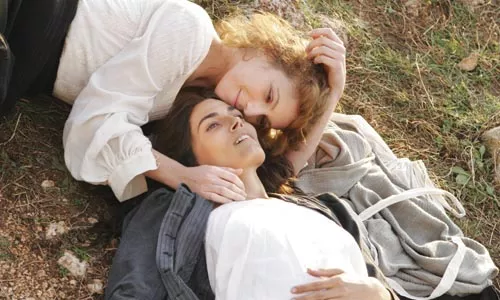 7 p.m. PURPLE SEA. There aren't many opportunities for Angela, living on a remote Italian island in the 19th century. Besides dodging her abusive father, she also discovers that she's in love with her childhood friend, Sara. An impending arranged marriage spurs her decision to become ... Angelo. Donatella Maiorca directs this gender-bending drama. In Italian, with subtitles.
Tue., Oct. 19
7 p.m. WOMEN'S SHORTS. A program of seven short films by and about women.
9 p.m. RELAX, IT'S JUST SEX. A mixed group of friends -- straight, gay and bisexual -- function as an ad hoc family in this 1998 comedy from P.J. Castellanata.
Wed., Oct. 20
7 p.m. MEN'S SHORTS. A program of five short films by and about men.
9 p.m. LONGTIME COMPANION. Norman Rene's ensemble drama casts its net over the first decade of the AIDS crisis, as seen through a group of NYC friends -- from a mysterious "gay cancer" reported in 1981 through the back-to-back funerals that defined the late '80s. The film is overly ambitious, trying to cover the personal, medical and political of a rapidly evolving situation, but there's no denying its heart -- equal parts grief, hope and fortitude.
Thu., Oct. 21
7 p.m. OUR SHORTS. A program of 10 short films by and about gay people.
9 p.m. LA CAGE AUX FOLLES. Renato, who runs a St. Tropez drag club, is put on the spot when his son visits with his prospective uptight in-laws. There's nothing to do but put on a show: Renato's lover dresses up as the missus, with hilarious results. Edouard Molinaro's 1978 French comedy was an international hit, and later remade stateside as The Birdcage. In French, with subtitles.