The gay days of fall are back! This Fri., Oct. 17, marks the start of the 23rd annual Pittsburgh International Lesbian and Gay Film Festival, set to run through Sun., Oct. 26. This year's slate of nearly three dozen films includes entertaining and provocative features, documentaries and shorts highlighting the gay, lesbian and transgendered experience. There are also parties booked for opening and closing nights, plus a couple mixers in between. (See www.plgfs.org for more information.)
Films screen at the SouthSide Works Cinema, South Side. Tickets are $8.50 for single admissions; $6 for under 25, at the door. Discount passes are available, including: the Cheap Thrills packet ($45 for six admissions); the Scream Queen Pass ($75 for 10 admissions); and the Diva Pass ($125 for admission to all festival events and parties).
Here is the screening schedule for the first seven days:
Fri., Oct. 17
9 p.m. WERE THE WORLD MINE. A lad's coming-out is facilitated by Shakespeare in Tom Gustafson's modern remix of A Midsummer Night's Dream. Cue faeries! $25 (includes opening-night party after screening)
Sat., Oct. 18
2 p.m. WRANGLER: ANATOMY OF AN ICON. Jeffrey Schwarz's bio-doc covers the entertaining life and career of Jack Wrangler, the Hollywood scion and teen-age sissy who, in the 1970s, transformed himself into the ur-butch gay porn star. After that, he did straight porn, and then ... oh, see for yourself! Wrangler is a lively, self-effacing narrator and the (relatively tame) clips of '70s porn will invoke many guffaws. (Al Hoff)

4 p.m. WHIRLWIND. A new guy with a casual attitude toward relationships stirs up trouble among a close-knit group of gay men in Manhattan. The outcomes of the various domestic strife are predictable in Richard LeMay's dramedy, but this is a companionable group, whose relatable dramas at least get solved. It's a win for commitment and friendship! To be followed by a Q&A with screenwriter (and Pittsburgher) Jason Brown. (AH)

7 p.m. STEAM. Three women -- a single mom (Ally Sheedy), a questioning college student and a senior citizen (Ruby Dee) -- fight to embrace their true identities, in this drama from Kyle Schickner.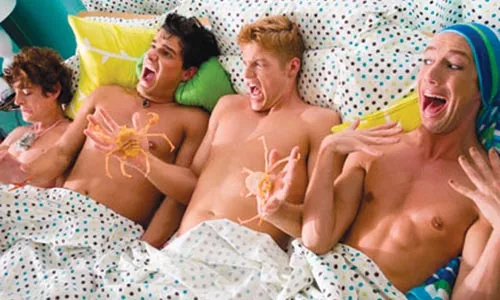 9:30 p.m. ANOTHER GAY SEQUEL: GAYS GONE WILD. The randy gang from Todd Stephen's 2006 sex comedy Another Gay Movie is back. The boys are chasing fresh meat in Fort Lauderdale, thus ensuring that virtually all cast members are garbed only in tight, tiny beach togs. With appearances from the more fully clothed RuPaul, Lypsinka, Lady Bunny and Perez Hilton. Your one-stop for dreadful puns and hot, gratuitous nudity. (AH)

Sun., Oct. 19
2 p.m. SHE'S A BOY. Canadian Gwen Haworth's documentary about her transition from male to female shares the screen with Rachel Zisser's short dramatic feature "Traces."
4 p.m. READY? OK! Josh, an alarmingly precocious 10-year-old, dreams of being a cheerleader. But this opportunity is denied, both by his Catholic school and his mother, who is stressed that he might be gay and by her hectic job, her loser brother and the death of her loser father. Director James Vasquez's made-for-TV-style antics suggest that sometimes, even adults have some growing up to do. Bonus: Michael Emerson (Ben from Lost) plays their gay neighbor. (Lydia Heyliger)

6 p.m. THE SECRETS. In Avi Nesher's drama, an Israeli religious scholar meets a rebellious young Frenchwoman, sparking a re-examination of her faith, culture and sexuality. In Hebrew, with subtitles.
8:30 p.m. CHANGING SPOTS. Unresolved issues from the past keep former child star and current struggling actress Holly Brite from happiness. Caught in the turmoil: her long-term partner, who wants to start a family, and her estranged father. While the ending is a little melodramatic and pat, the travails of juggling career, self and family are familiar and often well observed. Discussion with cast members, writer-director Susan Turley and producers to follow. (AH)

Mon., Oct. 20
7 p.m. XXY. Fifteen-year-old intersex Alex (a marvelous Ines Flores) has been raised female, but puberty causes her to also explore her masculine side. Along the dramatic, rocky coast of Uruguay, the angry, confused Alex, her parents (her dad rescues endangered sea turtles) and a visiting family navigate thorny gender issues: Who is Alex, and who should she -- or he -- be? Director Lucia Puenzo's beautifully shot film presents Alex's struggle with visual and emotional sensitivity. In Spanish, with subtitles. (AH)

9 p.m. THE NEW WORLD. This is the lightly- and sprightly-told story of two plucky Parisian lesbians, Lucie and Marion, who decide to have a baby. The movie skips through a series of conflicts -- finding a sperm donor, explaining matters to family and befuddled doctors, etc. -- all of which are tidily resolved in 90 minutes. Everyone is very attractive, and everyone's heart turns out to be in the right place. The only real surprise is learning that French law and culture, apparently, aren't that much closer to figuring out this stuff than we are. In French, with subtitles. (Chris Potter)

Tue., Oct. 21
7 p.m. OUR SHORTS. A selection of short films from the U.S. and Canada celebrating and examining gay lifestyles.
9 p.m. ANTARCTICA. Yair Hochner's comedy, set in Tel Aviv, tracks the mishaps of a group of gay friends. The meddling "Jewish mother from hell" is portrayed by Yoam Huberman, a well-known Israeli drag artist, in a tribute to the late Divine. In Hebrew, with subtitles.
Wed., Oct. 22
7 p.m. WOMEN'S SHORTS. A program of short films by and about women.
9 p.m. THE WORLD UNSEEN. Set in the days of South Africa's apartheid, an openly gay Asian woman and a quiet housewife strike up a life-changing relationship, in Shamim Sarif's drama.
Thu., Oct. 23
7 p.m. MEN'S SHORTS. A program of short films by and about men.
9 p.m. BETWEEN LOVE AND GOODBYE. There's a fresh round of obstacles preventing the course of true love in this new dramedy from Casper Andreas (Slutty Summer, Love Is a Four Letter Word).