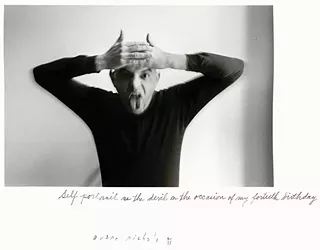 This fall, it's almost hard to find a major visual-art venue that isn't involved in the 2014 Pittsburgh Biennial. Building on the expansion it began with the 2011 Biennial, the Pittsburgh Center for the Arts' venerable showcase for regional artists now comprises eight galleries and museums. But although the Biennial itself promises to be an especially rich endeavor — and a few venues have already opened their Biennial exhibitions —there's more going on around town as well.
In fact, the first portion of the Biennial to open, Sleight of Hand: Corey Escoto, at the Carnegie Museum of Art, actually closes Sept. 29. Other up-and-running Biennial shows continue through Oct. 19 (Pittsburgh Filmmakers), Oct. 26 (Pittsburgh Glass Center) and Nov. 2 (Center for the Arts). Still to come, Biennial-wise, is the Mattress Factory's artists-in-residence show (Sept. 13-spring 2015), including multidisciplinary artists Danny Bracken and John Peña, sculptor Ryder Henry, circus artist Ben Sota, and multimedia visual artist Kathleen Montgomery. That's followed by a group exhibition at the Miller Gallery (Sept.. 20-Nov. 30); Public Record (Sept. 26-Nov. 10), a group show at SPACE exploring "Love, Absurdity, Surveillance, Gaming and Identity"; and, last but not least, The Andy Warhol Museum's Chuck Connelly: My America (Sept. 26-Jan. 4). My America is the first-ever solo museum show for this prolific, eclectic and widely exhibited Pittsburgh-born, Philadelphia-based painter: The exhibit features work from the 1970s through today.
The Warhol also has a big non-Biennial show. The 13 Most Wanted Men (Sept. 27-Jan. 4) revives Warhol's own famous contribution to the 1964 New York World's Fair: a series of enlarged NYPD mugshots deemed so controversial that Fair officials painted them over before the exhibition even opened. Warhol revamped the images in 1967, and these works were recently brought together again for the first time; the Warhol Museum show follows their exhibition earlier this year at the Queens Museum.
Another world-famous local boy's altered photos are at the heart of Storyteller: The Photographs of Duane Michals (Nov. 1-March 2). This massive Carnegie Museum of Art retrospective — the largest-ever presentation of Michals' work — spans six decades in the career of the McKeesport native, who pioneered the use of sequenced staged narratives and writing on images.
Downtown, Wood Street Galleries opens Second/Second (Sept. 26-Dec. 31). The pair of sound-and-light exhibitions is the first U.S. solo show for internationally exhibited Icelandic artist Finnbogi Pétursson.
Among smaller venues, an unusual show is a fall highlight for Most Wanted Fine Art Gallery. The Album Art of Mozelle Thompson (Nov. 7-30) features more than 80 record-album covers drawn and painted between 1953 and 1969 by the Peabody High grad, an acclaimed and pioneering African-American artist and illustrator.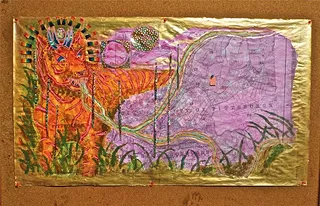 Across the street, the Irma Freeman Center for Imagination will be in the middle of this year's version of its most popular show, Pittsburgh by Pittsburgh Artists IV (Oct. 3-Dec. 5). It's a group show by artists with local ties who take the city as their subject.
Elsewhere, The Gallery 4 spotlights Pop Pulp Madness (Nov. 6-29), featuring the work of painter Jason Woolslare. And Gallerie Chiz has a three-man show by Michael Bestwick, Bill Miller and Ron Nigro (Oct. 17-Nov. 22), all known for working with found and discarded materials. In Sewickley, Sweetwater Center for the Arts offers its 18th annual Mavuno Festival of African-American art and culture, including the exhibition Connected at the Roots (Sept. 12-Nov. 1), juried by LaVerne Kemp.