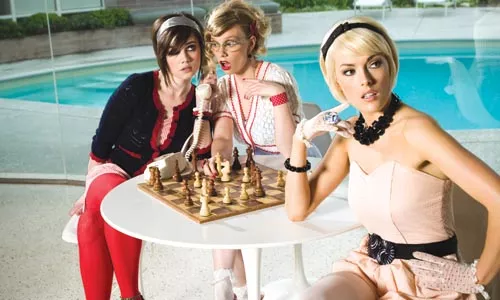 For over a century, the south-coast seaside town of Brighton has played the role of Dionysian oasis in England's pop-cultural history. Its smallish population boasts a spiderweb of musical connections -- residents include everyone from Fatboy Slim to Nick Cave to Sir Paul McCartney -- yet its eccentric club life also draws numerous nightlife-tourists to events such as "Da Doo Ron Ron," the nationally influential all-'60s-girl-group dance night.
This legacy of hedonism has led to a strange musical zeitgeist in today's vibrant Brighton music scene, spawning two of the most original retro-inspired acts to enter the pop arena in years: The Sugar Hill Gang-meets-northern soul of The Go! Team, and the modern-day Wall of Sound-slash-Motown of The Pipettes. With the swooning harmonies of the Marvelettes and the proto-feminist guts and guile of the Shangri-La's, The Pipettes' debut single, "Your Kisses Are Wasted on Me," reminded the world that pop music doesn't have to be boring to say something.
On We Are The Pipettes, the trio of indie-heartthrob singers RiotBecki, Gwenno and Rosay match their golden-age-of-pop finger snaps and group vocals to lyrics updated to the current plight of the gal-on-the-street: matching bullies with wit and pushy boys with a high-heeled kick in the spleen. That it's all done in the big-room reverbs and echoes of a contemporary Joe Meek or a 21st-century femme-fatale Smiths just testifies to the group's musical osmosis, which goes past formulaic pop without forgetting the pop formula.
The Pipettes and Nicole Atkins & the Sea. 7 p.m. Mon., Nov. 19 (doors at 6 p.m.). Diesel, 1601 E. Carson St., South Side. $10 ($12 day of show). All ages. 412-431-8800 or www.dieselpgh.com