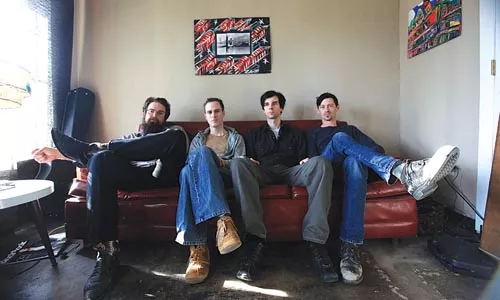 With lyrics that read like selections from the "Unabomber Manifesto," the primary question when listening to The Paper Chase is, "How are we supposed to take this?" Even the band's lead singer, guitarist and songwriter, John Congleton, once described his band's music as "utterly horrifying."
The Dallas-based band's heavy sound lies mostly in the bass and drums, with mid- to up-tempo beats accentuated by a lumbering, dirty five-string bass. Atop that is Congleton's guitar, which really does sound piercing -- mostly running, atonal arpeggiation that's a furious accompaniment to elaborate string and piano arrangements, topical audio samples and maniacal, whisper-to-shout vocals.
Each track on Someday All This Could Be Yours, Vol. 1 -- TPC's just-released fifth full-length -- supposedly represents "a different natural disaster." But I surmise Congleton is having a laugh, playing perceptions of fear and paranoia against themselves. The chorus to "I'm Going to Heaven With or Without You (The Forest Fire)" begins, "... [W]e'll drink to anything if it keeps the tires rolling, keeps commuting smooth for you." That's followed by the line, "I'm drawing a bloodbath with or without you."
The band's song titles alone -- "It's Out There and It's Gonna Get You, "We Know Where You Sleep," "Wait Until I Get My Hands on You," "Daddy's Got Your Nose" -- beg more questions than I have space to explore. Are we to believe, for example, that the Jonestown reference in "The Kids Will Grow Up to Be Assholes" was written to further illustrate a scenario in which an unnamed overlord ominously watches over us? Or is it part of an elaborate joke? I think it's more the latter. Congleton has said he's influenced by Bret Easton Ellis' American Psycho, and I tend to hear TPC as a musical equivalent to Evil Dead II -- hilariously horrifying.
The words may not even matter that much anyway. I caught TPC in Chicago last year, and I wouldn't say enjoyment necessarily requires fully understanding the song lyrics. TPC performs an energetic set, and it'll be worth the admission price to hear "The Small of Your Back the Nape of Your Neck (The Blizzard)" when the band claws into a foot-stomping version of "He's Got the Whole World in His Hands." If the Brillobox crowd doesn't erupt into a ridiculous, yelling sing-along, I'll eat my hat.
The Paper Chase with IvenFaint and The Sewing Machine War. 10 p.m. Tue., June 23. Brillobox, 4104 Penn Ave., Bloomfield. $7. 412-624-4900 or www.brillobox.net