Election season is upon us. A long and grueling run-up to the April primaries is on the horizon, with politicians spouting their ideas and opinions about what is important to Pennsylvanians, and the American people, seemingly repeating themselves at every turn.
At City Paper, we thought we would try a slightly different approach with the race for Republican Pat Toomey's U.S. Senate seat. Starting today, we will run an occasional series both in print and online at www.pghcitypaper.com looking at the Democratic primary for this seat one issue at a time. Democratic candidates John Fetterman, Katie McGinty and Joe Sestak will be asked specific questions on one topic that resonates at the local, state and national level.
The first topic is affordable housing. Pittsburgh's emerging problem has already deeply affected neighborhoods like East Liberty and Lawrenceville. Philadelphia is experiencing its own affordability crisis and even Lancaster County is struggling with inflating rents. And all of these Pennsylvania problems are a drop in the bucket compared to the crises affecting cities such as San Francisco, New York and Seattle.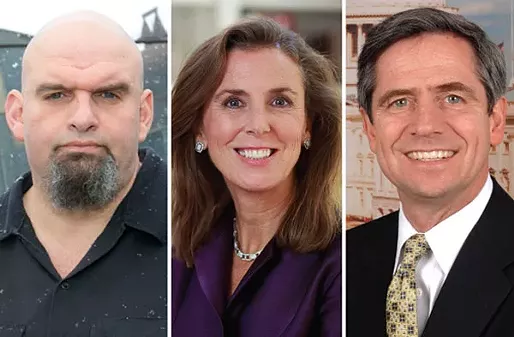 Meet the Candidates
Braddock Mayor John Fetterman has lived in Allegheny County for the better part of the past two decades. He spent two years working for AmeriCorps in the Hill District, then left to attend graduate school at Harvard before resettling in Braddock to launch a GED program. In 2004, he was voted mayor of the old steel town and has served in that post since. Some have called him a "wild card" in the U.S. Senate race, and he publicly endorsed presidential candidate Bernie Sanders this month.
Katie McGinty, former secretary of the state's Department of Environmental Protection, is a long-time Eastern Pennsylvanian, born and raised in Philadelphia. She also served as an environmental adviser under President Bill Clinton and ran for governor of Pennsylvania in 2014, but finished fourth in the primary. She took a job as Gov. Tom Wolf's chief of staff, but resigned in July 2015 when she announced her run for the Senate. She has already received a flurry of endorsements from labor as well as support from Pittsburgh Mayor Bill Peduto, Gov. Tom Wolf and local U.S. Congressman Mike Doyle.
Retired Navy Admiral and former U.S. Congressman Joe Sestak was born and raised in a small town southwest of Philadelphia. He served as defense director for the National Security Council under President Clinton, and — after an upset win in the primary against long-time Sen. Arlen Specter — ran for the U.S. Senate in 2010, losing to Republican Pat Toomey by just two percentage points. Sestak is the only Democratic candidate for the U.S. Senate in Pennsylvania with previous congressional experience. So far, his campaign has repeatedly made claims about Toomey's inadequacies as a senator, and he's seemingly champing at the bit for a rematch.
G. Terry Madonna, a professor and director of the Center for Politics and Public Affairs at Franklin & Marshall College, calls this race one of the top five U.S. Senate elections in the country. "It is inconceivable to think Democrats could win control of Senate without winning this seat," he says.
Madonna says that McGinty is currently the clear frontrunner, considering her endorsements and backing from the Democratic establishment and labor unions. "She is very popular and has the kind of personality that offends almost no one. … She is popular in the party, particularly among leaders," he says.
Sestak, on the other hand, has had issues with party leaders, says Madonna. "Sestak is pretty much the maverick of the party candidates," he says, adding Sestak and the establishment "are on other ends of a building and there are no signs of them walking toward each other." And Fetterman, who has appeared in the New York Times and on TV talk shows, has caught on "nationally, but not really in the state, especially the eastern portion."
Still, all three candidates seem to agree that affordable housing is a national problem that must be addressed, and each has slightly different methods and priorities for doing just that.
Fetterman believes that it is in the country's best interest to keep communities diverse, and that doing so is our moral obligation.
"[Affordable housing] needs to be a national priority. It builds stronger communities for everybody and that's good for the people who don't have to rely on subsidized housing," he says. "It is a moral obligation that, if we as a society are going to build up communities that then become gentrified, then we need to provide a mechanism to keep an established set of residents [in those neighborhoods]."
He says that honoring our history can go a long way toward avoiding gentrification in Pittsburgh and other cities. He adds that the labor of steelworkers in Braddock helped Andrew Carnegie earn millions, and then Carnegie used those millions to fund a university, which grew talent that eventually helped to attract a company like Google to East Liberty. "We have to remember in Pittsburgh, that a lot of the good things that we have are based on the sacrifices of a lot of working families from the region," he says.
Fetterman advocates for a portfolio of innovative solutions for tackling affordable housing, like community land trusts. In a land trust, a nonprofit or government agency owns a property and sells the home to a low-income buyer, while maintaining ownership of the land. This allows homeowners to accrue limited equity while ensuring that the home can be sold continuously to low-income buyers. A program like this has been started in Lawrenceville.
Fetterman also supports Mayor Peduto's idea to use Section 8 funds to rehab derelict homes for low-income home ownership. During his mayoral tenure in Braddock, Fetterman says he has focused on affordable housing, even though the town's rents and home prices are among the lowest in the region.
The old UPMC Braddock site was refurbished with retail spaces and 24 subsidized units in 2013.
"You took a site that had no value and we created 24 units of affordable housing that have been beautifully maintained and provide quality safe housing for residents," says Fetterman.
While providing clean, safe and secure affordable housing for residents in need was something all candidates agreed on, former environmental secretary McGinty focused on the problems of concentrated poverty.
"What has to be the top imperative is to break this concentration of poverty," says McGinty, "and to make sure we are keeping the pillars of our neighborhoods in the community and using the economic-development opportunities as an opportunity for everybody."

McGinty says that concentrated poverty is negatively affecting communities because residents are either struggling to pay bills or nomadically moving to where they can afford, and thus not contributing to the community's well-being. She says that when gentrification occurs and long-time residents leave, "they are not being replaced by people who are equally invested in the social capital of the neighborhood and community."
She suggests that new development — housing, transportation, etc. — be required to include funding dedicated toward affordable housing, and assurances that jobs linked to the development be given to residents of the neighborhoods affected. McGinty also argued that neighbors' knowledge of their communities is invaluable, and that community members should be involved with development projects from the onset. She says she supported this policy while working as the state's environmental secretary for a large sewage-rehab project in Reading.
McGinty says that inclusionary practices can lead to a "virtuous cycle," where residents of a community in need can benefit not just from the new development, but also from the good-paying jobs that come along with it. She says that housing problems don't "exist in isolation," and that lifting wages will also help residents pay for rising rents. McGinty believes that fostering a virtuous cycle will help lift the low-income residents out of poverty, so they can contribute to the neighborhood.
"We also need to get over any notion that this is a charity case," says McGinty "The point is, these families are the backbones in the community, and they will volunteer in the schools, Boy Scouts and Girl Scouts and firefighters, etc… [We should be] ensuring that they can continue to be that backbone of the community."
Sestak too believes that providing affordable housing is in the country's best interest. He says gentrification disproportionately affects minorities, and since minorities will represent the largest portion of Americans in the near future, we must address affordable-housing issues.
"In 16 to 17 years, [minorities] are going to be our largest national asset in terms of numbers, and if they aren't the largest national asset in terms of quality [services], then American is harmed," says Sestak. "To me, this is not just about helping out individuals who need a helping hand, it is about all of us."
Sestak says affordable housing is not an emerging issue in Pennsylvania; he's been working to support low-income housing for the past eight years. As a congressman, he voted in 2007 to establish the National Housing Trust Fund. The fund should start doling out monies to states this year (Pennsylvania should get more than $7 million.)
Sestak says his strategy to promote affordable housing is three-fold. He wants to expand the federal low-income tax-credit program, which provides developers with tax savings if they include permanently affordable housing units. Sestak says that increasing tax credits by 50 percent could create more than 200,000 units per year nationally. He also wants to establish a tax credit for landlords, who would then offer their units to low-income renters (sort of like Section 8 vouchers, but with landlords reaching out to residents, instead of the other way around). Lastly, he wants to beef up enforcement of Section 8 vouchers.
To fund these ideas, Sestak says that first we need to optimize government revenue (by doing things like getting rid of tax breaks for companies who move overseas). But he also thinks that increasing government tax credits can foster public-private partnerships, since there is more to offer private developers. (McGinty also advocates leveraging more private funding for affordable housing.)
Sestak believes that the government should also implement programs that help first-time homebuyers.
"Your home is your castle, rental or owned, and when you lose or don't have a home and are threatened with being homeless, it terrifies people," says Sestak. "And that is why so many people identify homeownership as part of the American Dream, as part of their security."