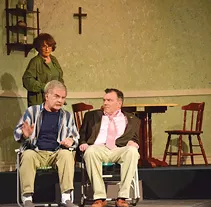 There's something to be said for James Dean's line "Live fast, die young and leave a good-lookin' corpse" — especially when you consider the alternative, which Philadelphia-based playwright Bruce Graham does in his moving drama The Outgoing Tide, receiving its Pittsburgh premiere at Apple Hill Playhouse.
Ol' married couple Peg and Gunner live on the shores of the Chesapeake. In the opening scene, Gunner is introducing himself and the neighborhood to a stranger, who, it seems, might be moving in nearby. Gunner wants Jack to know what's what.
Except that Gunner doesn't know himself. As we learn, Jack is actually Gunner's son, and he's been called home because Gunner's advancing dementia is advancing even quicker. In this sparsely written three-hander, Peg and Jack struggle to address Gunner's future, and Gunner, in moments of lucidity, is heartbreakingly aware of his encroaching oblivion.
The Outgoing Tide packs such a punch because almost everyone will be, at some point, either Peg and Jack or Gunner. Some of us might even end up being all three. Graham's 2014 play forces to us confront the morality of modern medicine: Is sustaining a life its own justification, or does quality of life matter more?
Director Thom McLaughlin has assembled Apple Hill's A-Team. Chip Kerr and Pat Beyer are Gunner and Peg, with Rick Dutrow playing Jack. All four throw themselves into the material, filling Graham's story with huge humanity and leaving a palpable ache by evening's end.
I saw the production on opening night, and I should say there was a repeated tangle with the lines, rendering some of the drama more tentative than it should have been. And McLaughlin's blocking still feels a bit jerky. But I have a feeling all of that will find its way by the time you see it. And, really, you should: This play (with its inescapable sorrow) is a huge gamble for a summer theater company, and I salute Apple Hill for taking such an audacious artistic risk.