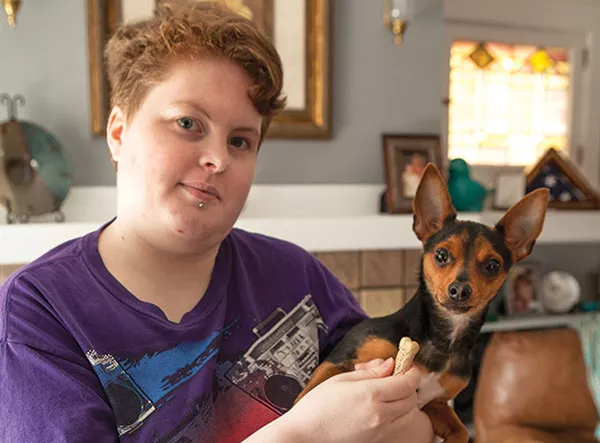 Across his 19 years, Christopher Merchant hit milestones his family was never sure he'd make. 
First diagnosed broadly with pervasive developmental disorder, Christopher didn't eat or swallow properly and had trouble sitting up.
"We knew there was something wrong with our second son," says Lisa Merchant, Christopher's mother, "because he was nothing like the first." 
Christopher has since been diagnosed with a disorder on the autism spectrum. And while he's developmentally more like an elementary-school student than a high schooler, he's learned to read and do simple math problems, achievements his mother says were partly made possible by a range of therapies — including most recently at Upper St. Clair High School. He works three hours a day at a job placement with a South Hills car dealership, too, where a one-on-one aide helps keep him on track. 
But Christopher's interest in cars can also get him into trouble. "He loves cars," his mother explains, but it's "a big danger because he has no fear of them."
Sometimes, when they're walking through a parking lot, he'll stop to crawl under one, fascinated to see if it's the kind with a spare tire attached underneath — or he'll wander out into the middle of a street to get a better look. "He's getting better; we're working on it."
The job placement, therapies and programs he's benefited from throughout his childhood have been largely positive, Merchant says. They've helped him do everything from eating solid foods (McDonald's burgers are a favorite) to successfully verbalizing his thoughts
"It's like learning a sport or playing an instrument: The more therapy he gets, the better he gets at it," Merchant says.
But for all the progress, there's a looming concern. 
Once Christopher turns 21, he'll no longer be guaranteed therapies for his feeding problems or speech. His one-on-one support at the dealership may no longer be funded. More pressing: There may simply be nowhere for him to go during the day.
"Our biggest fear is he won't end up with funding and he'll end up sitting on the couch," says Merchant. "My school district does a really good job — I'm just afraid all their good work will be for naught."
Christopher and his family aren't alone and they're standing at the precipice of one of the country's biggest public-health problems: An unprecedented wave of people with autism are "aging out" of high school and it's uncertain what their lives will look like once supports and services are no longer guaranteed by the government.
Since 2005, the number of people with autism in Pennsylvania alone has more than doubled, from about 20,000 people to more than 55,000, and adults are the fastest-growing group. The number of adults (21 and older) with autism saw a 334 percent increase from 2006 to 2011. In 2013, there were 8,395 adults with autism in the state. By 2020, that number is expected to top 30,000.
When people with autism are in school, "they show up every day in a place where there are teachers or one-to-one supports or an autism-support classroom where they're getting some version of services during all those hours," says Lindsay Shea, director of the eastern region of the ASERT Collaborative — a state-funded initiative to ensure services for people with autism are more readily available. "In adulthood, the systems really do fall away."
In some respects, Pennsylvania has been at the forefront of solving this particular policy problem. In 2007, the state created a Bureau of Autism Services (BAS), designed to centralize services and programs. BAS even administers its own Medicaid waiver program, the primary way people with autism get funding to continue services once they're adults. And the state started an Adult Community Autism Program, one of the first home/community-based managed-care programs for people with autism (though it's only available in four counties, not including Allegheny).
"Pennsylvania has remained at the cutting edge of looking at the needs of the population and coming up with systemic responses," says Nina Wall, director of BAS.
Still, the programs are small compared with demand. A state report found that even though BAS has created specific programs for adults with autism, "the current funding level will serve only a fraction of the adults who will require support over the next five years."
The state's autism-needs assessment — one of the most comprehensive in the country — found that as people with autism transition to adulthood, "the needs for supports and services often increase, although services become more difficult to access."
The Medicaid waivers that help provide funding for adults with intellectual disabilities and autism, for instance, have lists with over 15,000 people waiting for services. Christopher Merchant is one of them.