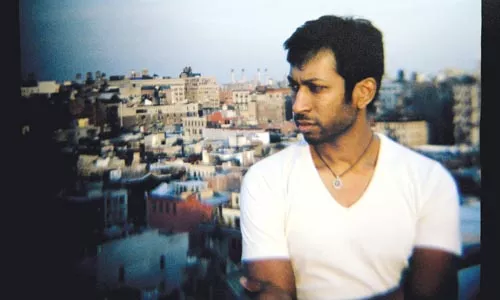 Crafting the appropriate final track for an album is an art form unto itself. Here, all the strident certainties, conflicts and tensions, calculated pop hooks and witty asides that may populate the rest of an album melt down into ambiguity, slowing rhythms and release. One to send you off easy -- the album's post-sex cigarette. There's Astral Weeks' "Slim Slow Slider." Nebraska's "Reason to Believe." Ten Silver Drops' "1000 Seconds." The list goes on forever; this dénouement is so natural, you'll find it on classics and throwaways alike.
Since we're no longer in the album era, but the age of the playlist, perhaps you're thinking, "Gee, I should put all these cool-off tracks together ... and take a bath or smoke a lot of cigarettes, or something?" Hate to break it to you, but someone knew you wanted it before you realized it. On The One AM Radio's latest album, This Too Will Pass (Dangerbird), each of the 13 songs would make a grand closing statement. However you choose to quantify that quality, listening straight through, you'll think again and again, "OK, this one has to be the real last song."
Part of the explanation for the consistent tone poem of This Too Will Pass is that The One AM Radio is the singular vision of a lone auteur: Los Angeles-based producer and multi-instrumentalist Hrishikesh Hirway.
In phone conversation, the Massachusetts-born Hirway is pleasant and unpretentious, even a little surprised that someone wants to talk with him about his music. We talk about how he adopted the name One AM Radio in 1999, and began releasing EPs and split releases -- including one with Ted Leo -- on indies like Level Plane, Troubleman and Alone. And his guest spots with the likes of Mush Records' Daedalus.
He describes how, after failing to "feel the love" in New York City (small wonder), he found it in sunny Los Angeles: a family of like-minded musicians both in his physical proximity -- though he "wouldn't say there's a sound we have in common" -- and through the Internet radio station dublab (www.dublab.com). There, Hirway and his cohorts do occasional DJ sets, and the motto suits him: "positive.music.driven.lifestyle."
Yet for his professed cravings for warmth, love and positive environments, This Too Will Pass is, if not a somber affair, a reserved one. The electronic beats pulse rather than skitter, never breaking above a gentle mid-tempo. Fingerpicked guitars measure the changes beneath touches of strings, keyboards, sustained vocal harmonies, bell-like electric-guitar harmonics and sonorous bassoon and French horn sounds. Partly electronic, partly folk and chamber pop, it's perhaps best described as open-ended.
All this orchestration swells beneath Hirway's smooth tenor, barely opened up beyond a stage whisper, uttering lyrics that reflect both the regrets and relief of impermanence. On "The Echoing Airports," he sings over little more than strings and a snare click:
I go to airports to remember all the mistakes we made
All the plans we laid and how they went astray
Till you were left receding into the night
At the end of the runway.
In Hirway's world, people go to airports to watch other lovers reunite, take trains as far west as they can afford, and sleep in cars. It's as if Galaxie 500's Dean Wareham had gone back to the future and discovered today's Antares Auto-Tune Pitch Correction software. On "Fire," the near-whisper is momentarily and sonorously abandoned, as several Hirways blend in wordless, dirge-like harmonies.
One key to the sustained ambiguity and end-of-the-album feel of This Too Will Pass is its positioning as an end-of-the-year album. "It seemed like a real winter record," Hirway notes, "and I wanted to get it released during the winter." In a sprint to the finish, the album hit shelves on Feb. 20 -- just in time.
Since we've already passed the vernal equinox, you'll have to wait until we finish this lap around the sun to hear Hirway's wintry vision in full 5.1 elemental surround. (It should start to sound really good just in time for critics' year-end lists.) But you can see The One AM Radio live at Garfield Artworks on March 29. Joining Hirway's guitar, vocals and laptop beatbox are multi-instrumentalists Gabriel Birnbaum, Eugene Lee and Paul Findlen.
The One AM Radio with Sleep Little One Sleep and Lucas Sloppy's Flying Organ. 8 p.m. Thu., March 29. Garfield Artworks, 4931 Penn Ave., Garfield. $6. All ages. 412-361-2262 or www.garfieldartworks.com