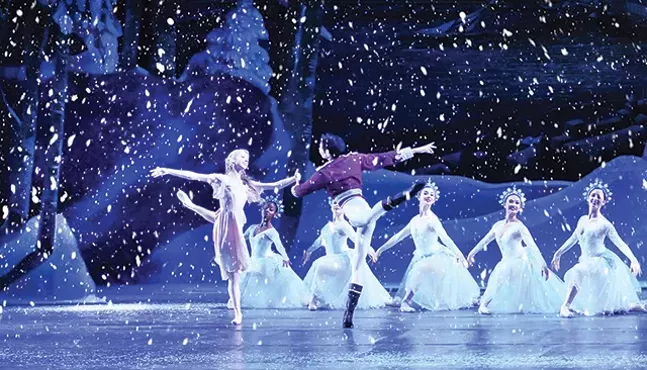 The Nutcracker is a holiday tradition all over the United States, but in some countries, it's just another ballet. That was the case for fourth year Pittsburgh Ballet Theatre company member Emily Simpson, who was born in England and grew up in China and Thailand.
"I didn't grow up with The Nutcracker at all," says Simpson. "In China and Thailand, they don't celebrate Christmas so my family celebrated on our own."
She says The Nutcracker didn't become part of their celebrations until they moved to Canada and she began performing at the Goh Ballet Academy. It has been a part of every Christmas holiday season in their family since.
Simpson joins a cast of over 250 performers from PBT and its school for this year's 26-performance run at the Benedum Center.
Conceived and choreographed by PBT Artistic Director Terrence S. Orr in 2002, with costume and scenic designs by Emmy-winning designer Zack Brown, the two-act ballet follows E.T.A. Hoffmann's 1816 classic tale The Nutcracker and the Mouse King, translated into an early 20th-century Pittsburgh setting.
The family-friendly ballet follows young Shadyside resident Marie Stahlbaum's fantastical Christmas adventure, taking her through scenes inspired by local landmarks including a Mount Washington view during the ballet's "Snow Scene" and "Land of Enchantment," inspired by Pittsburgh's historic amusement parks. The ballet is danced to perhaps the best known of Pyotr Ilyich Tchaikovsky's scores.
Simpson is one of ten dancers who will perform the lead role of Marie (7 p.m., Dec. 7 and 12 p.m., Dec. 23) over the ballet's run and feels the role comes naturally.
"The character is young and innocent and discovers love for the first time, [albeit] in a different way," says Simpson. "It is really fun for me to bring that out onstage."
In an effort to bring extra clarity to the ballet's storytelling, Orr says he has tweaked the production some this year. A bit more comedy has been added to the opening scenes and he's modified a few others, including the "Snow Scene" and the "Chinese" dance, giving audiences a slightly different perspective on the production.
When she is not dancing as Marie, Simpson will take on ten other roles in the production including the majestic Snow Queen (7 p.m., Dec. 20 & 2 p.m., Dec. 27) partnered with her husband, fellow ballet dancer, Jake Unger. She will also dance the coveted and physically demanding role of the Sugar Plum Fairy (12 p.m., Dec. 16).
PBT is one of the few productions to give PBT's dancers the opportunity to play different roles, from supporting to lead, regardless of rank. Orr says The Nutcracker "is not an easy sleigh ride. We have an extremely talented company right now and the dancers are all very capable of doing more."