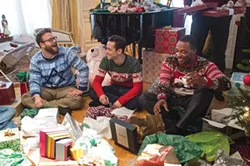 'Twas the night before Christmas and all through New York City, three friends are going out with a bang on their last Christmas Eve together, in Jonathan Levine's comedy. For the past 10 years, the three have spent the night together; their tradition includes hitting a karaoke bar and visiting the tree at Rockefeller Center, while searching for NYC's wildest holiday party, The Nutcracker Ball.
But this year things are different: Isaac (Seth Rogen) is married with a child on the way, and Chris (Anthony Mackie) has become a celebrity footballer, leaving Ethan (Joseph Gordon-Levitt) struggling to hold together this makeshift family.
There's no shortage of laughs, and most are spurred by a present from Isaac's wife: a box full of drugs. But the best laughs actually come from Michael Shannon, who plays a drug-dealer reminiscent of the angel Clarence in It's a Wonderful Life. And it's this sense of nostalgia that makes the film great. There are references to Home Alone and a performance of Kanye West's "Runaway" on FAO Schwartz's gigantic piano from Big. These homages are sure to resonate with many, especially twenty- and thirtysomethings who can relate to the film's central struggle of trying to hold on to your friends as they grow older and move on with their lives.