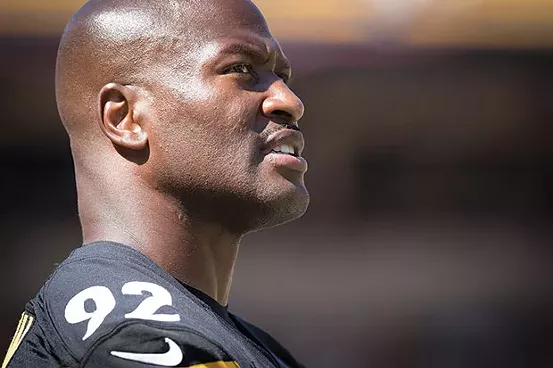 I've never been the type of person who makes excuses for athletes behaving badly. I've also never been an apologist for those who get paid to play pro sports. But the NFL's constant ball-busting of Steelers linebacker James Harrison is getting insane.
Last season the NFL launched an investigation based on a news story that allegedly connected Harrison to an outfit that allegedly provided steroids to pro athletes. There was no corroboration of the claim, but the league worked tirelessly to be a tremendous pain in Harrison's ass. The claims were found to be without merit.
Over the weekend, though, we learned that Harrison was once again in hot water with the league for participating in a soon-to-be-televised arm-wrestling competition featuring NFL players.
Now, at first blush, it might seem strange that an NFL player is in trouble for engaging in an activity way less violent than the one he plays on a regular basis. But Harrison is in Dutch not for what he was doing, but for where he was doing it. The event took place at the MGM Grand Casino in Las Vegas. As it turns out, simply being in a casino violates the league's gambling policy, which prohibits players from making public appearances at casinos.
I didn't think it was possible, but the hypocrisy and incompetence of NFL Commissioner Roger Goodell continues to grow. Don't get me wrong: I'm happy with the league's commitment to punishing players involved in domestic issues, but this seems like blustering just for the sake of blustering.
An NFL player can't do an appearance in a casino, but the NFL allows the entire Raiders franchise to relocate to Las Vegas. Plus, gambling on football — both legal and illegal — hit $98 billion in 2015, according to the American Gaming Association. While the teams don't get a cut of that, it brings countless gamblers to their TV sets every week.
James Harrison is outspoken against the league when he disagrees with it. It feels like this latest act of grandstanding is just another attempt to goad Harrison into a confrontation. At this point, the league's blustering is getting so old, I think I'd rather watch arm-wrestling.